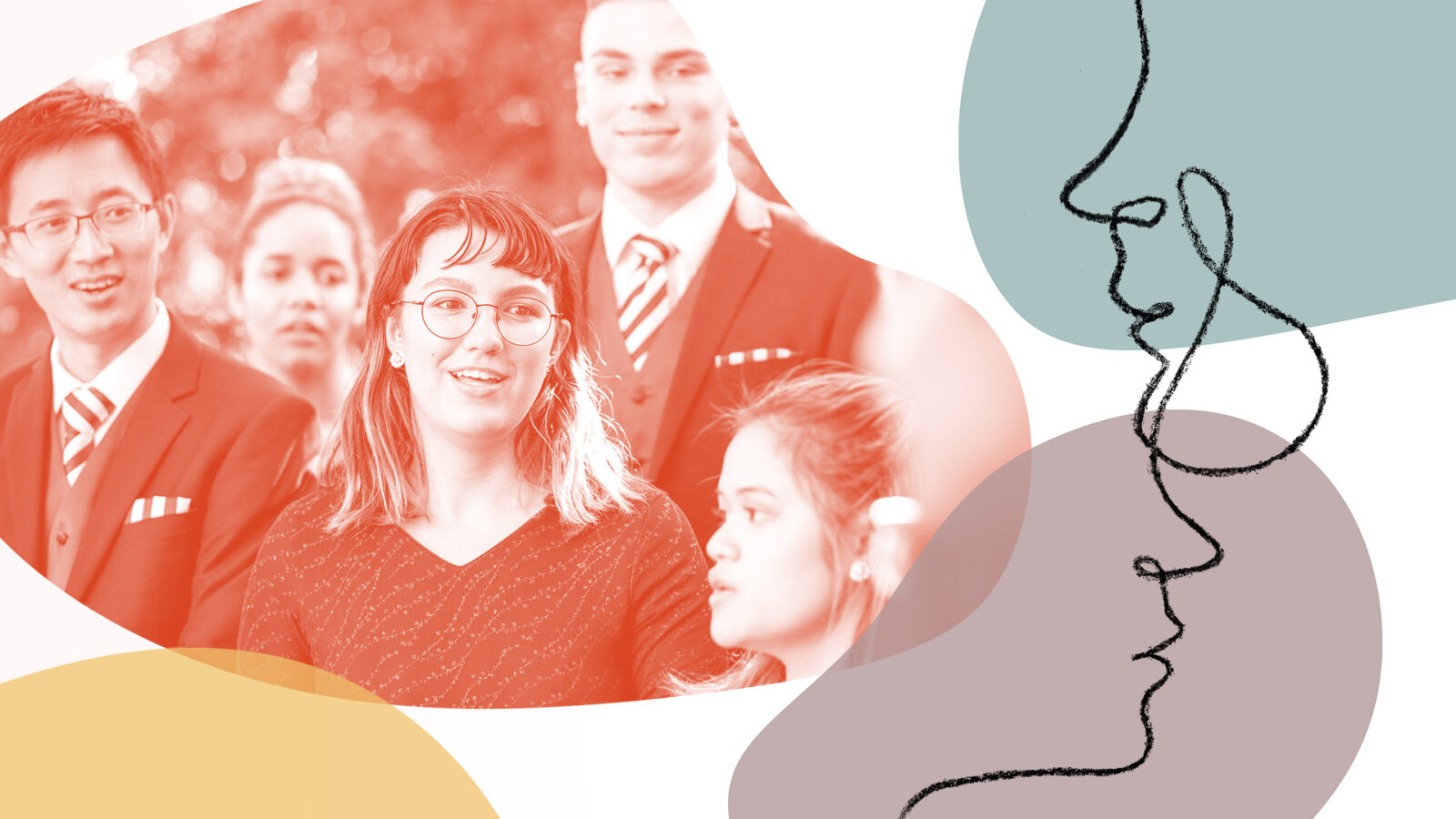 Coming Together Again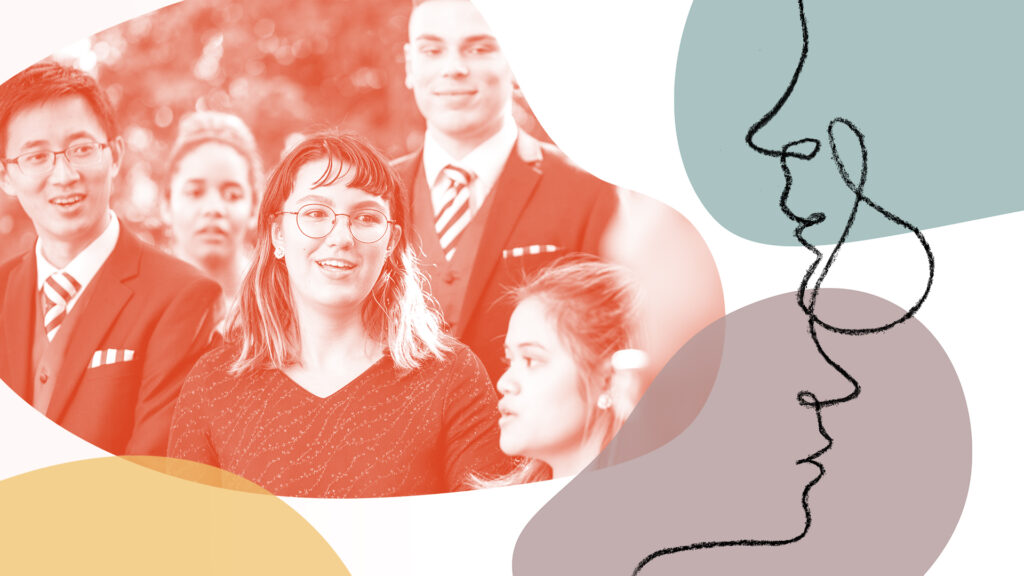 The USC Thornton Chamber Singers and Concert Choir return to Newman Hall to perform together in their fall concert, "All of Us."
---
After more than twenty months of virtual performances, the USC Thornton Chamber Singers and Concert Choir make their return to Newman Recital Hall on Oct. 22 with their fall concert, "All Of Us." This program marks the first time the groups are performing together in front of a live audience since the start of the pandemic, which is sure to be a special moment for both the singers and the audience.
"At that first rehearsal this August, [with] all of us just singing together, I think we all wanted to shed a tear, because choir is something that you can't do online and you can't do individually," said Laura Leigh Spillane, USC Thornton Chamber Singers associate director and second-year DMA student. "You can't replicate what it's like to make music with other people and make little changes to blend with your neighbor, match the tone or react to something in the moment. It's just something really special."
"All of Us" features a collection of choral music from across the world that explores love, friendship and connection. This theme of coming together and reuniting through music could not be more perfectly timed, as Thornton continues to make its return to live performances.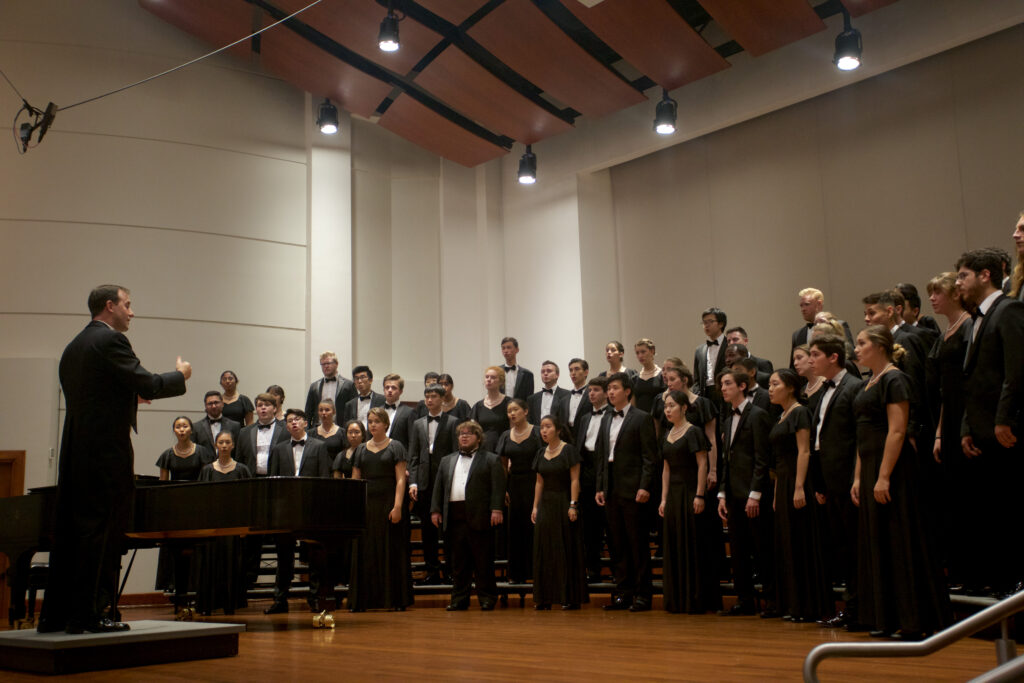 USC Thornton Concert Choir
The USC Thornton Concert Choir, directed by Choral & Sacred Music Chair Cristian Grases, will perform a diverse repertoire of songs ranging from infectious, energetic pieces such as "Twa Tanbou" by Haitian composer Sydney Guillaume to folksy, melodic arrangements like Federico Ruíz's "El Santiguao."
"One of my favorite pieces on the program is 'Twa Tanbou.' It's a really fast, rhythmic song that tells the story of three different drums who are competing and talking about who can make the best music," said Emily Sung, an alto in Concert Choir and a third-year choral music DMA student. "The piece is very, very lively and has a lot of intricate and super fun rhythms to sing. I love it because it's been a real challenge for us to learn accurately. This is the kind of music that Dr. Grases is really, really good at."
USC Thornton Chamber Singers
Following a brief intermission, the Chamber Singers will take the stage, led by Jo-Michael Scheibe, a professor in the Choral & Sacred Music program. The Chamber Singers' program is split into three distinct parts – "To Exalt and Reflect," "War and Resolve" and "All of Us." Each of these sections tells its own story, but all together the three pieces are reflective of the journey that many have ventured through this past year.
"I think the whole progression of the concert is really interesting, and Dr. Scheibe put it together in a really beautiful way. [In the first piece] we're kind of exalting the fact that we're here together finally," said Spillane. "[Then] we're doing this piece by French composer Clément Janequin that is describing this battle – and wasn't the last year a battle for all of us?"
The concert will close with the final section, "All of Us," which calls for a moment of connectivity and community.
"The words are so appropriate for what we're going through," said Spillane. "It says, 'How do we begin again?' And the answer is only all of us. Only all of us together can move on from what we've experienced."
New Performance Attire
This program also marks the debut of the Choral & Sacred Music program's new performance attire. Earlier this year, the department partnered with SharpeHaus, a L.A.-based tailor committed to gender inclusivity in their apparel. Stevie Hirner, a doctoral student and graduate teaching assistant in choral music, said offering customizable options, like pairing a masculine-cut blazer with a feminine-cut pant or pairing a feminine-cut pant with a gender neutral blouse, provides the opportunity for all students to dress in a way that reflects their truest identity.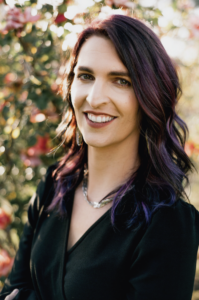 "We want to create a safe space in our USC environment for someone who might not have had the courage to experiment, explore or even have these conversations to find out what might give them a more affirming experience," said Hirner.
"Throughout my experience being in choirs, I always dreaded the idea of uniforms because I personally did not feel comfortable in any of the suits they offered me or how they looked on my body. I felt like I had to conform instead of being comfortable and confident. When hearing about the different options SharpeHaus was offering, I finally felt that I could be comfortable in a suit because it was made for me," says Chamber Singers member Sam Avila, who chose a masculine-cut blazer paired with feminine-cut pants. "When trying it on for the first time, I genuinely liked what I saw reflected back in the mirror. Having these options offered to us ensures that each student, however they may identify, knows that they are in an inclusive space where their gender expression is recognized and honored."
With this program being the choirs' first performance in front of a live audience since 2020, its members are looking forward to delivering a memorable evening that hopefully leaves audience members with something to think about.
"I know that for your average member of the audience, there's going to be something new to listen to…and an opportunity to experience something you've never experienced before," said Sung. "So, I hope that people will just enjoy that experience and that something in the music itself or the experience of participating in a community coming together to make music will hopefully be moving."
---
Although live audience capacity is limited due to fluctuating health and safety guidelines, limited seating is available. Please click here to RSVP in advance.

Audiences are encouraged to tune into the concert via livestream on October 22 at 8 p.m. PST on Thornton/LIVE, USC Thornton's virtual stage. The livestream will be on the homepage under the section titled "On Stage" and will also be available for viewing after the event date in the Event Archive.
Never miss a story
Subscribe to USC Thornton's e-newsletter
Subscribe