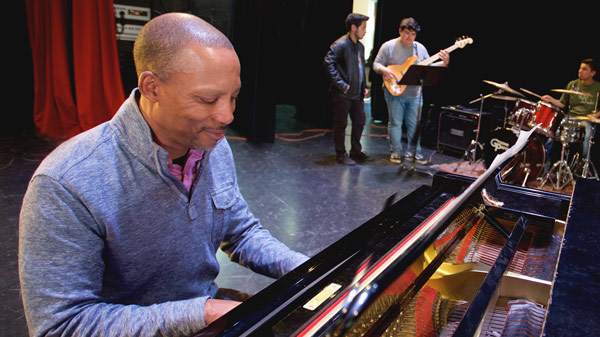 Contemporary Teaching Practice Spotlight: Vince Womack
For an example of how versatile a music teacher must be today, consider Vince Womack's class schedule. At the James Foshay Learning Center in south Los Angeles, Womack, a 1998 master of music education graduate from the USC Thornton School of Music, teaches seven classes. There is choir, music history, AP music theory, concert band and wind ensemble – all fairly traditional classes – but also a class in jazz and a music technology course, where students explore and create electronic music.
Womack, who also serves as chair of the school's music department, says that he has had to adjust to changing tastes of students, families and the community. The school doesn't offer marching band, and large orchestras and choirs are not as attractive to many students as small group combos and creating original music.
When a recording studio was built on campus three years ago, he hoped to cap enrollment in the music technology course at 20 students. Twice as many signed up, and he couldn't bear to turn any away.
"Students are so turned on by the music technology class," he noted. "They can't wait to get downstairs to our studio and manipulate their beats. It's very empowering."
In his jazz class, students learn jazz history and explore big band music and contemporary jazz. Regularly, Womack rehearses a small ensemble of serious jazz students in the school's beautifully-renovated auditorium – a four-year project he spearheaded.
Womack's experience tracks with what music educators are encountering all across the country. Today's elementary and secondary schools want teachers who have contemporary music skills, which might include leading a mariachi band, drum circles, popular music small groups, songwriting courses and lessons in electric guitar or keyboards.
"Vince and a growing number of outstanding music teachers like him are part of a new generation of professionals that see their roles as contemporary practitioners and scholars," said Peter Webster, vice dean of the Division of Scholarly and Professional Studies. "Equipped with a wide variety of music skills and knowledge of today's youth, these remarkable people are changing music teaching and learning in exciting ways."
Strauss waltzes, Sousa marches and highlights from Handel's Messiah, while still delightful, probably aren't the surest bet for striking a familiar chord with new generations of schoolchildren who speak multiple languages and come from varied cultural backgrounds. Yet that's the style and repertoire music educators are still trained to teach. Thousands of undergraduate programs across the United States continue to emphasize Western art music arranged for orchestra, choir and concert band — ignoring the reality that schools can't afford these large ensembles and kids increasingly don't want to perform in them.
"Great orchestras, choirs, and bands have been a hallmark of fine music education, but if you offer keyboard, guitar, and songwriting classes in addition to the classic repertoire, a wider variety of students' musical needs are met," said Robert Cutietta, Dean of USC Thornton. "If schools offer wider musical options, music education will be transformed to better meet the needs of the contemporary world."
USC Thornton's Music Teaching and Learning program offers three degrees, and is designed to prepare the student for an advanced level of pre-college teaching and leadership in the music education profession by developing core knowledge and expertise in new methods of teaching. Students will be equipped to apply that training to teaching in the new and varied landscape of music education, to meet the needs of their students.
Womack, whose undergraduate degree at the University of Michigan was in trumpet performance, has had to learn through personal experience how to broaden the class offerings for students wanting new musical opportunities. He's been teaching for 29 years – 22 at Foshay – and uses a variety of musical talents during his day. In addition to trumpet, he plays piano, guitar "and I do a lot of singing," he said.
He says that the new, individualized courses that allow students to create and collaborate with others creates pride in the musical programs, which is reflected in increased pride in their school.
"I believe the Thornton School is being a trendsetter with this degree," Womack says. "They are looking at trends in the communities and shifting to accommodate them."
---
Click here to learn more about USC Thornton's Master of Music in Music Teaching & Learning.

Never miss a story
Subscribe to USC Thornton's e-newsletter
Subscribe