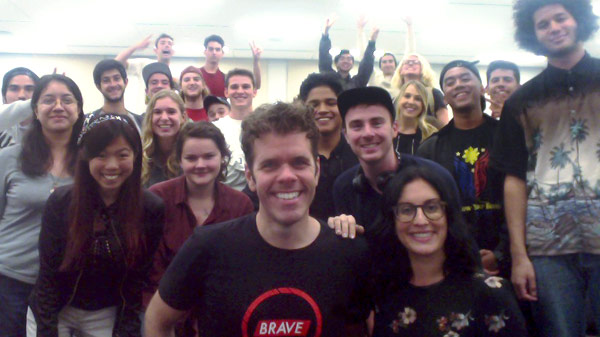 The DIY Way to Create Buzz for a Band
New technology has given musicians an array of options for marketing themselves and finding an audience. But what works and what doesn't? That's one of the questions USC Thornton students are exploring in an innovative Music Industry class, DIY (Do It Yourself) Music Marketing.
There is no textbook and there are no tests. Instead, students work in groups on a semester-long, real-world project. Each group picks two USC Thornton musicians, either current students or recent graduates. The group then spends the semester promoting these musicians' careers.
"It's a great opportunity because we are able to actually help these artists who are just starting out," said Music Industry senior Laura deBruin.
During the semester, music industry and media professionals visit the class to give students a chance to practice their pitching skills. When entertainment blogger Perez Hilton visited in October, deBruin and her group played clips of singer and USC student Jessica Flores. Hilton then featured Flores on his website, and Flores gained 5,000 new Instagram followers.
"That was the most exciting thing," said deBruin, who has been able to network with executives from Billboard magazine, YouTube, Red Bull and Grammy Award-winning producers as a result of the class. "The network of people is so amazing. It gives you opportunities to get experience while you're still in school and actually learn about the industry."
Although USC Thornton has offered similar marketing classes before, the curriculum has been revamped this semester by new faculty member Loren Medina. Of her 14 years in the music industry, Medina has spent half of that in public relations. Prior to founding her own PR firm, Medina worked as an artist and record label manager. She drew on all of these experiences and her many professional contacts when she designed the syllabus for DIY Music Marketing.
"The most valuable lessons you can take from school are when you actually practice what you learn," said Medina. "I designed the class to teach the students how to maximize visibility and create a buzz for an artist."
Danielle Soury, part of the indie electronic duo CharlieMay, is one of several students who are using the class as an opportunity to learn how to promote their own music.
"We are a baby as far as emerging artists go, so we were essentially starting from the ground up," said Soury. "We have learned how to create a media campaign, graphics and one-sheets, and we learned how set up email media alerts to encourage music blogs to feature our music."
Each group takes different steps depending on the needs of the artists they are promoting. For sophomore James Layno, who is using the class to learn how to promote his own hip-hop music, the first thing he did was to produce a new music video.
"First they create the project blueprint – bios, one sheets, video content, social media profiles – then they create their artists' stories and learn how to convey those compelling stories to media and booking agents in order to secure placement and/or shows. They're graded on what they secure for their artists," said Medina. "Close to the end of the semester they turn in written marketing plans with enough time to see what worked and what didn't and further tweak their plans so the artists have a really good understanding of what to do next, before the semester ends."
Of course, things do not always go as expected.
"Some of my students have had difficulties with their projects. A band broke up, an artist stopped cooperating. I told them, 'Welcome to the music industry where you get thrown curveballs and you have to figure it out!'" said Medina. "There will always be projects you are forced to come up with a totally new strategy due to external or internal situations. This is a really good learning experience for my students because this happens in the industry and will happen to them if they work in the business long enough."
Seventeen of the musicians being promoted by the class will play a showcase at Club Los Globos in Silver Lake on Dec. 10 from 4 – 9 p.m. Producing and promoting this event is giving the students practical experience promoting live performances. The show is open to the public, with a $7 cover charge for those 18 to 20, and a $5 cover charge for those 21 and over.
"The way the class is run gives us an insight into how the music marketing world operates, and that's great for us because we get an opportunity to step outside our comfort zones and learn a new skillset," said Layno. "This is one of my favorite classes at Thornton so far because I really like classes that are practical. What I learn in this class can be applied to my career immediately."
---
What: DIY MusicLab Showcase
Where: Club Los Globos, 3040 W. Sunset Blvd, Los Angeles, CA 90026
When: December 10, 4-9 pm
Admission: $7 for those 18 to 20, and $5 for those 21 and older
Website: http://www.clublosglobos.com/event/1380613-diy-music-lab-usc-showcase-los-angeles/

Never miss a story
Subscribe to USC Thornton's e-newsletter
Subscribe