In memoriam: Vincent DeRosa
The esteemed musician, who died at 101, set a playing standard that continues today.
---
Vincent DeRosa, a celebrated French hornist and former USC Thornton faculty member, died on July 18 at the age of 101.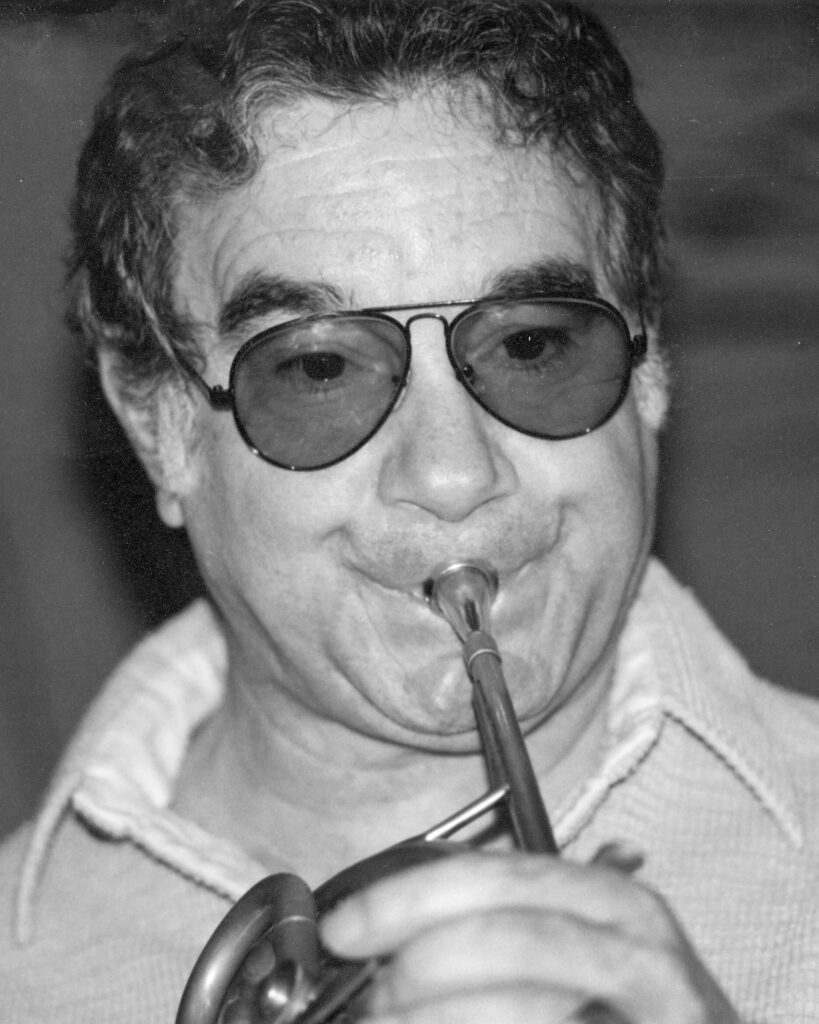 A legend in the horn world, DeRosa played on thousands of movie scores and professional recordings during his long career. Equally at home in classical and jazz musical styles, DeRosa's soaring, beautiful playing set a standard for the present era. His sound was for many an introduction to the French horn through his film, television and commercial recordings. He was also a dedicated teacher. A beloved faculty member at USC Thornton, DeRosa taught at the school from 1974 until his retirement in 2005. He continued to offer private lessons well into his retirement.
DeRosa was born on October 5, 1920, in Kansas City, Missouri. A descendent of professional musicians, DeRosa relocated with his family to Los Angeles in 1932. He started studying the French horn at 10 years old and was forced to begin an early career at 15 after the death of his father. During World War II, he enlisted and was assigned with the California Army Air Forces radio production unit. After the war, he signed his first contract at Fox Studios as a studio musician. What followed was a celebrated career.
DeRosa worked with Hollywood's greatest composers, among them John Williams, Henry Mancini, Bill Conti and Alfred Newman, and many eventually began writing for him, specifically to feature his unique and distinctive sound. His thousands of film credits include, among others, "E.T.," "Rocky," "The Sound of Music"and "Jaws". DeRosa recorded for many television shows, and his credits beyond Hollywood include classic recordings across all genres including albums by Louis Armstrong, The Beatles, Ella Fitzgerald, Frank Sinatra, Frank Zappa and many more.
DeRosa is survived by his son, John DeRosa, and daughter-in-law, Dee DeRosa of Corona del Mar, CA; his daughter, Betty DeRosa of La Canada-Flintridge, CA; six grandchildren and nine great-grandchildren and his pet parrot, Cheech.
A private family celebration of life will be held in August. In lieu of flowers, the family suggests contributions to an endowed scholarship at USC Thornton honoring his work, the Vincent DeRosa Scholarship. The scholarship was established in 1999. For more information on how to give in his name, please click here or contact USC Thornton Advancement at music.advancement@usc.edu or by calling 213-740-6474.
Remembrances from the USC Thornton Horn Community
USC Thornton faculty members, former faculty members and alumni reflected on DeRosa's legacy at Thornton.
---
Dylan Skye Hart ('06)
USC Thornton alumnus, two-time recipient of the Vince DeRosa Scholarship at USC Thornton and a Hollywood studio musician who has played principal horn on many films including "Top Gun: Maverick," "Star Wars: The Rise of Skywalker," "Indiana Jones 5" and "Toy Story 4"
"Vince was one of the most important figures in my entire life. He held me to a standard of playing that no one else would or even could. His ears were so attuned to sound that we would often spend an entire one-hour lesson with me playing only one note with him just saying, 'No.' Then he would magically say, 'Yes,' and I would have no idea what the difference was. It became my obsessive goal to get him to say, 'Yes!' Vince never let me settle for good. He demanded better. No matter where I was as a player, he was always pushing me to improve, and I have never lost that drive that he instilled in me. Spending time with him in lessons and at his house taught me so much about life in general. I wouldn't be where I am as a player or who I am as a person without Vincent DeRosa. I was Vince's final student at USC, and it is my goal to continue the tradition of the Hollywood sound that Vince instilled in me through my teaching and playing.
Paul Neuffer ('82, MM '84)
USC Thornton alumnus and horn instructor who wrote an in-depth article celebrating Vince DeRosa's 100th birthday for the Horn Call, the publication of the International Horn Society. An excerpt can be found here.
"Studying with Vince DeRosa was, for me, quite literally a dream come true. My parents were fans of Henry Mancini's music and Mancini would write a solo for Vince on almost every one of his albums. Vince had the most beautiful tone of any horn player and his phrasing was impeccable. So, when I was able to attend USC Thornton and study with my musical hero, I was elated.
"Vince could be brutally honest in lessons, but never demeaning. He wanted his students to sound great, not just good, and he would push them to try to achieve that result. Vince's approach to both horn playing and teaching were different than any that I had experienced. His playing was flawless, made all the more remarkable on an instrument known for its hazards. 'Clams,' or missed notes as they are called, are not an uncommon event on horn, but Vince was the most accurate horn player I have ever heard. The demands on him from composers, conductors, contractors and others involved in the recording industry were heavy. Take after take, no matter how difficult the part may have been, Vince always succeeded in performing beyond expectations. With his teaching, Vince would try to instill the fundamentals that were essential to achieving such success. His verbiage was far different than others – terms like 'get into the tone,' 'hold onto the air' and 'let go' were completely foreign and at first made absolutely no sense. After many lessons, things would finally begin to fall into place, especially if Vince were to demonstrate what he wanted. Vince rarely played in lessons, but when he did, even if it were just one or two notes, they would be the most amazing one or two notes one would ever hear. And his attitude was that if he could do it, then so could the student.
"He never made playing the horn seem hard or difficult, but if the correct fundamentals were employed, it was actually quite easy. There was more to Vince than horn. He was one of the most humble persons I have ever known. For all of his incredible success, he was never haughty or egotistical, but simply a very nice person who enjoyed making music on an extremely high level. He was so personable and approachable that he often became like a second father to many, with whom one could talk about anything in their lives. Vince would listen with deep care and concern and dispense advice with the wisdom of a great sage.
"It has been my absolute blessing to have known Vince for the past 45 or so years as both a student and friend. If someone would have told me many decades ago that I would study with my musical hero, become friends with him and even write a biography about him, I probably would have laughed or shaken my head at that idea. But it all came true and I am so thankful to God that it did. Goodbye, my friend. We will miss having you around, but we will always carry you with us."
---
More Information
USC Thornton alumni Annie Bosler (MM '05, DMA '08) and Dylan Skye Hart released "1M1: Hollywood Horns of the Golden Era," a documentary film about the history of Los Angeles film studios' French horn players from the 1920s through the 1960s. Bosler is the director and producer, and Hart is the assistant producer. Featuring numerous interviews with LA music legends, the film follows the development of the motion picture industry and its battles with the musicians' union. As the number one horn player in Hollywood during the Golden Era, DeRosa is featured prominently. Learn more here.
The Vincent DeRosa Scholarship
The Vincent DeRosa Scholarship at USC Thornton was established in 1999. For more information on how to give in his name, please click here or contact USC Thornton Advancement at music.advancement@usc.edu or by calling 213-740-6474.
Special thanks to Paul Neuffer for his assistance with this story.
Never miss a story
Subscribe to USC Thornton's e-newsletter
Subscribe