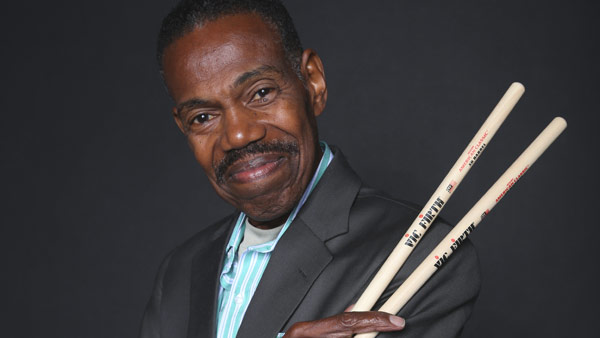 Remembering Ndugu
A complete musician does more than keep the beat, craft a lyric or lay down a track. A musician who reaches for higher goals is one who also knows how to keep quiet and pay attention. This was a lesson that drummer and instructor Leon "Ndugu" Chancler frequently imparted to his students at USC Thornton.
"We shouldn't just focus on what the drums are doing. That would be very one-sided," said senior Kelly Cruz, a drummer who has known and studied with Chancler since she was 11. "We should know what the guitars and the bass and the lyrics are doing. I learned a lot of personal lessons from studying with Ndugu, and one of the biggest was how to listen to music."
Since elements of life and music were inextricably linked for Chancler, his students knew that a session with the instructor would require them to be both intensely focused and every bit on their musical game. Chancler was a musical historian and a scholar who could be a taskmaster when his expectations weren't met. And his students adored him.
"Sometimes I think of him as a creative and artistic vessel that could interact with any kind of music, any musician and enlighten it and raise it up," said alum Ian Wurfl ('16). "He would tell me that great musicians are great people, and if there's anyone who is the epitome of that, it's Ndugu Chancler."
A Profound Impact
The USC Thornton community is mourning the loss of Chancler, who died Saturday following a battle with cancer. Former and current students remembered a multi-hyphenate artist who was as passionate about his role as an educator as he was about musical technique. A world-renowned drummer with songwriting and producing credits to his name, Chancler drew drummers and non-percussive musicians alike.
No matter what their field of study, his students said that Chancler's impact was profound.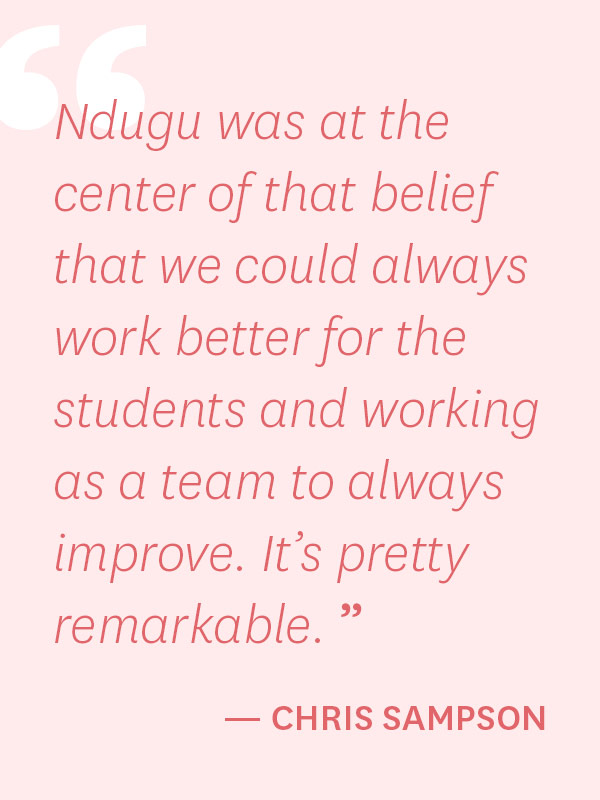 He performed or recorded with a diverse range of artists including Frank Sinatra, Herbie Hancock, Kenny Rogers George Duke, Miles Davis, Thelonious Monk, Carlos Santana and James Brown.
Chancler worked extensively with Michael Jackson on the albums Thriller and Bad. That's his drum beat that opens Jackson's hit single "Billie Jean," a riff celebrated by Roots drummer Questlove as "the greatest example of something so simple that you take it for granted. But if you truly dissect it, it's a complex compelling performance. …[that] literally gives MJ his DNA."
In 1982, the same year Thriller was released, Chancler was nominated for a GRAMMY for co-writing the song "Let it Whip" for The Dazz Band.
Although he was not a drummer, bassist Sam Wilkes ('13) approached Chancler (who he considered "one of the funkiest guys on the planet") with the request to study around the concept of groove. Chancler's response: "Yeah, man, I've taught bassists before. We could do that. Sign up, and I'll see you next year."
"That started our process," said Wilkes who spent his four years at Thornton with Chancler as his instructor and mentor. "When you walked into a room with a master like Ndugu Chancler, he made sure you were at the ground level. You checked your ego at the door."
Chancler was not an easy teacher, said his students. His expectations of them were enormous.
Wurfl recalls auditioning for the school, and receiving kudos from Chancler for arriving prepared with a chart for "How Insensitive" in his backpack. Several months later, during their first lesson, Chancler commended Wurfl's preparation, and then told him that his snare drum playing "sounded like crap."
Wurfl left humbled. He went home and spent the week practicing, concentrating on getting the fattest tone out of the snare by staying in the middle of the drum.
"I practiced the concept that he told me and I got better," Wurfl said. "I can say that for every week of the four years I studied with him, I got better."
As a drummer with a youth music conservatory in the San Francisco Bay Area in the mid 2000s, Cruz worked with Chancler when he would come up on weekends to lead the jazz band and teach private lessons. Cruz may have been playing an instrument usually played by men, but Chancler never treated her differently than her older and male peers.
"He didn't lower his expectations because I was girl and certainly not because I was young. I think he respected me because I stayed. Like 'Oh, this girl wants to play the drums, so I'm going to invest my time in her,'" said Cruz who applied to USC specifically to study with him.
Training a Complete Musician
USC Thornton professor Chris Sampson, who founded the Popular Music program, has known Chancler since the famed drummer joined the faculty in 1995.
"He really felt he was training a complete musician, not just a drummer," said Sampson, "He was very demanding of students. He broke them down and started from the very beginning of what's called rudiments. He was regarded as a hard instructor, and as people got to know him and understood what he was reaching, what he was accomplishing, the dynamic always and inevitably changed."
Sampson maintained that Chancler brought the same uncompromising rigor to his views of musical instruction. As professional colleagues, the two men had multiple discussions on the role of education and how its Popular Music program could consistently challenge and improve its service to the students.
"Ndugu kept us all at such a high standard of accountability that every year we would come together as faculty and basically ask how we could continue to do things better, how things could be improved," Sampson said. "Ndugu was at the center of that belief that we could always work better for the students and working as a team to always improve. It's pretty remarkable."
Following the news of his death, Thornton drumming students have reached out to each other for comfort and affirmation. Several visited the late instructor's room which was opened on Tuesday. The department plans to name the room the Ndugu Chancler Drum Instruction Studio in his memory. A memorial tribute is also being planned.
"As drummers, we realize we all need to keep going like he would want us to do," Cruz said. "He wouldn't want us to sulk forever. Now we have to carry on his legacy."
---
USC Thornton will announce plans to celebrate Ndugu Chancler's life and legacy as details are confirmed.
Never miss a story
Subscribe to USC Thornton's e-newsletter
Subscribe