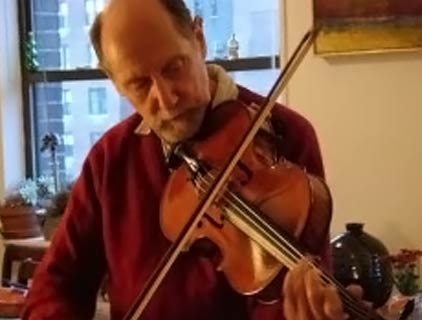 Renowned Violist Michael Tree Joins USC Thornton Faculty
"My approach generally is to open up the various possibilities to students and teach them," Tree said.
"Someone once said that, 'Teaching is the art of assisting discovery,'" Michael Tree said. "I think that is very true, and that puts the responsibility in our hands.'"
And what a discovery USC Thornton students are about to make.
The acclaimed teacher and founding member of the Guarneri String Quartet will join the faculty of the USC Thornton School of Music in fall 2014. His addition further strengthens the school's renowned Strings faculty.
Next fall, Tree will join the viola faculty alongside the expertise of instructors Karen Dreyfus and Che-Yen Chen, both former students of Tree.
"We are thrilled to welcome Michael Tree to our Strings faculty," said Robert Cutietta, Dean of the USC Thornton School of Music. "The combined artistic excellence of the three is of the highest order."
Though this is the first teaching venture Tree has embarked on at USC Thornton, the decision to do so felt surprisingly comfortable for the storied musician.
"I'm a great admirer of both players and they are both highly experienced teachers," Tree said. "When I decided to join the USC Thornton faculty, I felt I was among friends already,"
Having performed on virtually every concert series throughout the world and recorded more than 80 chamber music works for the Columbia, RCA, Philips, Arabesque, Nonesuch and Vanguard labels, Tree provides an unparalleled range of knowledge and real-world experience for future Thornton students.
"As one of the most prominent pedagogues and violists of our time, he has inspired and mentored many important musicians who are active today as performers, teachers, and administrators," said distinguished professor Midori Goto, chair of the Strings department and Jascha Heifetz Chair in Violin.
Tree hopes to be able to do more than just lead by example with his students. He insists that teaching ought to not be about "simply insisting that students do what the teacher says," no matter the teacher's level of distinction in the world of music.
"My approach generally is to open up the various possibilities to students and teach them," Tree said, an approach that has helped him to appear as a violin and viola soloist with major orchestras ranging from Philadelphia and New Jersey to Baltimore and Los Angeles.
Tree's appointment at USC Thornton begins in the 2014-2015 school year. In a multi-year commitment, he will work individually with a small studio of Thornton students.
– Jenevieve Ting
---
Michael Tree playing Bridge for Two Violas with Marina Thibeault
Never miss a story
Subscribe to USC Thornton's e-newsletter
Subscribe