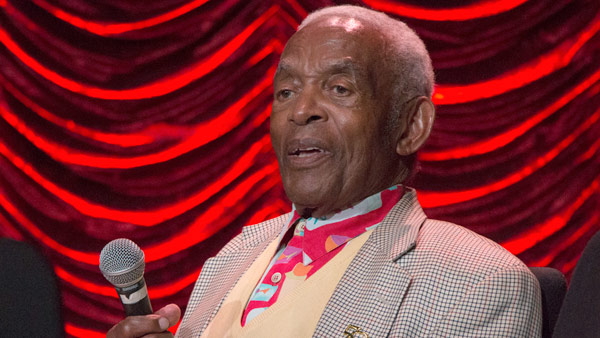 Six Foot, Seven Foot, Eight Foot, Bunch!
You may not know his name, but you know his songs. On Friday, Sept. 28, Irving Burgie, the man behind Harry Belafonte's most beloved songs including "Day-O (The Banana Boat Song)" and "Jamaica Farewell," visited the USC campus.
As part of an ongoing partnership with the USC Thornton's Popular Music Forum and the Songwriter's Hall of Fame, the award-winning songwriter spoke candidly about his origins and achievements with faculty member Chris Sampson as part of a week of activities.
Outlining the sequence of events that led to his seemingly instantaneous rise as an award-winning songwriter, Burgie spoke on his experience in the United States Army during World War II. "I was fully enlisted in the Army at the age of 18, and when I came out I was still a poor boy looking up at the world wondering what my next movement would be," he said. "It turned out that Uncle Sam came to my rescue with the GI Bill of Rights, which afforded a poor boy growing up in the tenements of Brooklyn a college education."
Burgie took full advantage of this opportunity as a "turning point in [his] life," attending the Julliard School of Music for two years as well as the University of Arizona and USC.
Shortly after earning a degree in music, Burgie claims that he "crossed paths with Harry Belafonte somewhere along the way"—a partnership that would change the course of both men's lives.
Selling over 100 million records during his five-year, three-album stint with Belafonte, Burgie penned 8 of the 11 songs on the 1955 smash-hit, Calypso, which became the first record to sell a million copies.
"I was sitting on top of the world," he said. "Songs like 'Jamaica Farewell' and 'Banana Boat (Day-O)' went to number one all across the world and really got me off to a flying start. In fact, I bet the audience might even know a couple lines."
Burgie proceeded to lead spirited renditions of both classic sing-a-longs, temporarily turning the forum into a calypso party.
Offering a first-hand account of his successes as a songwriter as well as tricks of the trade, Burgie spoke directly to USC Thornton's Songwriting majors in attendance.
"Imagery, to me, is the most important part of songwriting," he said. "The success of your writing depends on how many images you can conjure up within those 32 bars. You can write almost anything if you put your mind to it, and everyone has their own way of painting that picture."
Burgie also preached about the commonly unrealized advantages of being a professional songwriter, declaring that "if you can write songs that are fairly good, you can have some income coming your way."
Burgie conceded that even after 100 million albums sold and 93 years of learning, he has still yet to figure it all out while stressing that Thornton students are on the right track.
"I've been looking for a long time, but even I still haven't really gotten it together. I'm not sure that I ever will," Burgie admitted. "The key to life is the privilege that is the university. College is so important, especially in today's world. Of all the things I've done and all the things I've enjoyed, the best move I ever made was my four years in college."
The class finished with students Jej Millanes, Daniel Davila, Greg Chung, Christine Meisenhelter and Joshua Moore along with faculty member, Aaron Serfaty performing Jamaica Farewell with Mr. Burgie singing along to every word.
After a week of events in which Burgie sat in on classes and met with students socially and as part of more formal songwriting workshops, he complimented the student's attitude. "I'm quite pleased with what I've seen," he said. "Keep up the good work."
Never miss a story
Subscribe to USC Thornton's e-newsletter
Subscribe