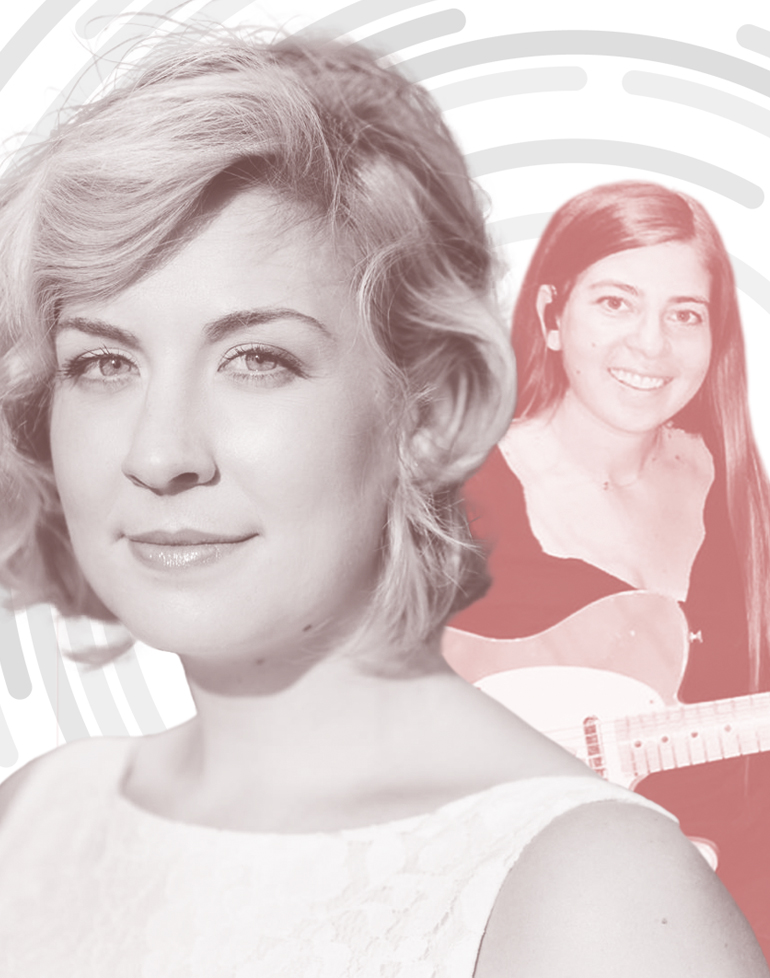 Starting New Journeys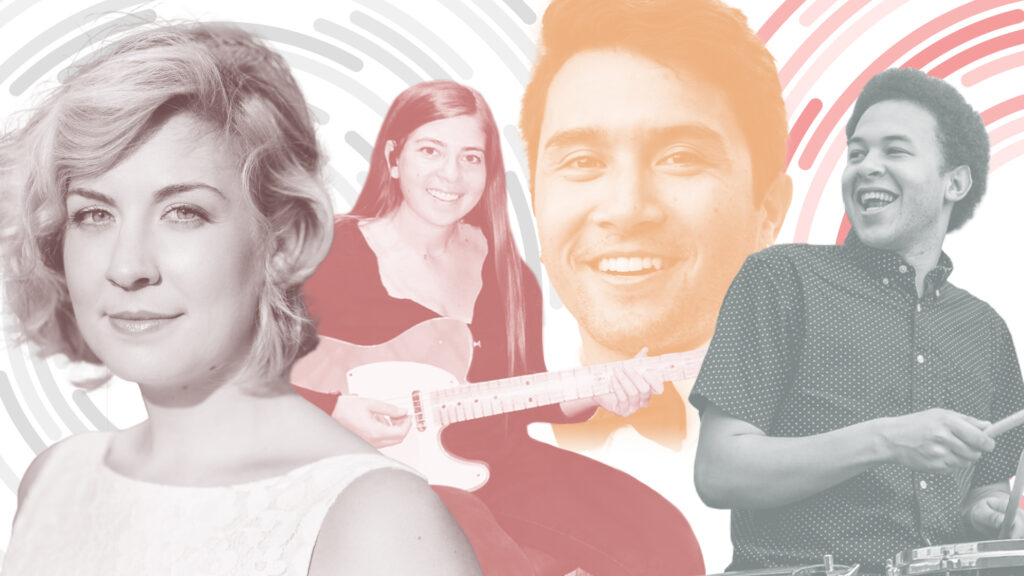 Starting new journeys, USC Thornton alumni Emily Rosenfield and Diana Newman reflect on their recent debuts, while student Dominic Anzalone and alumnus and current graduate certificate student David Riccobono look forward to new opportunities.
---
Many children dream of becoming musicians who perform on some of the most iconic stages in the world, and when students begin their journey at USC Thornton, they are one step closer to achieving those dreams. Through in-class instruction and real-world opportunities provided by their faculty, Thornton students develop skills that prepare them for their future careers. From playing in the orchestra of a Broadway production to debuting at the Metropolitan Opera to performing in dual sections of a symphony, the possibilities are endless for graduates of USC Thornton.
Debuting
Session and studio guitarist Emily Rosenfield ('16) began her time at USC Thornton as a studio guitar major and switched over to the popular music program later in her studies. During her time in both programs, she was able to learn how to play and read music in a variety of styles, which helped prepare her to become the first-ever female guitarist to play in any production of Hamilton.
"The music that I'm playing within the three-hour show ranges from hip hop, soul and R&B to heavy rock and metal. There are some really delicate nylon moments with more classical guitar, and then there are some heavy electric moments," said Rosenfield. "I think that the studio guitar program and the popular music program prepared me to be able to play all of that because they are really focused on style and the ability to be a musical chameleon. I feel that was huge in preparing me not just for Hamilton, but for my career in general as a studio musician."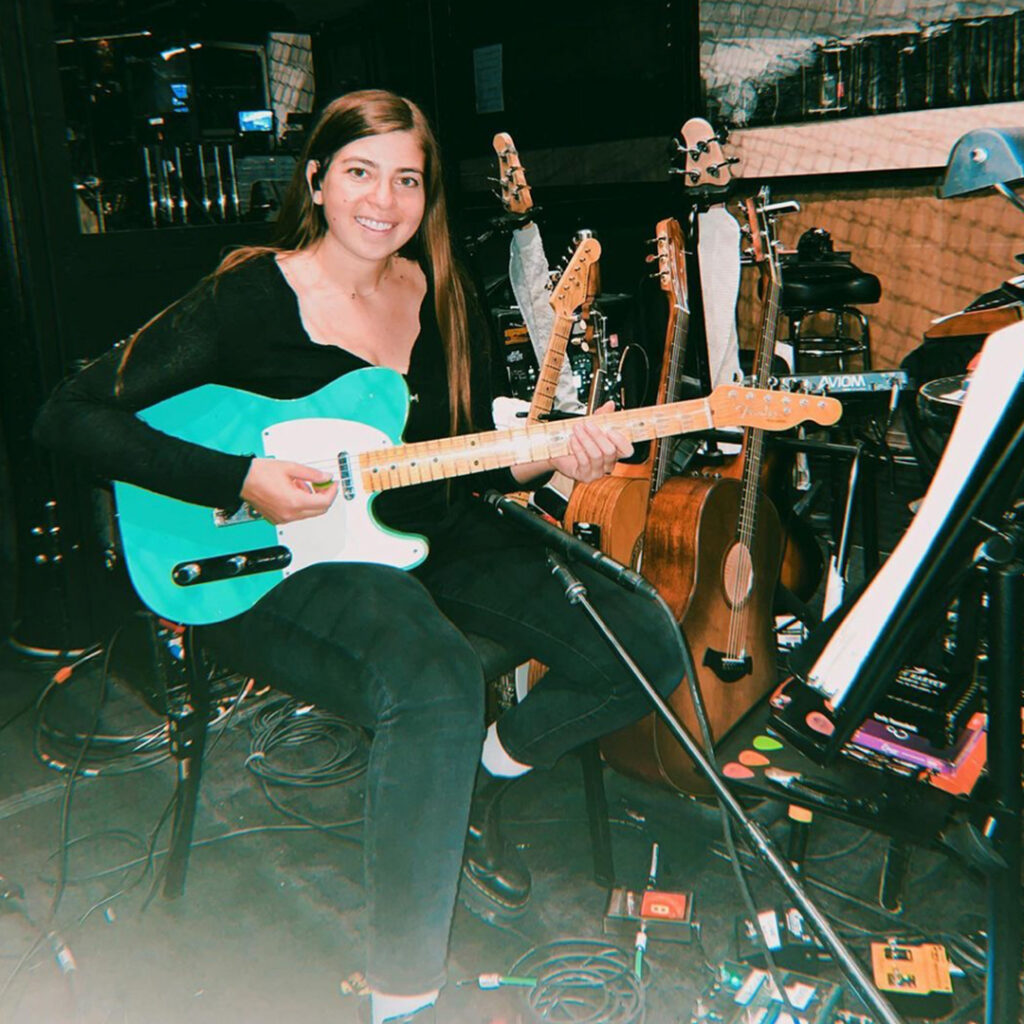 One important lesson that many USC Thornton professors stress to their students is that flexibility is key when it comes to music. Many times, opportunities will arise, or changes will occur at the last minute, so you have to be prepared to pivot and sometimes step in with just a moment's notice.
In December 2021, soprano Diana Newman ('12, MM '14) was covering the role of Papagena in the Metropolitan Opera's production of The Magic Flute. One morning, about two weeks after performances had begun, she received a call. She was going on that night as Papagena. The lead actress was sick. Although she had studied and prepared for the part months prior, Newman had never been on the Metropolitan Opera House stage before. This performance would mark her Met debut.
"When you start going to school for opera or have any interest in it at all, The Met is the pinnacle of all things, so, for me, making this debut was super exciting," Diana Newman said. "I had never stepped foot on the stage before, because normally when you're covering, you have your own rehearsals with your cover cast in a separate room with minimal set pieces. And so, making my first entrance was definitely a bit terrifying."
Debuting on the national stage can be daunting, especially when you're taking a step out of your comfort zone, but sometimes these steps can inspire in unforeseen ways.
"Growing up in an era where there wasn't as much visibility of female instrumentalists, I'm realizing that it's ok to forge my own path. It's okay if there haven't been a lot of people who have done theater, pop and session work. I can be that person, and I can strive to have success in all of those fields," said Rosenfield. "It's amazing to me that music can take you to so many different places and provide so many vastly different but equally meaningful experiences."
Reflecting
Oftentimes, these milestones remind Thornton alumni of how far they've come in their personal and professional journeys since leaving USC.
"USC and Thornton were a huge pinnacle of my learning. My teacher Elizabeth Hynes was extraordinary, and we're still very close," said Newman. "Ken Cazan, Brent McMunn and everybody who was there taught me what it was to be prepared, what it was like to walk into a rehearsal and how to be professional. All of my experiences now as a professional singer involve so many of the things that I learned during my six years at USC."
Once they establish their professional careers, many alumni notice that they're using certain skills that they didn't think were significant when they were learning them in the classroom.
"There are things that I studied at USC that I had no idea would benefit me in my career," said Emily Rosenfield. "During my first year, I did jazz arranging with Jason Goldman, which opened my eyes to what arranging could be and how creative it could be in writing. Later on, I took pop arranging with Rick Schmunk and I learned how to do pop string arranging. That's come back into my life in an unexpected way."
Being open to opportunities
With so much change happening in the music industry, it can be difficult to predict where the next opportunity will arise. Sometimes, life may take a person in a linear direction, and other times, it may lead them off the trail. Whatever the case, being open to new opportunities is key.
"Hamilton has unexpectedly been one of the best experiences of my life. I wasn't sure that I wanted to do a theater tour, but the people I've met, the musicians that I've gotten to work with, the singers, the actors, the dancers – everyone is the best at what they do and they're all amazing humans," said Rosenfield. "When you get that rare combination of people who care about the people they work with and who are just absolutely incredible at their jobs, this great sense of community and purpose is created."
Although Rosenfield is no longer playing with Hamilton, a new member of USC Thornton will be joining the show's family this summer. Beginning this June, popular music program senior Dominic Anzalone will be the main drummer for the Hamilton (Angelica) Company, beginning his career mere days after taking the stage at his commencement ceremony.
"It all feels very surreal," said Anzalone. "I think about all of the times that I was sitting out on my balcony for a year straight just watching Hamilton and my roommates would come out and say, 'What're you doing? Oh, you're still watching.' So, I'm very excited because it's a piece of art that I really love. It's really cool to be jumping into something like this right after college."
USC Thornton alumnus, current graduate certificate student and percussionist David Riccobono (MM '19) looks forward to starting his new position as assistant principal timpani/section percussion with the St. Louis Symphony Orchestra, which will have him playing in two sections – something he has never done before in an orchestra.
"This job is different in a way because it's the associate principal timpani and section percussion, and in a symphony orchestra, timpani is its own section and percussion is its own section. So, it's kind of split," said Riccobono. "Basically, I'm doing both – I get a little double duty, which is nice. It's interesting because, during the probationary period, you have to work with both sections and see how that works for you."
When young musicians embark on new careers, they may not know exactly what works for them or what types of opportunities they want to pursue. It can be very intimidating to not know what the future might look like, but through various experiences, they will find their own unique path.
To offer encouragement for the road ahead, Diana Newman shared some insight for today's students.
"It's about having some goals but also being open to what possibilities may arise, because we exist in a world where music is constantly changing and evolving. So, I think that the way in which this is going, the more that we are a part of that and go with it, the better," she said.
---
Katalina Garber is a third-year USC student majoring in music industry and minoring in public relations.
Never miss a story
Subscribe to USC Thornton's e-newsletter
Subscribe