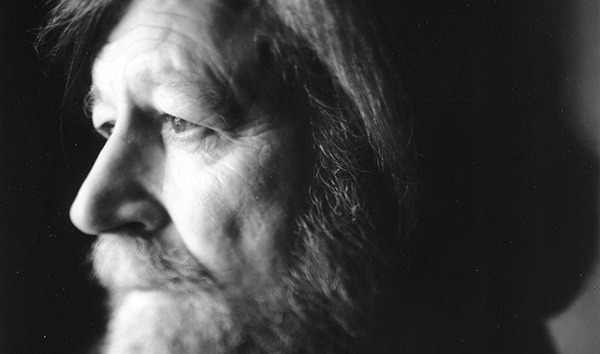 The Eternal Light of Morten Lauridsen
Farewell concert at Disney Hall honors distinguished professor and composer's 50+ years with USC, while showcasing USC Thornton musicians.
Somehow the stars aligned. Last year, when maestro Carl St.Clair programmed Morten Lauridsen's Lux Aeterna for the April 14, 2019, concert at Walt Disney Concert Hall, he didn't know the Distinguished Professor of Composition would be retiring in May. Without realizing it, St.Clair planned the perfect farewell concert to celebrate Lauridsen's more than half a century with USC.
Before the end of the last century, Lauridsen became the most frequently performed American choral composer. And Lux Aeterna has been one of the most popular compositions in the repertory since its 1997 premiere — performed on average 75 times a year around the world.
"That is an unusual number of performances for a contemporary piece that involves chorus and orchestra and that's a half an hour long," Lauridsen said before rehearsals had begun for the April concert.
Lauridsen's compositions are lauded for their spirituality, and Lux Aeterna ("Eternal Light"), in particular, has a celestial beauty that touches audiences every time it's performed.
"When you have someone with profound spirituality as Morten does, it's only that kind of spirit which can reach into the heavens and bring us back those kinds of sounds and notes and musical beauty," said St.Clair, the Artistic Leader and Principal Conductor of the USC Thornton Orchestras who is also Music Director of the Pacific Symphony. "Somehow or other Morten has, through his own personal spirituality, a free pass to heaven."

The magic of its beauty perhaps lies in its inspiration. "Lux Aeterna is a very, very personal piece," Lauridsen said. "It's a meditation on enlightenment. I wrote it when my mother was dying, and I simply went through those Latin texts that all related to eternal light — and it brought me great comfort."
Standing Ovations and Tears
In March, when Lux Aeterna was performed at Carnegie Hall, the Wall Street Journal called the non-liturgical piece "a requiem to comfort the living," "beautiful" and "deeply affecting." "Lux Aeterna' embodies the composer's profound spirituality expressed in an elegantly melodic language…."
Having just returned to Los Angeles after four sold-out performances in Tucson with the GRAMMY-nominated ensemble True Concord and a recent tour of Germany promoting a new Deutsche Grammophon recording, Light Eternal: The Choral Music of Morten Lauridsen, with the Chamber Choir of Europe, the effect of Lux Aeterna was fresh on the composer's mind.
"People come up to me afterwards, many in tears, thinking it has deeply affected their life," said Lauridsen, who dedicates time each morning to respond to emails from people moved by his music.
USC Thornton musicologist Nick Strimple has called Lauridsen "the only American composer in history who can be called a mystic, [whose] probing, serene work contains an elusive and indefinable ingredient which leaves the impression that all the questions have been answered."
His talent as a composer has been recognized with some of the most prestigious honors in the field. In 2006, the National Endowment for the Arts named Lauridsen an American Choral Master. In 2007, he became the eighth classical composer to receive the National Medal of Arts, honored "for his composition of radiant choral works combining musical beauty, power and spiritual depth that have thrilled audiences worldwide." And in 2016, he was chosen from the American Society of Composers, Authors and Publishers' 600,000 members to receive the ASCAP Foundation Life in Music Award.
He believes USC shared in those honors. "That was a great reflection on USC," he said, "because not only am I a professor, but I was educated here."
A Showcase of USC Talent
The Disney Hall concert that takes place at 7:30 PM on April 14 will undoubtedly be an emotional one. It will also be a significant showcase of USC Thornton talent, with three student ensembles, four faculty ensemble leaders and two USC faculty composers in the spotlight.
Sharing the stage with St.Clair and the USC Thornton Symphony will be both the USC Thornton Wind Ensemble, directed by H. Robert Reynolds and Sharon Lavery, and the USC Thornton Choral Artists, led by Jo-Michael Scheibe. In addition to Lux Aeterna, they'll perform another signature piece by a celebrated member of the USC Thornton Composition faculty: Frank Ticheli's Angels in the Architecture, as well as Beethoven's Fifth Symphony.
"Any time and every time the students have an opportunity to play Disney, it's always something we look forward to," St.Clair said. "It's a prestigious concert hall and special atmosphere. It also allows us to have an audience outside of the campus life."
Angels in the Architecture was written for concert band with soprano soloist, and Lux Aeterna for chamber orchestra and chorus. "Beethoven's Fifth continues the idea of Lux Aeterna, light everlasting," St.Clair said. "With a victorious finale, it brings the concert to rousing conclusion."

"In Frank Ticheli and Morten Lauridsen, USC has been blessed with two incredibly treasured American composers," said St.Clair who has worked with both composers as music director of the Pacific Symphony and Pacific Chorale and considers them friends as well as professional colleagues. He has performed Lux Aeterna with the Pacific Symphony and Chorale, as well as the National Orchestra of Costa Rica for which he is also music director.
The last time Lux Aeterna was performed at Disney Hall was two years ago when the LA Master Chorale did three sold-out performances to celebrate the 20th anniversary of its premiere.
Decades of Distinction
Lauridsen celebrates more than 50 years with USC. A native of the Pacific Northwest, he came to USC Thornton as an undergraduate, studying with Ingolf Dahl, Halsey Stevens, Robert Linn and Harold Owen, whom he called "very fine and quite legendary composers," as well as "a very distinguished group of people in piano, conducting and history."
He joined the faculty in 1967 and has taught courses in composition and related areas and been a private instructor for graduate composition students. He volunteered to teach a freshman theory class every year. He chaired the Composition Department for 12 years and founded the Advanced Studies Program in Film Scoring in the 1980s. "That program has developed into the very finest of its kind in the world," Lauridsen said, "so if you want to score films, you better come to USC."
Lauridsen lives in both Los Angeles and Waldron Island off the northern coast of Washington, where he famously worked on many compositions "in a rustic waterfront cabin by candlelight on a 50-dollar spinet piano." But many of his works were composed and premiered at USC.
"My very first choral piece was premiered by the USC Concert Choir back in 1965," Lauridsen said. "It was the first piece I wrote. I conducted the premiere, and we went on tour, and then it got published, and it started my career as a composer. My relationship to the School of Music has been very, very close. They have not only premiered my choral works, they've premiered my songs and instrumental pieces."
"USC provided me a platform from which to develop my career as a professor and as a composer," Lauridsen said.
Decades later, Lauridsen's catalog includes more than 200 recordings, five of which have received Grammy Award nominations, including the 1998 recording of Lux Aeterna by the Los Angeles Master Chorale (led by Paul Salamunovich), for whom Lauridsen served as the first composer in residence.
Giving Poetry a Voice
"I have a deep connection to vocal music especially, and it combines two of my great loves, which are the most personal instrument of all, the human voice, and poetry," Lauridsen said. "The vast majority of my classes over the past 50 years, I started each session with a poem."
At the core of his catalog is a series of multi-movement vocal pieces both for chorus and solo voices based on poems by the likes of Rainer Maria Rilke and Federico Garcia Lorca. The USC Chamber Singers premiered two of his major choral cycles: Madrigali: Six 'Firesongs' on Italian Renaissance Poems and Mid-Winter Songs (on poems by Robert Graves), which Lauridsen was commissioned to write to celebrate USC's 100th anniversary.
One of the creative collaborations sparked at USC was Prayer. Lauridsen set a poem by Dana Gioia, Judge Widney Professor of Poetry and Public Culture and Poet Laureate of California, to solo voice. Operatic baritone Rod Gilfry, who is a USC Thornton Vocal Arts faculty member, premiered the piece.
While at USC, Lauridsen earned the distinguished USC Associates Award for Artistic Expression and 2014 Outstanding Service Award from the University of Southern California Association of Trojan Leagues.
Lauridsen, who plans to reside permanently in his remote island home, will still have a full slate of musical activities on his plate during retirement, with performances, university residencies and work as honorary artistic president of the Interkultur/World Choir Games. Plus, there is a biography in the works.
"It's been a very full and wonderful association with USC all these years," he said.
"And it's especially nice ending this with a performance of Lux Aeterna under the great maestro St.Clair with the combined chamber singers and choruses and symphony of USC at Disney Hall."
***
A weeklong celebration of Morten Lauridsen
Tuesday, April 9, 7:30 pm
Thornton Edge
Newman Hall
Free Admission
As part of the weeklong celebration of Lauridsen, new music ensemble Thornton Edge presents Morten Lauridsen's classic song cycle, Four Lorca Songs in addition to two pieces by his faculty colleagues in the Composition program, Sean Friar's Dynamics and Donald Crockett's And the River, as well as selections from Kate Soper's Only the Words Themselves, Mean What They Say.
Sunday, April 14, 7:30 pm
USC Thornton Symphony, Wind Ensemble and Choral Artists at Walt Disney Concert Hall
Walt Disney Concert Hall
$15-$46. For tickets, call (323) 850-2050 or visit laphil.com.
Carl St.Clair leads the USC Thornton Symphony in a performance at Walt Disney Concert Hall featuring Beethoven's 5th Symphony as well as two works by Thornton composers, Frank Ticheli's celebrated Angels in the Architecture with the USC Thornton Wind Ensemble, and Morten Lauridsen's iconic Lux Aeterna with the USC Thornton Choral Artists.

Never miss a story
Subscribe to USC Thornton's e-newsletter
Subscribe