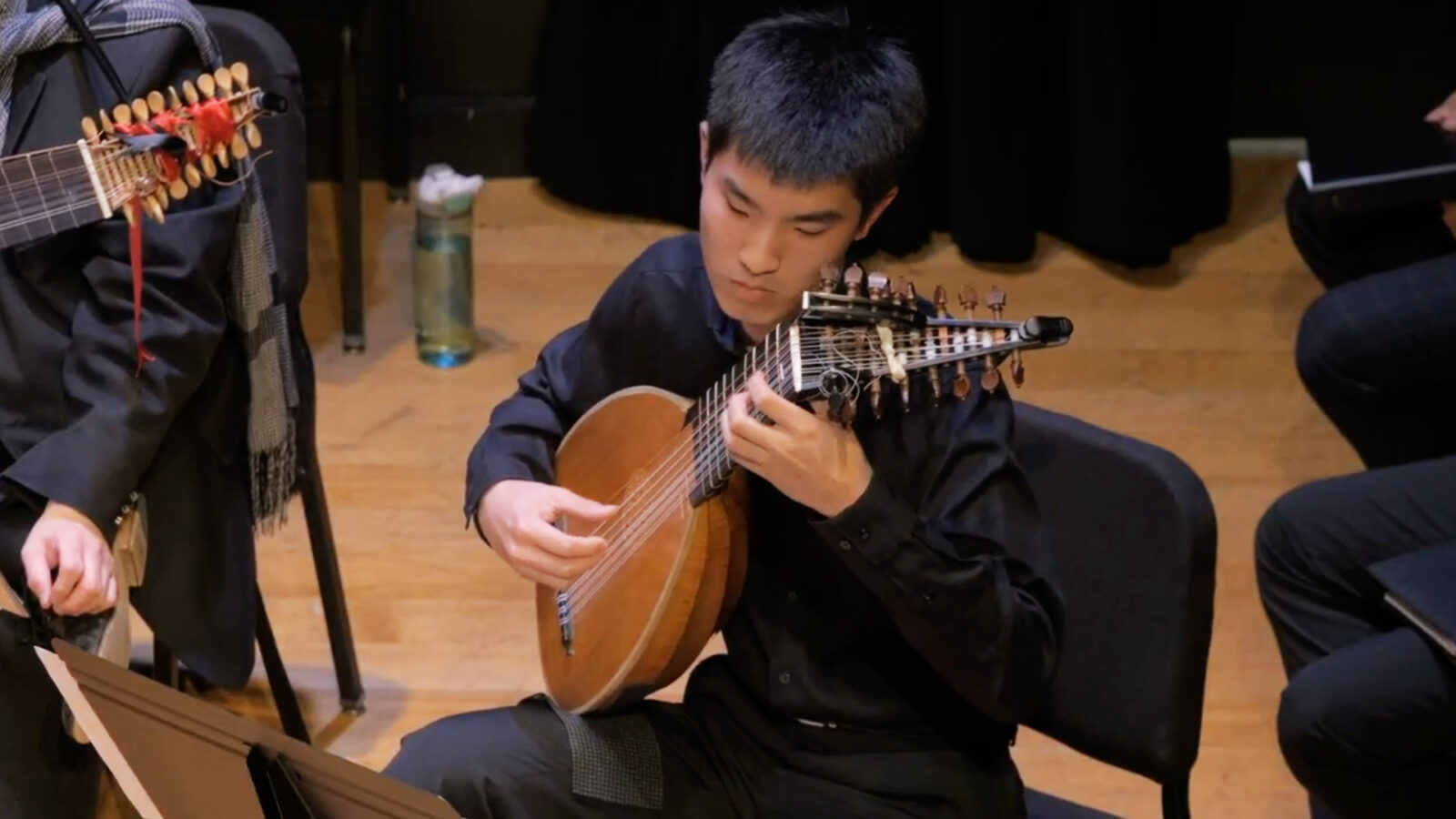 The Process: Robert Wang
By Tyler Francischine & Sean David Christensen
The classical guitar major's interest in the history of the guitar led him to the lute and performances with Thornton's Baroque Sinfonia.
---
For USC Thornton Classical Guitar program student Robert Wang, delving into the history of his instrument adds a new layer of understanding and appreciation for its evolution and its predecessors over the last few centuries.
Wang's work lies at the intersection of the scholarly and classical divisions of the USC Thornton School of Music, and he finds mentorship for his unique research interests from faculty across the school, including Jason Yoshida, part-time lecturer in the Thornton Early Music Performance program. The pair share a love of Baroque and Renaissance music, and Yoshida teaches Wang lessons on early plucked string instruments like the lute and the Baroque guitar.
Wang enjoys playing early instruments in part for the challenges they present. Since their dynamics are softer than modern guitars, it's up to Wang to create intentional shifts through mastering phrasing and finger techniques on the fretboard.
After performing some of Renaissance composer John Dowland's works on the modern classical guitar, Wang felt inspired to play this music from the 17th century on the original instrument the composer intended. The result was a thrilling transcription project.
"It's the feel of how the instrument sounds and how I play—it's just completely different from classical guitar. It's amazing to play something in its original form, when, back then, the classical guitar didn't even exist," Wang says.
As part of his recent coursework, Wang created a new arrangement of "Capriccio No. 1" by György Ligeti, originally composed for piano. By separating the parts for the left and right hands, Wang created a new piece for a guitar duo.
---
Read more about the USC Thornton Classical Guitar program
Alum Bokyung "Bo" Byun is the first woman to win Guitar Foundation of America competition in 20 years.
Classical guitarist Mak Grgić (MM '12, DMA '16, GCRT '20), received their first Grammy nomination for "Best Classical Instrumental Solo" for Mak|Bach.
Never miss a story
Subscribe to USC Thornton's e-newsletter
Subscribe