Three Is A Magic Number
By Emily Thebaut & Evan Calbi
Katherine Ho's performance in the soundtrack to Crazy Rich Asians has been covered widely as part of the reception of the groundbreaking and celebrated film. The USC sophomore sang Coldplay's "Yellow" in Mandarin, a fantastic rendition she worked out in a rehearsal room on campus while her father coached her in proper pronunciation over the phone.
Ho's breakout song has been covered in articles in the Washington Post, Los Angeles Times, Cosmopolitan, and many blogs and online news sites.
It's an amazing story, but it's only half, or, in this case, a third of the story.
Ho is joined by two alums on the soundtrack. Cheryl Koh '18, who goes by Cheryl K, sang the song "Money" for the film, and Kina Grannis '07 not only performed the cover of Elvis Presley's "Can't Help Falling In Love" but (Spoiler Alert!) shows up late in the film to perform the iconic ballad.
For a film that builds towards a memorable, decadent wedding, the inclusion of all three Trojan singers is its own form of extravagance.
Combining Interests
For Ho, a Biology major who is minoring in songwriting at USC Thornton, the opportunity arrived in a text from Thornton alum and multiple GRAMMY Award winner Ben Bram, who leads Snowfall, an a capella group Ho is a member of. Bram, who met the sophomore when she attended an a capella camp in high school, mentioned a film was looking for someone to submit a recording of the Coldplay song, "Yellow," but translated into Mandarin. Not knowing the magnitude of what she was auditioning for, Ho spent several hours working on the Mandarin with her father and submitted the recording. Soon after, she got the call that she was chosen to record the song for the film.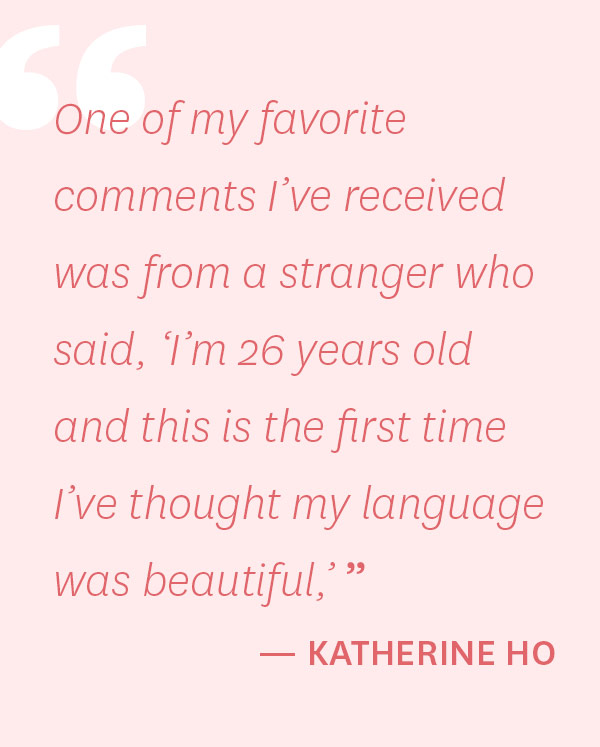 "One of my favorite comments I've received was from a stranger who said, 'I'm 26 years old and this is the first time I've thought my language was beautiful,'" Ho says. She's been astounded by the reception. "I'm glad this song is making people proud of their identity," she says.
Ho, who was previously been on Season 10 of the popular NBC show, The Voice, started piano and singing at a very young age and is pursuing a minor in songwriting. But she is equally passionate about health care.
"I genuinely have passion for both things, so, USC is a great place for interdisciplinary studies, and so strong in many different departments," she says.
It was her combined interests, in life sciences and music, that attracted her to USC. Currently, Ho is part of a music therapy club at USC, Remedy Through Music, that goes each week to CalMed to perform for patients. She feels strongly that "music has healing properties and has a place in the medical environment."
"Most people think that music and science are really incompatible so whenever I can merge the two it is really special for me," Ho says.
Take Two
Cheryl Koh, who goes by Cheryl K., also performed on the soundtrack. Her rendition of the Motown classic "Money (That's What I Want)" is featured in both the opening and closing credits. It was recorded while the Malaysian singer was finishing her studies at USC. She graduated last May with a Bachelor's in Business Administration and a minor in Thornton's Music Industry program.
While Ho was referred by a Thornton alum, Bram, Koh's audition was pulled from a worldwide online casting call she submitted through YouTube. A year later, she got an email from Warner Bros. that she'd been selected. She recorded the initial take of the song in her dorm room.
"I almost was going to take it down," Koh says of her audition tape in an interview in Glamour. "But I thought, Whatever happens, happens."
Needless to say, a lot has happened.


A Grand Finale
With over a million subscribers on YouTube, a catalog of well-received records, national tours, awards and accolades, Kina Grannis was already known to the film's director Jon M. Chu, himself an alum of the USC School of Cinematic Arts.
As the film's music supervisor Gabe Hilfer told Entertainment Weekly, he and Chu knew the wanted to use Elvis Presley's love song "I Can't Help Falling In Love" in the climactic wedding scene. Grannis had already recorded a version, and the rest fell into place. Grannis not only delivers a moving cover of the song, she appears in the film performing it.
At USC, Grannis earned a degree in Psychology while taking classes at USC Thornton. She released an album called Stairwells after graduating which features works she wrote while she was a USC student. The title of the album refers to the stairwells at USC where she felt inspired to compose and practice her songs. As a student, Grannis worked closely with Chris Sampson, Vice Dean of USC Thornton's Contemporary Music Division, writing and recording her first record, Sincerely, me.
She sums up her USC experience perfectly in a feature from USC Dornsife: "Part of college is learning how to learn and discipline yourself," she says. "On the whole, that's what I took away from USC: learning how to manage my life and be a grown-up and explore different ideas. I'm so grateful I ended up at USC, it was a perfect place for me to grow into an artist."
Never miss a story
Subscribe to USC Thornton's e-newsletter
Subscribe