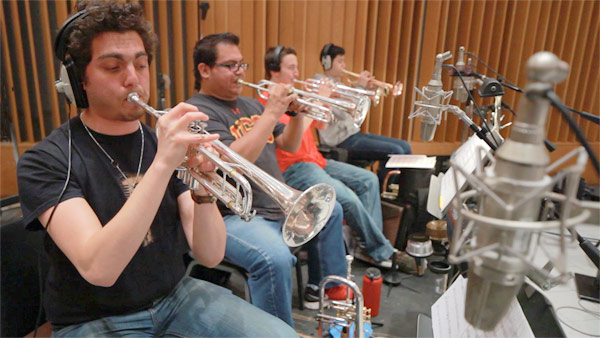 USC Thornton Returns to Studio A
Bob Mintzer, a celebrated bandleader and Chair of Jazz Studies at USC Thornton, waited at the podium to count off another take with the USC Thornton Jazz Orchestra. Sitting in the control booth at Capitol Records' famed Studio A with legendary engineer Al Schmitt behind the board, Screen Scoring program director Daniel Carlin quipped, "If we're ever going to sound good, this is going to be the day and the place."
No one needed to worry. They sounded amazing. Part of an annual collaboration, the session last Spring on April 14th featured the USC Thornton Jazz Orchestra performing arrangements written by students in the Screen Scoring program while students in the Music Production degree assisted Schmitt in recording the performances.
"What we've tried to do at USC and our Division of Contemporary Music is to have much more integration and collaboration… [The three groups] are here to learn what they can about process," said Carlin.
The mood throughout the day was professional but laid-back. "Okay, relax… I hate when people say that," Bob Mintzer joked before another take.
"Working with Bob Mintzer's big band has been really amazing," said Screen Scoring student Alex Winkler. "Not only are they great players, but Bob has a reputation nationwide. Anyone who's into jazz knows his name."
"I have to confess that I use a lot of these players in my professional big band," said Mintzer, director of the USC Thornton Jazz Orchestra and a multiple GRAMMY Award-winner.
USC Thornton organizes over 10 sessions like this one each year. It is an inclusive experience that offers an inside look into the music industry.
"It's our mission as department chairs to get out into the professional community and create extracurricular events that make our program different from any other program in the country," said Rick Schmunk, chair of the Music Technology program.
The opportunity for the students in these departments is unparalleled – they work with some of the biggest names in the music industry and make important connections before entering the music world themselves.
"When you leave school, you're going to be operating in these environments with these people," said Music Production student Lauren Jones. "You really want to learn by observing and talking to people who are doing it."
Never miss a story
Subscribe to USC Thornton's e-newsletter
Subscribe