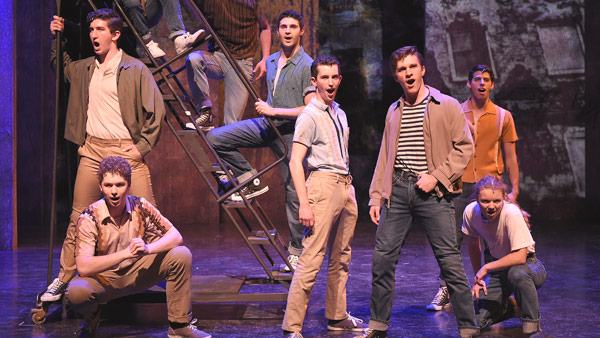 West Side Story: An Academic Triple Threat
The USC School of Dramatic Arts' 2018 spring musical West Side Story may coincide with the 100th anniversary of composer Leonard Bernstein's birth, but there are at least two other reasons the musical is an inspired choice.
First, it is a collaborative production with two other USC arts schools – the USC Thornton School of Music and the USC Glorya Kaufman School of Dance. Singers and dancers from both schools receive Dramatic Arts credits for appearing in the musical, and their combined talents make this West Side Story an academic triple threat and something very special.
Second, this convergence foreshadows a new School of Dramatic Arts musical theatre major that allows students to take classes in all three schools. Student recruitment begins in earnest for the BFA program this fall, and majors will begin classes in Fall 2019. "Musical theatre requires all three of our disciplines," said Dramatic Arts dean David Bridel. "I believe very strongly in the professional imperative to constantly seek collaboration between disciplines. This is a partnership curriculum built from the ground up."
Ken Cazan, chair of Vocal Arts & Opera at USC Thornton and resident stage director of the Opera Program, directs the production. He has previously directed West Side Story three times for professional companies. This version has a leaner set, which he prefers, and production design by "extremely talented undergrads in the School of Dramatic Arts."
Cazan said he is always amazed at the power of the classic love story to change lives, but this production is notable, "because every single cast member has embraced their inner gifts and grown hugely." Dancers discovered acting talent they didn't know they had. Some theatre students blossomed as dancers. And at least one singer who has a major role is acting for the first time.
Jodie Gates, USC Kaufman vice dean and director, echoed Cazan, saying "it was incredibly wonderful to discover how many Kaufman dancers can sing.
"It adds to their training as young artists, and opens their eyes to the possibilities in musical theatre, possibly thinking forward to a Broadway career."
Dean Bridel said the genesis of the collaboration dates to 2015, when he became interim dean. In one of his first lunches with Robert Cutietta, dean of both USC Kaufman and USC Thornton, "we basically asked each other 'what are we going to do about musical theatre?'"
"I had thought this could never happen," said Cutietta, who admitted there was a steep learning curve for everyone during the project. He and Bridel talked regularly to work out logistics on staffing, credits and schedules.
"I've gotten feedback from both the dance students and the opera students that there's been a lot of self-discovery going on," Cutietta said. "They've all put in a lot of work with many late nights."
Thanks to financial help from USC Visions & Voices: The Arts and Humanities Initiative, the production brought in Broadway, off-Broadway and opera choreographer Danny Pelzig, who was a swing dancer in a Broadway revival of West Side Story. He taught the cast choreography based on the original Jerome Robbins work. USC Kaufman faculty members Patrick Corbin and Saleemah E. Knight worked with the cast in USC Kaufman rehearsal studios to create a seamless ensemble of dancers and non-dancers.
Not that the non-dancers found it easy. Tristan McIntyre, who plays Action, one of the Jets, is a sophomore theatre major, said his reaction after the first dance rehearsal was, "Wow. I need to get in shape and work on my stamina." He already had taken tap, ballet and jazz classes at USC Kaufman, but said dancing on stage alongside dance majors quickly made him a better dancer.
It has been thrilling for him to see the dancers and singers "get the high of musical theatre" that the acting students know well, McIntyre said.
Ardyn Flynt, a USC Kaufman dancer who plays the Jet character named Anybodys, wrote a blog post for her school about the West Side Story experience, as did Juan Miguel Posada, who plays Bernardo.
Flynt wrote: "Never before have I been expected to dance so aerobically, and then somehow sing in an articulate (and in-key) manner." She observed that learning a piece of repertory in dance means physicalizing a movement over and over until it becomes muscle memory. "In West Side, to embody a character fully requires an understanding of text, and requires analyzing dialogue and considering what a nonsense word like 'frabbajabba' or 'cracko-jacko' might have meant at the time."
Theodosia Roussos, who plays Maria, and is a master of music student in both oboe performance and vocal arts, said the performers regularly reach out to their fellow cast members in other schools with questions. "I ask them for tips and they ask me for vocal tips. It's mutual helping."
Junior Geovanna Nichols-Julien, who plays Consuela (a Shark), is another vocal arts major. She said it is exciting to watch and learn from the dancers, and then have them ask her to check their harmonies. "It's similar to being in an opera," she said. "What we've learned is that what we do is not that different from each other."
Continuing the multi-disciplinary production team, West Side Story's musical director and conductor, Parmer Fuller, is on faculty at both Dramatic Arts and Thornton. And stage managing the 38 actors, 17 crew members and 15 designers falls to a senior BFA stage management major from Dramatic Arts who calmly "calls" the show – wearing a headset and calling lighting and sound cues for the technical staff.
"The collaboration between the three schools has been a joy!" enthused director Cazan. "Faculty members of all three schools have become friends and the students have made deep connections. I truly hope that this is the first of many collaborations."
"I don't believe this will be a one-off," predicted USC Kaufman's Gates. "I think this first-rate collaboration launches future collaborations."
Dean Bridel calls West Side Story "a window into our future." He said: "It's always safer to stay in your lane, and so I am grateful to my colleagues for taking the plunge."
Never miss a story
Subscribe to USC Thornton's e-newsletter
Subscribe