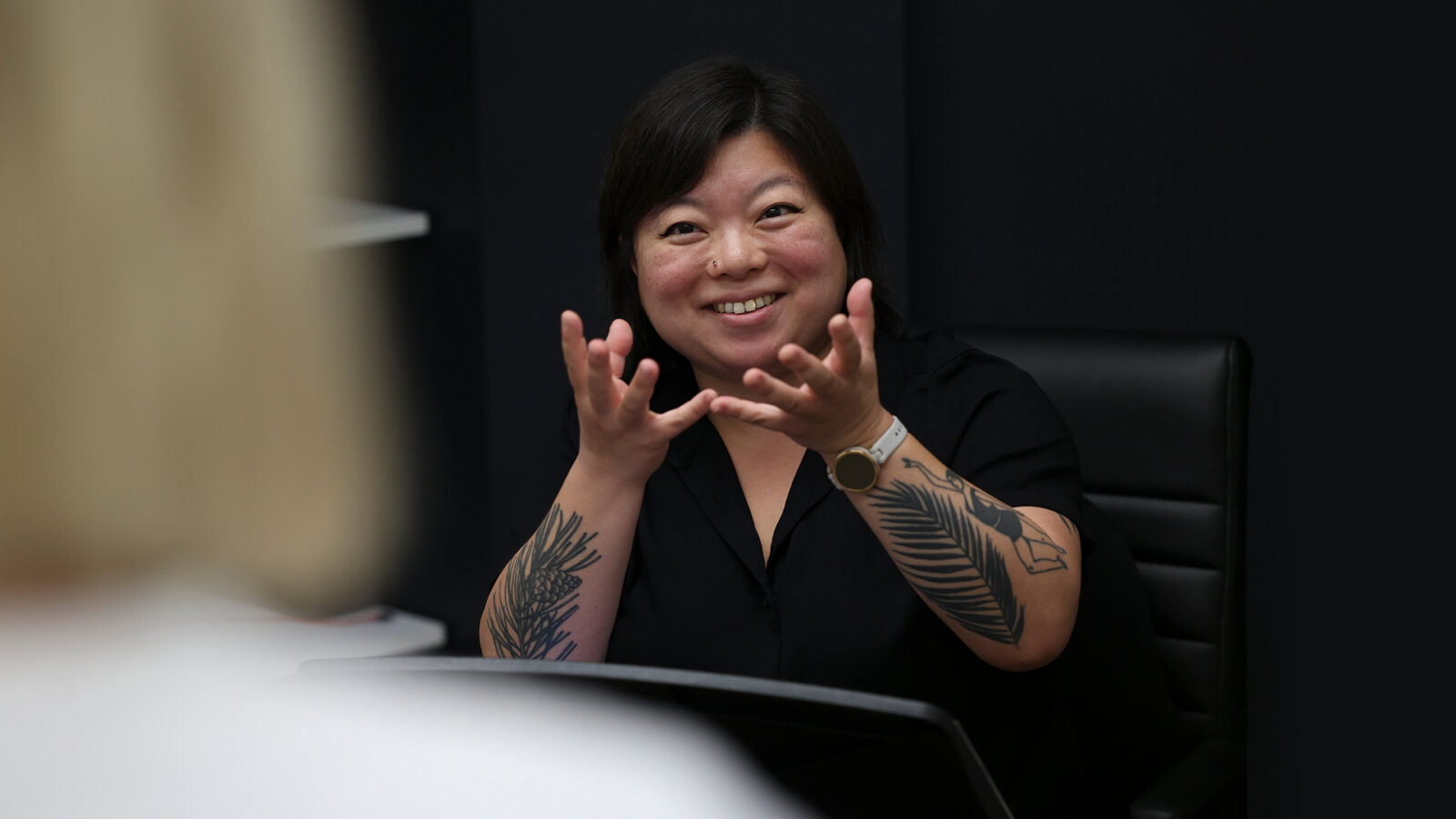 What Does Music Mean to Me?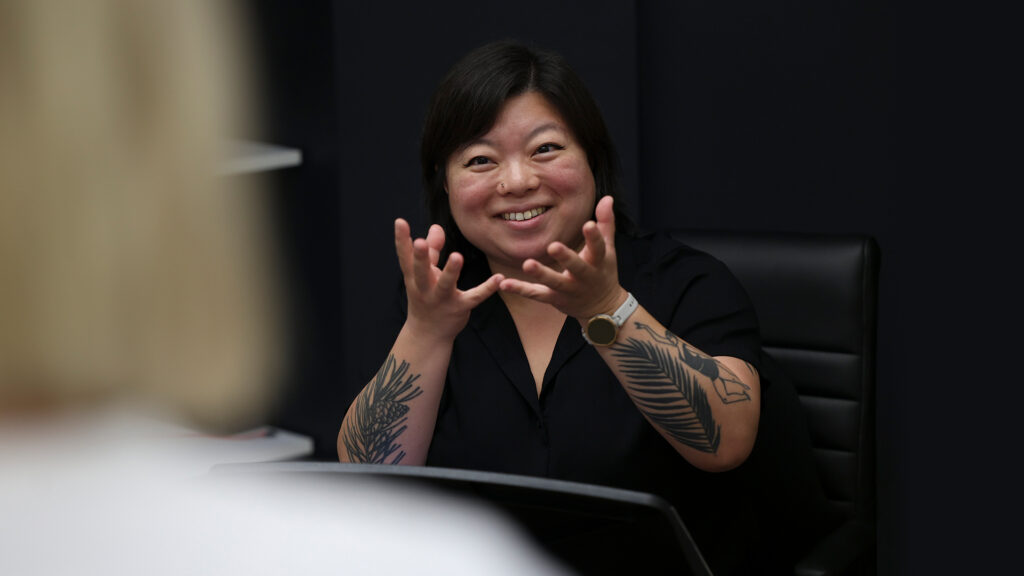 What does music mean to Thornton Strings Department faculty member Yura Lee? Utilizing her experiences as a lifelong professional musician, Lee instills curiosity and commitment in her students.
---
At an age when most kids are still learning to tie their shoes, Yura Lee's nimble fingers were honing the techniques necessary to become a professional violinist. By the time the 12-year-old became the youngest artist in history to win the Debut Artist of the Year Prize at National Public Radio's Performance Today Awards, she had already built a solid career playing with orchestras across the U.S., Europe and Asia while being represented by ICM Artists, the prestigious classical music management firm known today as Opus 3.
However, as the Alice and Eleonore Schoenfeld Endowed Chair in String Instruction and associate professor of practice in the USC Thornton Strings Department recalls, it wasn't until she approached her twenties that she began to ask herself the hard questions like, "Is this really what I want to do with my life?"
"I kind of had a backwards or upside-down way of growing up. I was a professional very young, and then by the time I was college-entering age, I was doubting myself. I asked, 'Do I really want to do this?'" Lee recalls.
After much soul searching, the answer came back a resounding yes. Today, Yura Lee performs around the globe as both a violinist and violist in soloist and chamber musician capacities. She has appeared with ensembles like the New York Philharmonic, the Chicago Symphony, the Los Angeles Philharmonic, the Hong Kong Philharmonic and the Tokyo Philharmonic. Her album with Reinhard Goebel and the Bayerische Kammerphilharmonie, "Mozart in Paris," received the prestigious Diapason d'Or Award. Most recently, she was named principal violist of the Los Angeles Chamber Orchestra (LACO).
As an educator, Lee uses her life's journey – complete with the accomplishments, challenges and questions that pop up along the way – to provide her Thornton strings students with an education in not only proper technique but the realities of choosing a career as a professional musician.
"This is my 29th year of playing professionally, so as I'm playing and also teaching seriously now, the idea of what it means to be a musician has changed a little bit for me. Things were kind of given to me when I was younger, and during my twenties, I really figured out, 'What does music mean to me?'" Lee says. "I realized that there are so many extraneous factors that come into being a musician professionally and making a living with it tangibly. I encourage people who want to be a musician to really ask themselves, 'Can I live without it?' Being a professional musician is almost a calling rather than just a banal disposition of sorts. You have to want to do it."
Making Learning Curious and Fun
At the age of 4, Lee began violin instruction through the Suzuki method in her native South Korea. Through this unique pedagogy, which founder Shinichi Suzuki created with intentions of building young musicians with "noble hearts," Lee learned the importance of listening and embracing music "with your whole body rather than only using your brain in the learning process." She utilizes a similar ethos when she mentors Thornton string players.
"My Suzuki teacher, who I remember very fondly, made learning really curious and fun," Lee says. "It left such an impression on me – the importance of learning and how to encourage others to do that. I believe that students almost have to be instigated to have fun with learning, so I try to stoke their curiosity in a way, because if they are truly interested in something, I can be their guide, helping them find the solutions to their problems. I think that is a more satisfying process of learning."
Yura Lee also draws inspiration from the pair of Thornton teachers who lent their names to her endowed chair position, among many other accomplishments: Alice and Eleonore Schoenfeld. She says continuing the Schoenfeld sisters' legacy makes her feel honored and proud.
"They devoted half of a century to work, pedagogy and teaching. I hope to get to do that for as long of a time and with as much passion as the Schoenfeld sisters did," she says. "I feel extremely proud that, at a time when women couldn't be so openly passionate about their work, they held their legacy so firmly and they paved the way for a lot of us. I can't say that that disparity has been completely leveled yet, so I hope that carrying their name reminds me what my role is in this world – not only as a teacher, but as a musician and as a woman."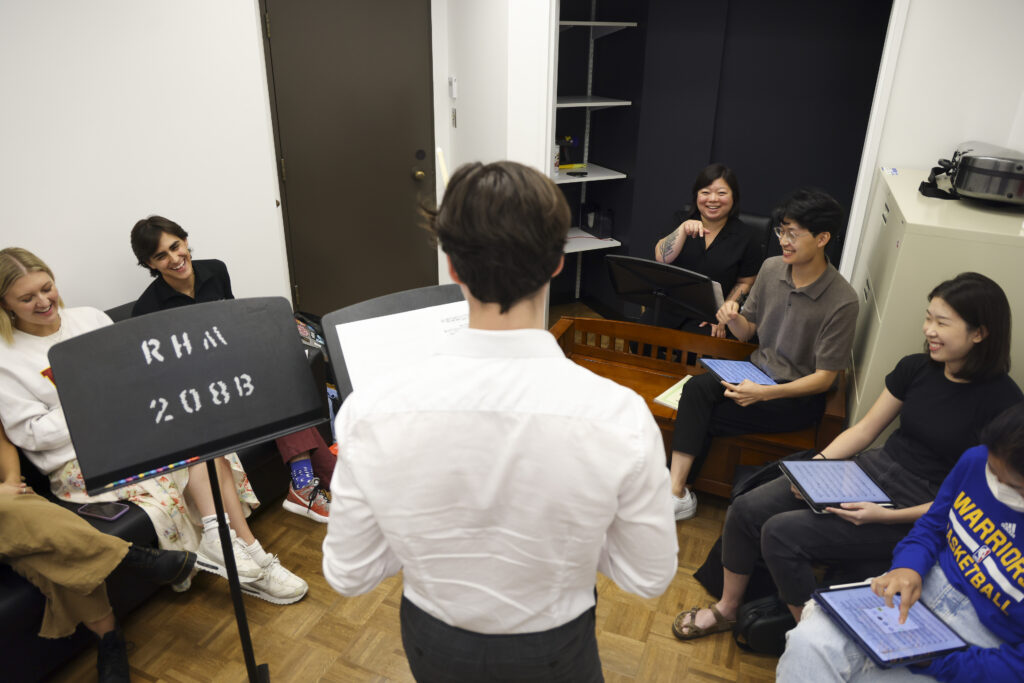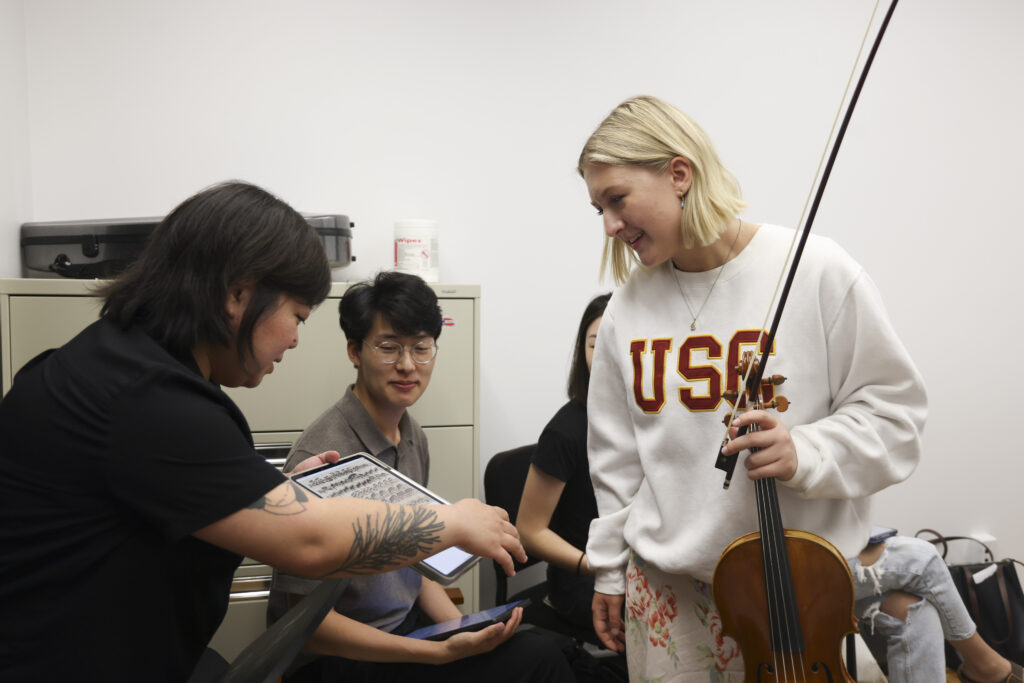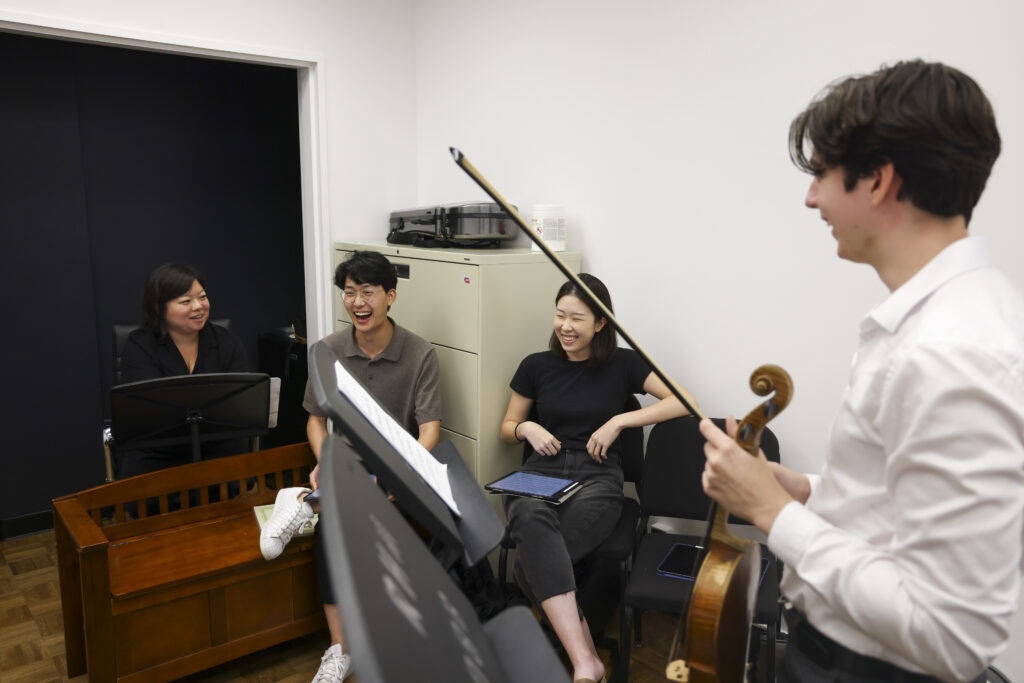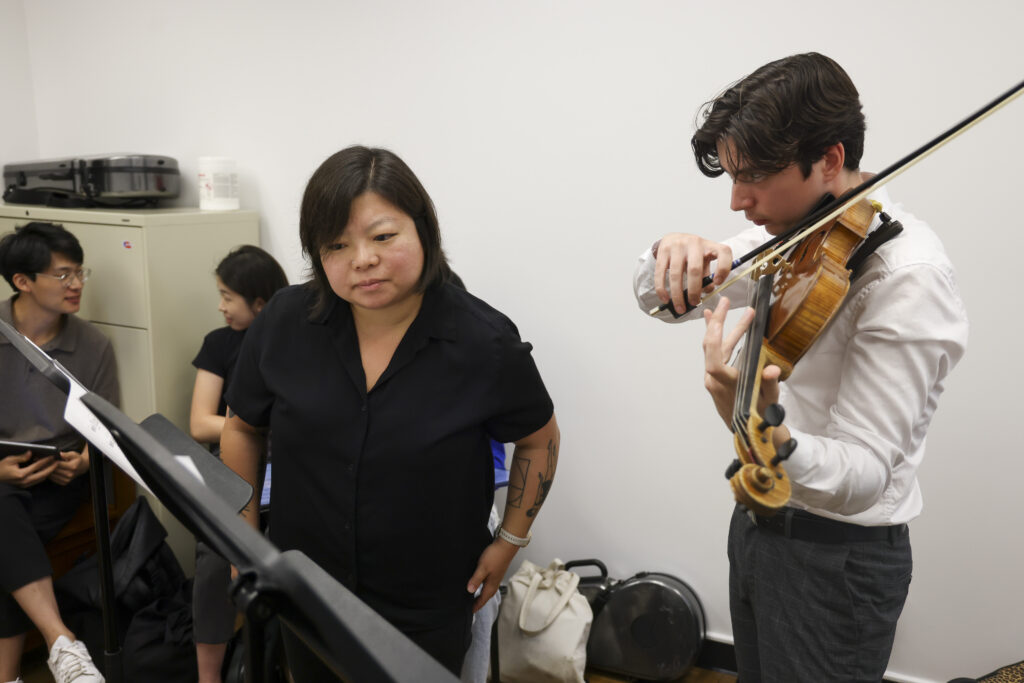 A Dignified Life
When she's not instructing Thornton students this fall, Lee can be found rehearsing chamber music compositions with LACO, a collaborative experience that proves variety is the spice of life, especially when it comes to a career in classical music. Lee's varied, diverse career of performing music from Baroque to modern styles serves as an example to her students that the possibilities are endless after they graduate.
"What's important to me is always remembering that your first job is not the last and that music taste will evolve. Your life's needs will evolve. So, as a musician, that means two things: asking yourself, 'Where am I going?' and secondly, being open to new roads," she says. "That was one of my mentor's biggest pieces of advice: open all doors and find a 'dignified life.' Life comes in all forms, but as long as you find that your life is fulfilling and dignified, I think that's success as a musician. Without opening as many doors that come your way, you won't know if you're going to really love something until you try it."
With each of her students, Lee spends about 15 hours every semester instructing them on an individual basis, which she recognizes, in the grand scheme of things, is a short amount of time to impart all of the knowledge and experience she has amassed in her three-decade career. Above all else, Lee hopes her students graduate from her instruction honoring the importance of not just becoming some of the world's best musicians, but becoming conscientious and kind people as well.
"I realized that I looked up to my teachers as a whole – not just who they are when they're playing music, but how they are with me and how they are in their life. So, for better or for worse, I hope that students see me as a whole, too – not just as a musician, but as a human being," she says. "Hopefully my whole being will encourage them to follow a path in music and find their own happiness in it, because when you see somebody you look up to passionately follow their path, that energy will rub off. I hope to leave a legacy of fulfilling life to my students – not just good music."
Never miss a story
Subscribe to USC Thornton's e-newsletter
Subscribe