World-Builder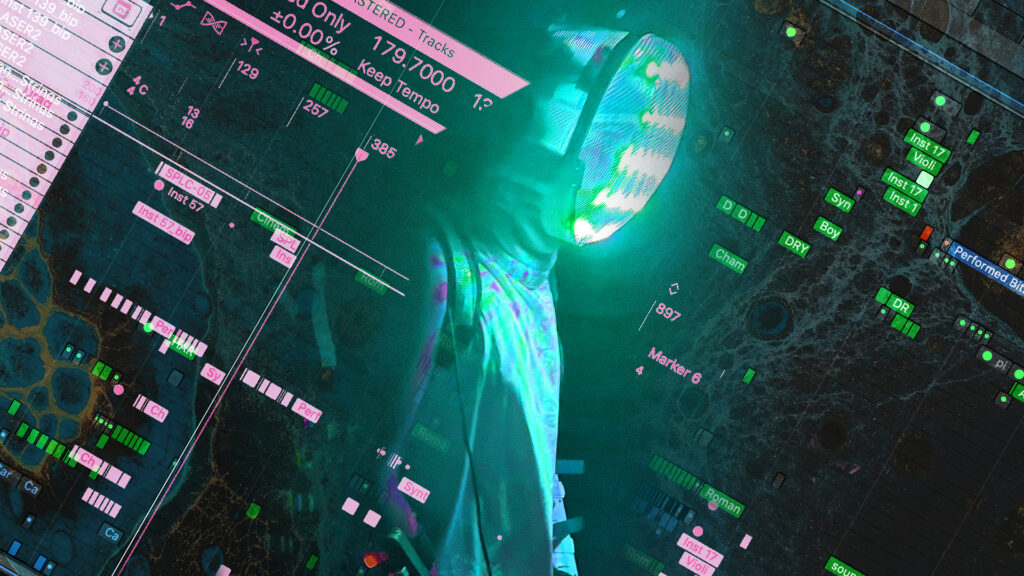 Composer/performer Rohan Chander (MM '22) impresses international jury with his identity-driven work
---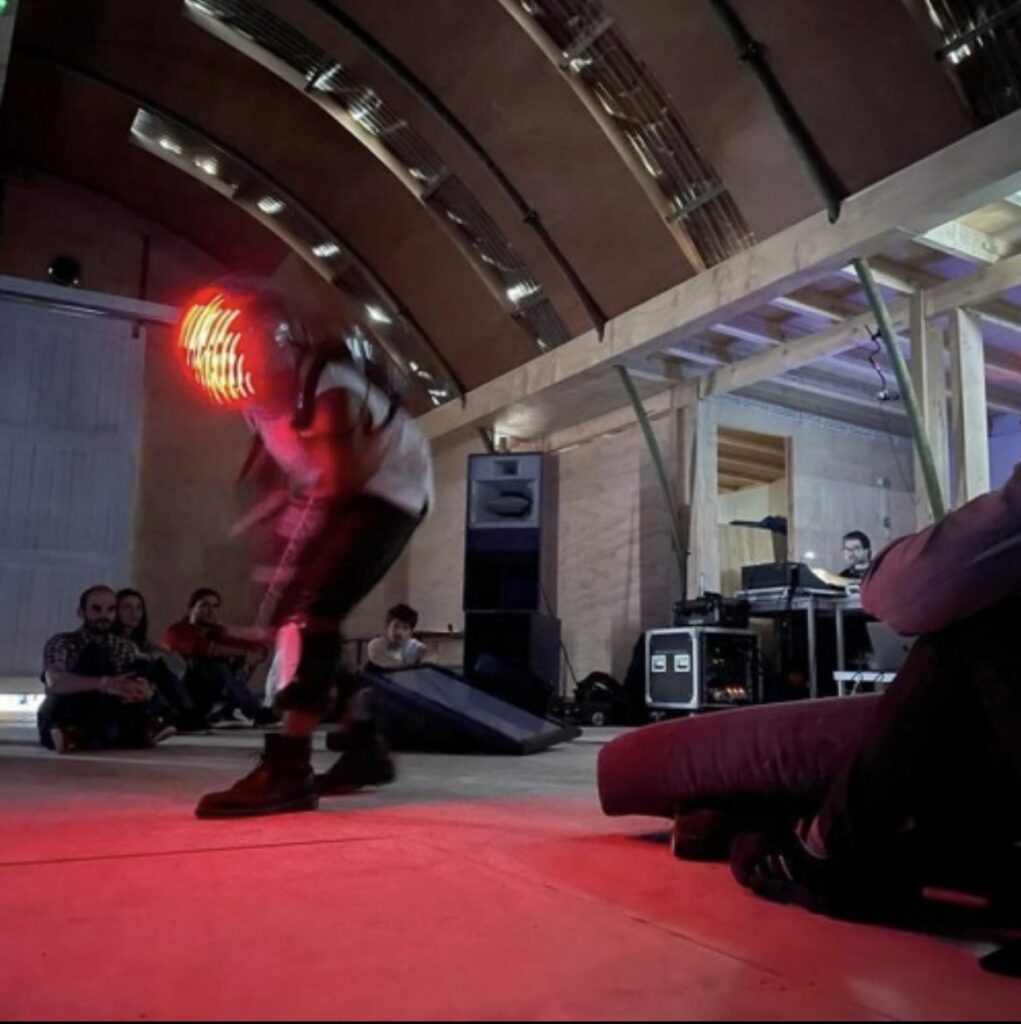 During his one-hour set at the Gaudeamus Festival 2022 for pioneering young composers, Rohan Chander (MM '22) experienced some "really big technical issues" but came out creatively inspired and, more importantly, the winner of the prestigious Gaudeamus Award 2022. One of five finalists selected from 222 submissions from across the globe, Chander prevailed on the final night of the festival, Sept. 11, in TivoliVredenburg in Utrecht, The Netherlands.
Because he composes and performs his electronic music, Chander opted to schedule a set, featuring music from his new solo album, remixes, unreleased music and works in progress, rather than have pieces of his music spread throughout the festival. His music mixes elements of beat or dance music, industrial, hip-hop, hyper-pop and goopcore, and his performances tend to be very physical.
"I have a really elaborate suit that I wear with a mask and lights," he explained. "I wear devices on my body with cables that link them to a computer. And I'm moving around a lot. There's a lot of lights and other kinds of media flashing while I'm moving around."
When Chander started his set, some things were not working properly. He had to stop barely a minute into it — and quickly reset.
"It was really awkward, and I had to think, 'What am I going to do now?'"
He improvised in rare fashion, and the performance took on a new life from what he had planned.
"I was swinging my controllers, my keyboards, like a whip around me; getting in front of people, holding people; and playing with other objects, destroying some of my equipment because it wasn't functioning."
What he thought was going all wrong, actually went quite right.
"It was kind of fun," he said. "Every performance is a learning process, and I discovered this new thing about how to engage physically with myself and the room that I hadn't considered before. That feels very liberating.
"And I'm excited actually. I have a show on Friday and another show on Sunday, and I have some residency time booked in Rotterdam, Netherlands, so I'm going to try to incorporate some of the things that happened, see how they feel."
West Coast vibe
The Gaudeamus Award includes a commission to write a new piece for an upcoming edition of the festival and brings international recognition that often jumpstarts careers. It means a lot to the young composer-performer fresh out of USC Thornton's Composition program in other ways as well.
"I don't actively contextualize my work in a composer space, so it feels really special to get validated by that environment. It's really awesome and a huge shock, and I'm still processing a little bit," Chander said from Amsterdam two days after the festival.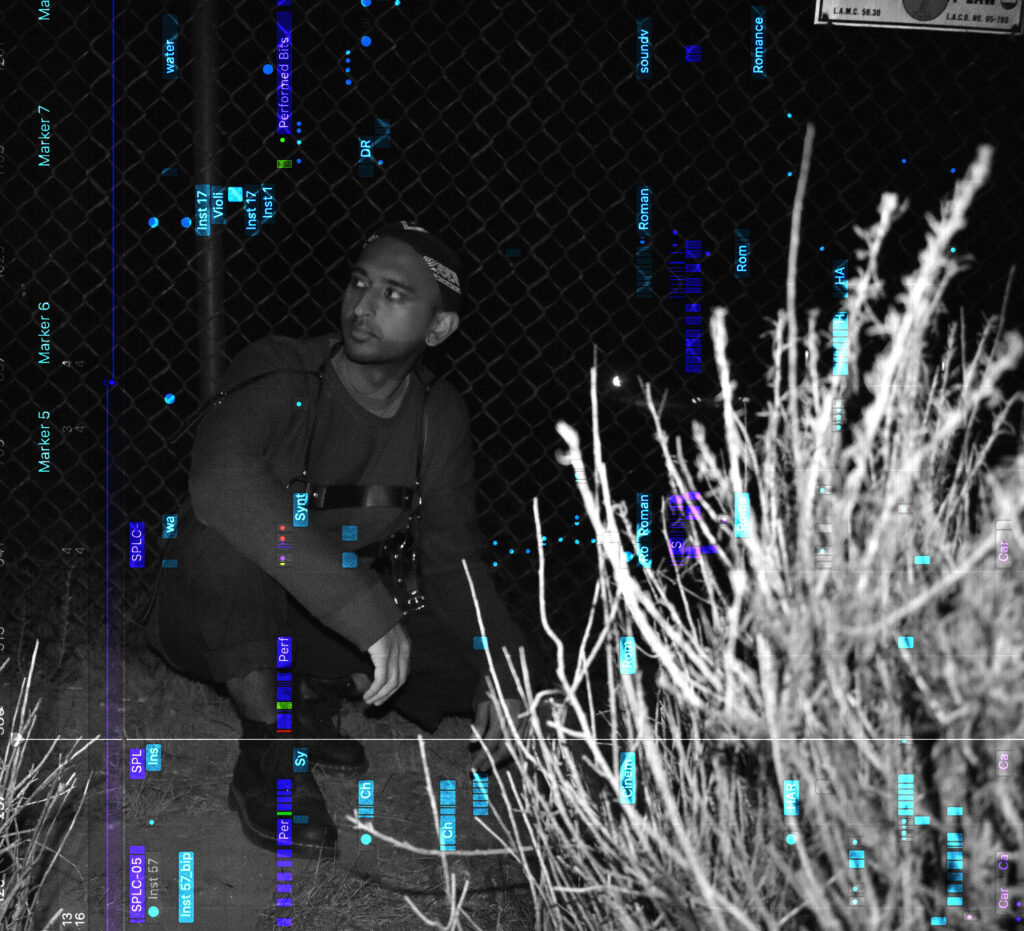 The jury said: "Rohan Chander is an electronic artist and world-builder who demonstrates the ability to synthesize various and disparate elements into a clear, considered and identity-driven work."
One of the jurors was the 2009 winner of the award and USC Thornton associate professor of composition Ted Hearne, a faculty member with whom Chander studied at Thornton. Hearne had encouraged Chander to enter the competition.
"We all agreed that his work is visionary," Hearne said. "Rohan's work is beautiful; in particular, the way he uses sampling is quite interesting, embedding the origins and contexts of differing and divergent samples into the full understanding of the work. It's interactive in a way, and he uses this technique to explore his own identity and evolving understanding of himself. It's mature and vulnerable work. So we were really pleased to unanimously award him the prize."
Hearne and assistant professor of composition Camae Ayewa were part of what drew Chander, who grew up in Rhode Island and earned his bachelor's degree at NYU, to switch coasts for his master's at Thornton.
"The professors were a big part of it," he said, "and also the rigor of focusing on my craft and technique from the Western classical standpoint."
"Working with the professors within the composition program, it was this engagement with composition as this greater artistic practice that wasn't married to writing for specific people or instruments. It was like, you're composing by virtue of thinking critically and creating works that were in these hybrid spaces or dealing with multiple mediums," he said. "It encouraged me to do more of that kind of work."
In addition, he found a different creative environment on the West Coast.
"There's a very different energy to Los Angeles, there's a certain brand of experimentation that happens in Los Angeles that doesn't exist in New York."
All of these things have helped Chander develop his voice. While he has written for ensembles in the past — including a new work for the 2019 Los Angeles Philharmonic National Composer's Intensive that premiered as part of the Noon to Midnight Festival at Walt Disney Concert Hall — the piece commissioned for an ensemble in the festival was the first he had written for someone other than himself in years.
Self-discovery through music
Chander said his music is very broadly "a method for self-discovery, self-criticism and self-actualization."
"Because of the economic reality of music making, you can really quickly get nihilistic. Sometimes you feel like: What is this all for? What are we doing here? Why am I doing this?" In order to combat that, Chander said, he explores "a lot of questions about body and identity and space and just existing as a person."
"I can sort of justify my work as me learning about myself or kind of working through something, and hopefully doing that in a way that creates a space for other people to, not necessarily do that work with me, but have the option or the freedom to engage and explore themselves in relationship to the art and to the practice."
When Chander, who performs under the artist name BAKUDI SCREAM, gets back to Los Angeles, he has a full schedule. He's working on a few albums, one with New York-based chamber music ensemble Alarm Will Sound; and while continuing to tour, he also has a show booked at Coaxial Arts, a downtown L.A. modular space devoted to media, sound and performance art, on Sept. 23.
"While I'm still on my parents' health insurance, I'm trying to make the most of it," he said. "So, for these next two years, I'll make more music, make my own stuff… before I have to get a job with benefits."
Never miss a story
Subscribe to USC Thornton's e-newsletter
Subscribe