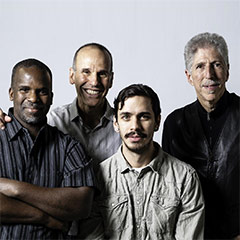 The Yellowjackets to release new album
The Los Angeles-based jazz quartet, the Yellowjackets, will release a new album on September 14th. The group, which includes three USC Thornton faculty – saxophonist Bob Mintzer, keyboardist Russell Ferrante, and drummer Will Kennedy – along with bassist Dane Alderson, has recorded close to 30 albums, been nominated for 17 GRAMMY Awards, and has been a driving force of this new wave of "genre-defying" jazz since 1981.
The Yellowjackets' fortchoming album, Raising Our Voice (Mack Avenue Records), features guest vocalist Luciana Souza and subtly embraces resistance against today's cultural and political climate.