Music Industry Program Welcomes New Faculty
Drawing on talent from the heart of the music business in Los Angeles, USC Thornton's Music Industry program is excited to welcome two new faculty members. Celebrated music manager Trudy Green, whose clients have included Janet Jackson, Michael Jackson, and Aerosmith, and event producer Kevin Lyman, who founded the Vans Warped Tour and revolutionized event promotion, will start as associate professors of practice in the Fall of 2018.
"We are thrilled to welcome Trudy and Kevin to the USC Thornton faculty," said Robert Cutietta, Dean of the school. "They are both unquestioned leaders in their fields, and their expertise will be an incredible addition to the Music Industry program."
Thornton's acclaimed Music Industry program covers artist management, the record industry, music publishing, music supervision, radio, live promotion, event production and more. With alumni featured in prominent roles in all aspects of the industry, the program offers a Bachelor's degree, Minor and new Master's degree.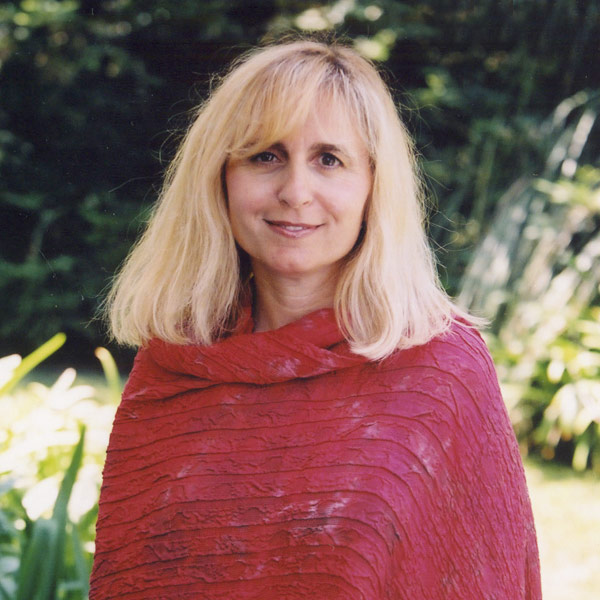 Trudy Green
Green is a highly regarded music manager with more than 40 years of experience in various facets of the industry. Over the past three decades, Green has managed the careers of a variety of top artists, including Janet Jackson, The Rolling Stones, Michael Jackson, Aerosmith, Janes Addiction, Slash, Velvet Revolver, En Vogue, The Fugees, Lauryn Hill, Grace Slick, Jefferson Airplane, John Waite, Bad English with John Waite, Neal Schon and Jonathan Cain, The Bee Gees, Wilson Phillips, Orianthi, Jay Shetty, Diane Warren and GOLDN.
With some of the biggest social influencers in the world on her client list, Green said the value of staying ahead of the game is as important as understanding star quality.
"You've got to stay on top of everything going on. It's so important because things are changing so fast that today that we need to know what's going to be happening in six months or a year," she said. "I love to learn new things and talk to the people that are actually creating it and doing it. And I want to use everything I know to give my students the strongest foundation possible from which to grow and succeed in the music business."
A native of London, England, Green earned a business degree at Queen's College. Her first job was at Apple Records working for The Beatles. After a stint in A&R at EMI Records, Green built Crunch Promotions. After selling her successful publicity and promotions company to the Essex Music Group, she worked as head of press and promotions for their Fly Records label, with artists such as T. Rex and Joe Cocker.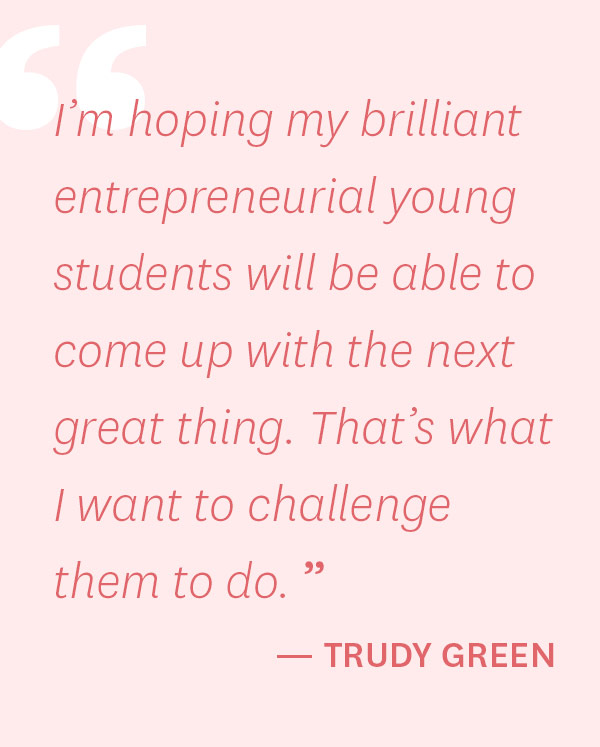 When she relocated to Los Angeles, she worked as publicity director for Gibson and Stromberg — her first client was KISS — and then for Irving Azoff at Frontline Management. From there, she joined Bob Ellis Management, working with clients such as Ronnie Wood, Chaka Khan/Rufus and Stephen Bishop. She founded Trudy Green Management three decades ago and made a name for herself in a male-dominated industry, helping to take Heart and Whitesnake to the top of the charts in the 1990s. She eventually partnered with manager Howard Kaufman of H.K. Management, a partnership that lasted for over 30 years.
Green has her own record label with Kobalt, and GOLDN is the first artist signed to her label. Hailed as the most successful female manager of all time, she is currently finishing her autobiography.
The music industry is looking for young people to show them the future, Green said. "I'm hoping my brilliant entrepreneurial young students will be able to come up with the next great thing. That's what I want to challenge them to do."
Green's son is a large reason why she's joining USC Thornton. "The education my son got at USC was so amazing, and the professors he was blessed to have were really people who changed his life," she said. "This had such an impression on him and on me that now my goal is to inspire and help other kids. I want to be able to do that with the future of the music industry, which is going to be some of these amazing students. I call it a blessing to be able to teach them."
At a recent performance on campus, Green was impressed and inspired by the talent on stage. "These kids are extraordinary," she said. "I want to find the next great talent, and I want them to come from USC. I'm very excited about all the possibilities for the future."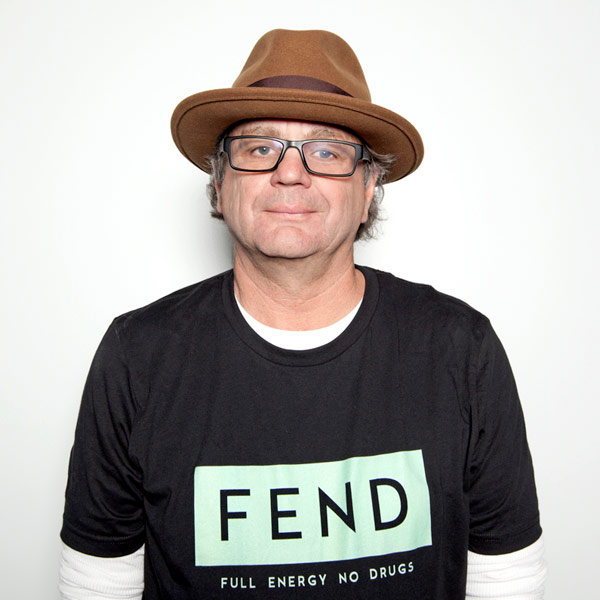 Kevin Lyman
Lyman has more than 35 years of experience in the music and entertainment industry, as well as business and philanthropic ventures. As the CEO and founder of 4Fini, an event production and brand strategy firm, Lyman produces events in North America and globally, and he pioneered the successful integration of corporate sponsors with the extreme lifestyle. Lyman, who was on the production team of Lollapalooza in the '90s, is best known as the creator of the Vans Warped Tour.
"In the fast-paced ever-changing business that we're in right now, there are really no rules," Lyman said. "The music industry is being rewritten almost on a six-month basis. The more skills you have, the better you're going to be prepared. It's about constantly thinking ahead and being willing to challenge the norms."
That's exactly what Lyman has done. He rewrote the book on music tours with his Vans Warped Tour, which became the longest-running North American festival concert tour and attracted 750,000 people annually for 24 years. The Vans Warped Tour helped launch the careers of Eminem, Katy Perry, No Doubt and other artists and was recognized with a time capsule and exhibit at the Rock and Roll Hall of Fame museum in 2007.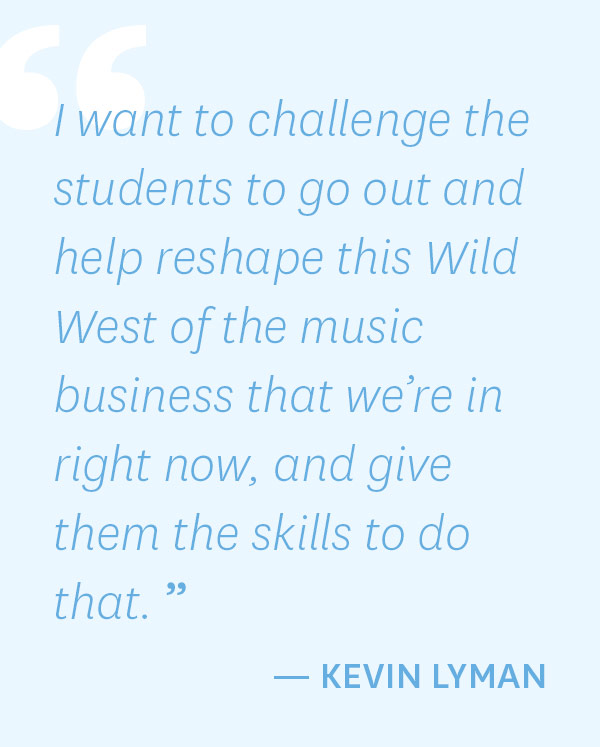 For Lyman, social responsibility is as important as business skills. "There are ways to run a conscientious business," he said. "As an independent businessperson, I've been able to thread that philanthropy side into solid business practices. I'm seeing a strong interest in that in students. There's an awakening going on. We not only need to be great business people, but we need to be stewards to the community."
Lyman's philanthropic endeavors have included founding the Unite the United Foundation, which has raised more than $1 million for various nonprofits. For his work with that organization and other efforts, Lyman was recognized as the Billboard Touring Awards Humanitarian of the Year (2009) and as an honoree at the GRAMMY/MusiCares MAP Fund gala (2011 and 2014), and he was inducted into the Top Dog Touring Hall of Fame (2012). He serves on the board of directors for MusiCares, the T.J. Martell Foundation, Hands that Rock and Saint Archer Brewery, and he is an advisor for the Los Angeles Fairplex.
Lyman, who graduated from California State Polytechnic University, Pomona, with a degree in recreation administration, has strong ties to Thornton. He has been a guest speaker on campus and had many USC Thornton students as interns at 4Fini.
"I've seen the caliber of students to come out of Thornton. I've had so many former USC students that interned for me that are now working in the business and doing fantastic, as well as one who also teaches there now," he said. "It feels like a natural progression in my life to teach. Philanthropy, education and music have been driving forces in my life. Now I am going to focus on philanthropy and education while using that music background."
"I want to challenge the students to go out and help reshape this Wild West of the music business that we're in right now, and give them the skills to do that."
---

Never miss a story
Subscribe to USC Thornton's e-newsletter
Subscribe