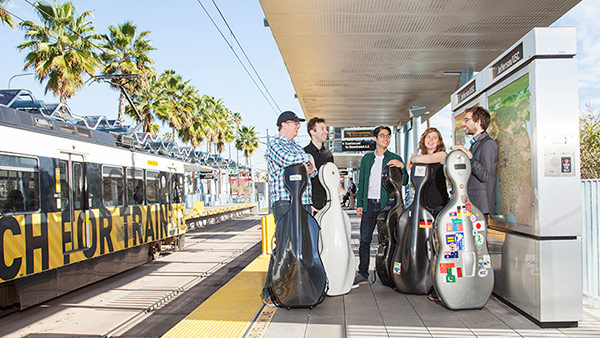 New music takes root at USC Thornton
In a Koreatown gallery last fall, two USC-born ensembles alternated performances of new music, flaunting technical mastery and free-flowing artistry.
After piano duo HOCKET banged out a percussive piece on toy pianos, the cellists of SAKURA took the stage to show off the range of their instrument.
The concert, part of the Tuesdays@MonkSpace series curated by pianist Aron Kallay (DMA '09, piano) garnered rave reviews from Los Angeles Times music critic Mark Swed, who called the ensembles "brilliant" and "superb."
HOCKET and SAKURA are two of what Swed called the "hip, imaginative and technically dazzling local ensembles" that have sprung up "as wonderfully as wild flowers" in Los Angeles — and they sprouted at the USC Thornton School of Music.
Now trending
Part of a growing trend, students across the Division of Classical Performance & Composition at USC Thornton are forming new chamber ensembles and commissioning their classmates, professors and alumni to create original works to premiere.
With the nurturing and support of faculty, HOCKET and SAKURA have taken root and blossomed in the burgeoning local music scene, joining the ranks of numerous USC Thornton students, alumni and faculty at the forefront of new music — some of whom made The New Yorker music critic Alex Ross' list of notable performances and recordings of 2015.
The HOCKET duo consists of Sarah Gibson (MM '10, DMA '15) and Thomas Kotcheff (MM '12), both from USC Thornton's Composition program chaired by Donald Crockett. The SAKURA cello quintet's members are Michael Kaufman (MM '12, DMA '15); Peter Myers (MM '10, GCRT '13); Yoshika Masuda (GCRT '12); Jonathan Dormand (GCRT '14) and Sarah Rommel (GCRT '14). They all studied with Ralph Kirshbaum, chair of the Strings program, and named their group for him, as "kirschbaum" in German and "sakura" in Japanese both mean cherry tree.
Kotcheff, whose Presser Scholarship from USC Thornton launched HOCKET and will underwrite its current season, said the new music scene is indeed flourishing.
" In the last five years, things have really taken off, and I think it's fantastic."
"In the last five years, things have really taken off, and I think it's fantastic," said Kotcheff, as he was en route with Gibson to the University of Nevada, Las Vegas for a residency. "What's really great about the community here is the collaboration that's going on."
Gibson, who joined the adjunct faculty at USC Thornton and teaches for the Los Angeles Philharmonic (LA Phil), said the goal with HOCKET is to commission and premiere as many pieces written for them as possible. Last year it was three pieces, and this season it will be six. Over the next year and half, they're playing pieces by Crockett and Distinguished Professor Emeritus Stephen Hartke, adjunct faculty member Sean Friar and alumna Emily Cooley (MM, '14, composition), among others, both here and nationwide. The UNLV residency showcased the premiere of a piece by DMA candidate Jordan Nelson.
"We perform the works as much as possible, as many as 15 times around the country," Gibson said. "We also record the pieces and give the composers a video."
Added Kotcheff, "We are promoting Thornton and LA composers to the larger world."
Living on the Edge
Part of the students' training ground for the business of building ensembles and making new music is Thornton Edge, an ensemble led by Crockett.
Students, many who are composer/performers like Gibson and Kotcheff, play in the ensemble and learn vital music-making skills while working with student and faculty composers to premiere their works. Members of HOCKET and SAKURA participated for years in Thornton Edge before going on their own.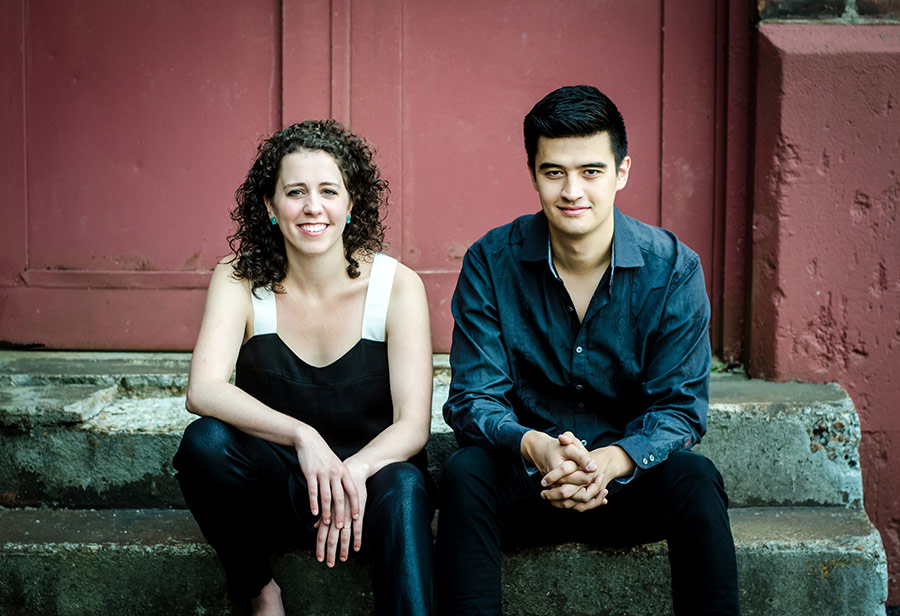 HOCKET consists of Sarah Gibson and Thomas Kotcheff, both from USC Thornton's composition program. (Photo/Nadine Sherman)
"Thornton Edge has produced many, many musicians who are active professionally in the music scene over the years in LA and beyond," Crockett said, noting that the Calder Quartet and many of the pianists active in the local scene came out of the ensemble. "I'm excited about it. We've been very much at the center of bringing USC musicians out into the world of new music in LA and beyond."
More important than any particular skills they learn, Crockett said, is the active engagement in the creative process of making new music, whether that's in Thornton Edge or the annual New Music for Orchestra concerts with the USC Thornton Symphony.
"Thornton majors get to experience the adventure of working with a composer and putting together a new piece for the first time," he said. "I think that connection to the process and the context of the ensemble is important."
"Don is so amazing in rehearsals in helping musicians and composers understand how to bring life to what's printed on a page, how to best communicate what a composer has written," Gibson said. "For me, that's been invaluable when I write or when I'm performing, to try to hear the music from both sides."
Tried-and-true tradition
While USC Thornton students are flourishing in the new music scene, they also remain rooted in the traditional repertoire. For instance, even though SAKURA has commissioned works from six composers this season, it doesn't consider itself a new music group.
"A big part of what we do is make arrangements of works for five cellos," Kaufman said. "With a number of vocal works, especially Renaissance pieces that are for five voices, we can play the parts literally at pitch or take them down an interval. We can play them as written so we don't have to do any transcribing at all."
Crockett said USC Thornton has a large student population of very accomplished performers of the repertoire.
"The cellists are coming to USC in significant part to study with Ralph Kirshbaum to learn repertoire pieces," he said. "I just heard a wonderful arrangement of Debussy done by SAKURA's Peter Myers, and they did a Carmen-Fantasie, which is a kick to hear.
"And Sarah Gibson and Thomas Kotcheff came in as composition majors with degrees in piano performance, and they have maintained their piano studies during their graduate work," he added. "They're terrific pianists."
SAKURA will perform a mix of traditional and new music (including a piece for 12 cellos) at the Piatigorsky International Cello Festival at USC in May. Kirshbaum is artistic director for the festival and an obvious inspiration for countless students.
"He's such an incredible musician, and he has a way of teaching that unites all of his students," Kaufman said. "Everybody plays differently; they don't fit any mold. At the same time, there is a certain way of listening, of approaching music, that is instilled in all of us. I think that is why we work so well together."
In addition to Crockett and Kirshbaum, Kaufman credited USC's Arts Leadership Program, along with its director Ken Foster, for his creation of two other arts organizations as a student: Kaleidoscope, a conductor-less chamber ensemble now in its second season, and a chamber music festival approaching its third season.
"I also have a long-term collaboration with a composer, Daniel Silliman ['15]," Kaufman added, "and I've premiered at least one of his pieces every year I've been at USC. I have a clarinet trio that commissioned a piece from him, and we're playing that in April. The new music program at Thornton has been really helpful."
Never miss a story
Subscribe to USC Thornton's e-newsletter
Subscribe