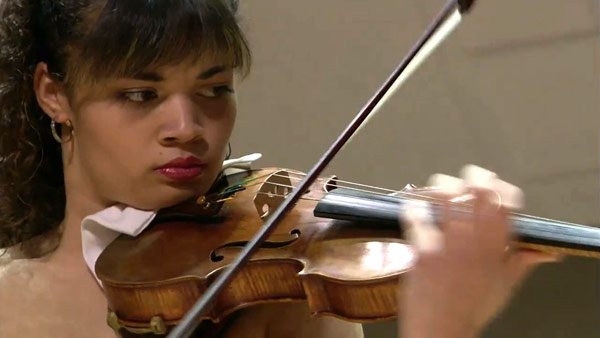 Strings Students Sweep Top Awards at Major Competition
A USC Thornton School of Music violinist and cellist placed first and third, respectively, at the national Sphinx Competition, dedicated to transforming lives through the power of diversity in the arts.
Annelle Gregory, a senior bachelor of music violinist who studies with Glenn Dicterow, won the Robert Frederick Smith Prize of $50,000. The prize gives her assistance with arranging solo appearances with major orchestras and also includes a custom-made gold-tipped bow. Gabriel Martins, a sophomore cellist who studies with Ralph Kirshbaum, placed third in his first time at the competition and received $10,000.
Both students performed at Detroit's Orchestra Hall on Feb. 12 with the Sphinx Symphony Orchestra, an ensemble comprised of Black and Latino musicians from symphony orchestras throughout the country.
"We are so proud of Annelle and Gabriel," said Robert Cutietta, Dean of the USC Thornton School of Music. "This is emblematic of the importance of diversity at USC."
This was the 20th annual competition, and marked the fifth time that Gregory, of San Diego, had been at least a semi-finalist at the event. She placed third two different years in the junior division, and had previously placed third and second in the senior division. She said Dicterow was following her performance this year via the live stream. When she called him immediately afterwards, he told her, "'Bravissima! Beautiful playing!'" she recalled. "He told me how proud he was of me and was so happy that I won."
Gregory said the cash prize will help her focus on establishing a solo career and help pay for application fees and travel to other competitions. "I've always been an individual worker, focusing on my interpretation of the music, and I see myself as a soloist," she said. She is already on her way, having just released a CD on a professional label, Bridge Records, Inc. "Rachmaninoff: Complete Works and Transcription for Violin and Piano" was recorded with Alexander Sinchuk (ARTD '14), a Thornton alumnus who studied with Daniel Pollack. The two played at Carnegie Hall last November.
Gregory played the first movement of the Sibelius Violin Concerto in D Minor (as did the other finalists) to win the top prize.
Martins, of Bloomington, Ind., said his teacher, Kirshbaum, was also in California watching him compete via the livestream. "He was very proud, of course," said Martins.
Martins said he will probably use some of his winnings to purchase a new bow for his cello. Bows can cost anywhere from $50,000 to $100,000, he said, and can add different tone projections and articulation to a cellist's sound.
"It was a real pleasure to play at Orchestra Hall where the Detroit Symphony plays," he said. "The acoustics were fantastic. The competition itself was a great opportunity."
This was not the first competition where Martins was a winner. He won last year's Strings Concerto Competition at USC Thornton, and you can see him play a solo concerto by Paul Hindemith at USC Thornton Symphony's Concerto Night at 7:30 p.m. Feb. 24 at Bovard Auditorium.
The Detroit-based Sphinx Organization has as its mission transforming lives through the power of diversity in the arts. Its education and access initiative includes a beginning violin program, an intensive summer academy and a school curriculum. Its artistic development area includes the Sphinx Competition and a fund that awards scholarships and money for fine instruments. A performing artists mission has several components, including the Sphinx Symphony Orchestra, a global scholars program, a soloist program and the Caralyst and Harlem quartets. Its fourth initiative is arts leadership, which includes a career marketplace connecting musicians of color and the industry, and Sphinx Medals of Excellence that identify extraordinary artists.
Never miss a story
Subscribe to USC Thornton's e-newsletter
Subscribe