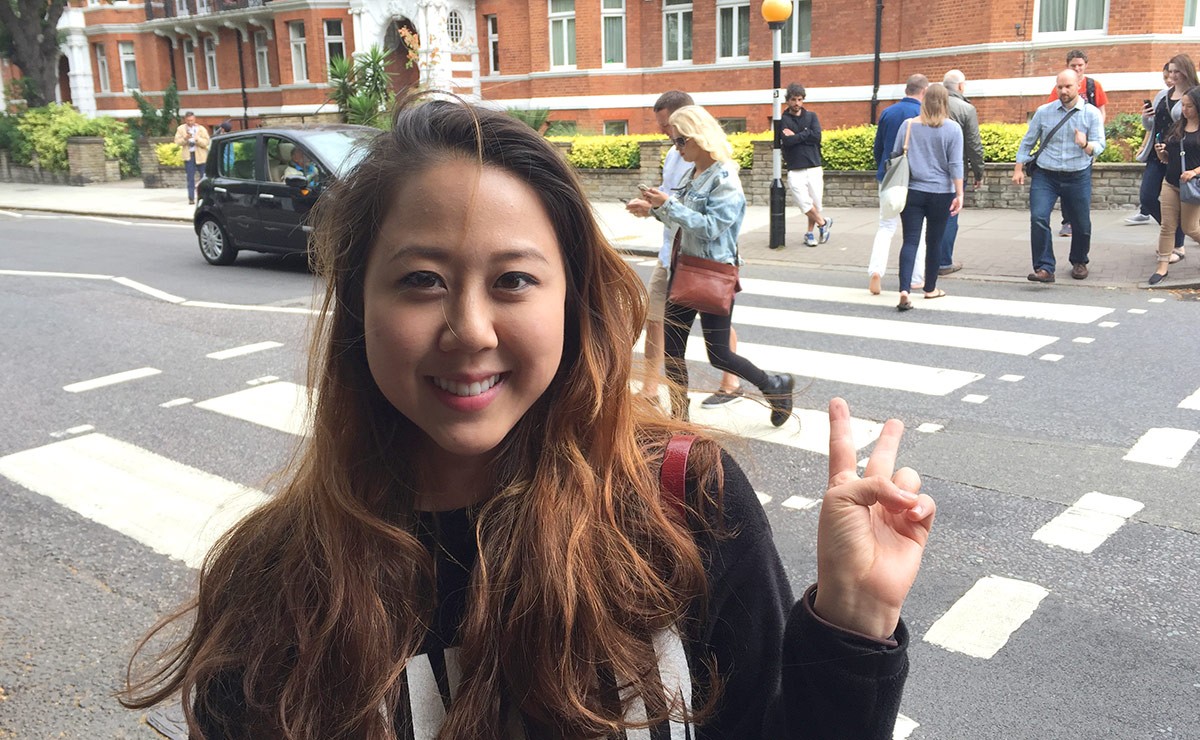 Students find their pop personas abroad
This past summer, Keyboard Studies DMA student Grace Lee and Music Industry major Nick Brumme honed their pop music skills at London's Institute of Contemporary Music Performance.
Clad in a floral swing dress and a knitted sweater, classical piano DMA student Grace Lee ('09, GCRT '12, MM '15, piano) approached a keyboard under the shadowy lights of a funky London pub. With a newly crafted repertoire of pop songs poised at her fingertips, she readied herself to perform during a showcase featuring students from the Institute of Contemporary Music Performance. But, in the somewhat characteristic go-with-the-proverbial-flow fashion of rock 'n' roll, the keyboard—which Lee had never seen before—was missing some of its keys.
"It was a bit scary," she said, though the setback did not seem to phase her. Rapidly executing a mental re-write of her arrangements, Lee performed her songs with just a few spontaneous adjustments.
"I mostly just played the highlights or sections that I thought the crowd might like while trying to make sense musically," she said. "When I realized some keys were missing, I either played in the air and imagined that pitch in my head or played in another octave."
Lee, along with a select group of USC Thornton students led by Studio Guitar faculty member Richard Smith, traveled to London this summer for a 10-day cultural exchange at the Institute of Contemporary Music Performance.
The program united young pop musicians from across the world and organized them into intimate bands meant to inspire a collaborative, musical melting pot. Lee's group, comprised of musicians from the U.S. and various countries around Europe, featured artists with vastly disparate musical backgrounds and styles. In light of this, they donned the catchy name, "The Eclectics."
Nick Brumme, a drummer and Music Industry major, found the program to be the most unique musical intensive that he has ever participated in. His band members—from Germany, Italy and England—became so involved in their collective sound that they frequently stayed past the designated rehearsing time writing and practicing. "I made really close friends," he said.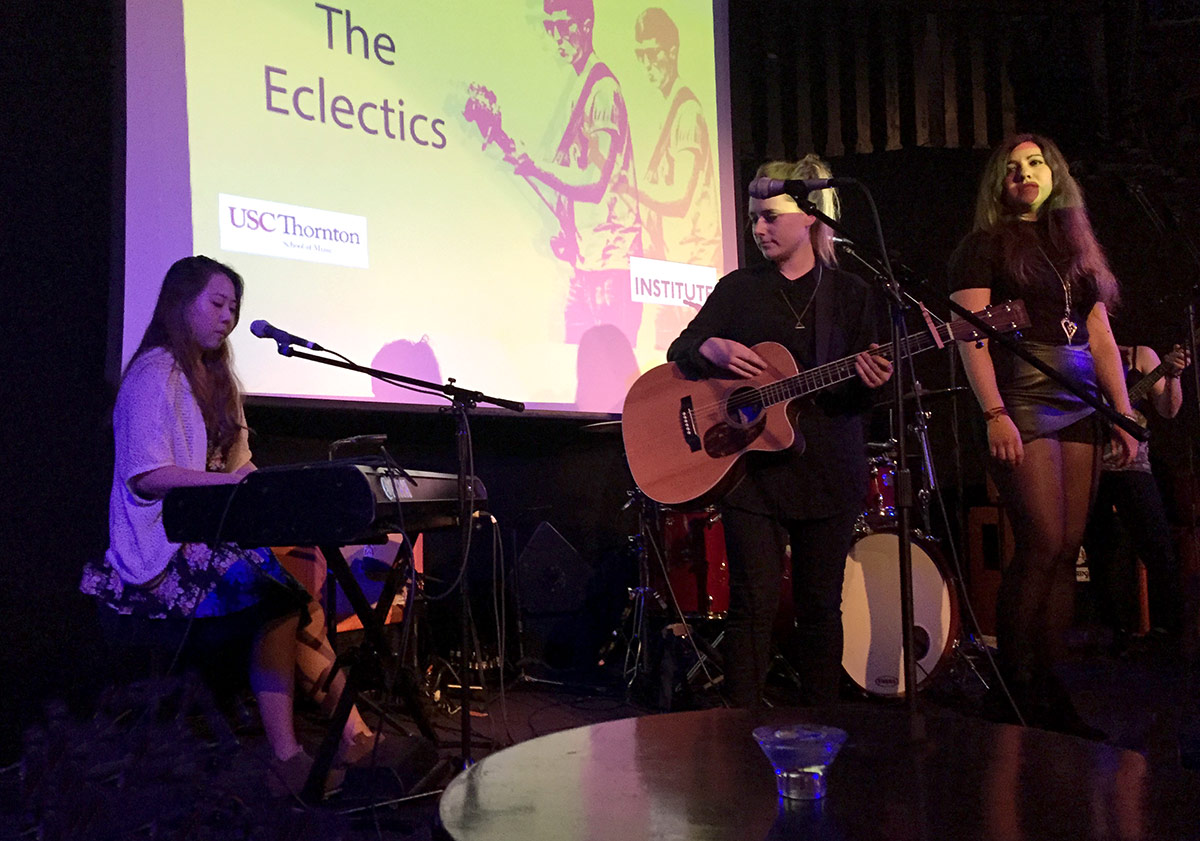 The cultural exchange program presented a series of firsts for Brumme and Lee—both with regard to performing overseas and their personal growth as musicians.
While Brumme's Music Industry studies require him to delve into the behind-the-scenes aspects of music, his ardent passion for drumming has fueled his continued involvement. "I have been a drummer for a long time and am always looking for avenues to nourish that," said Brumme. "I also think it's important for people in the music industry to play music, even if their job doesn't require it."
While at Thornton, Lee's work with Keyboard Studies faculty member Bernadene Blaha has remained her focus, but this program allowed her to—quite literally—surround herself with contemporary music culture. In addition to lectures and workshops taught by notable figures in the music industry, all participating students rehearsed with their bands every day in preparation for gigs and an opportunity to record their sound in a swanky London studio.
"I got to taste what it would be like to be a pop musician," said Lee. This inaugural foray into pop performing forced her to explore the stylistic nuances of performing for an audience in a more informal way.
"It was my first time singing while playing the piano in public, and I realized how effective words can be when communicating with the listener," she said. "I was able to see their faces, make eye contact—that in and of itself was so powerful."
Never miss a story
Subscribe to USC Thornton's e-newsletter
Subscribe