Women in Music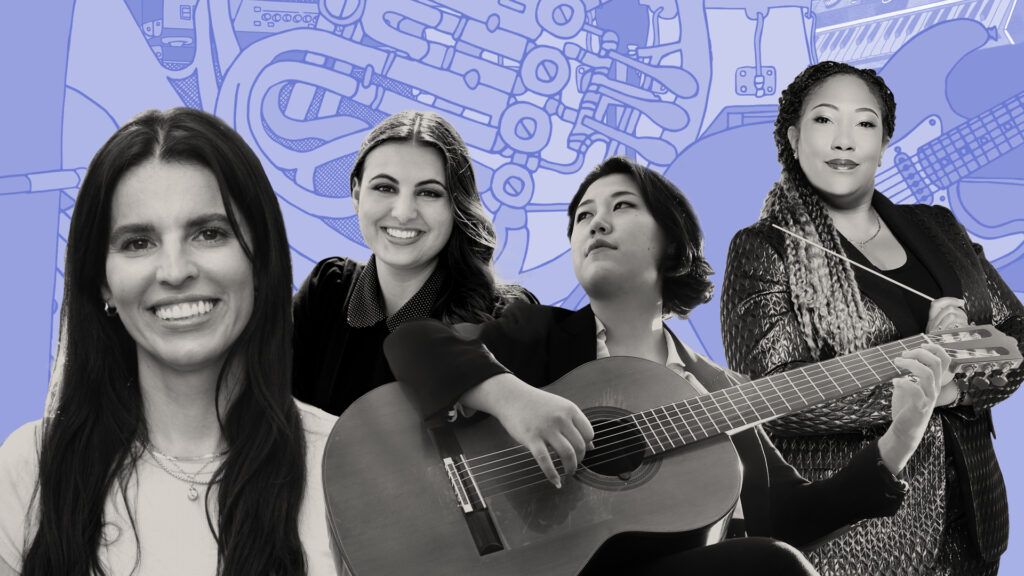 In recognition of Women's History Month, USC Thornton celebrates women in music, honoring the talents, accomplishments and experiences of its female students, alumni, faculty and staff.
---
At the USC Thornton School of Music, female students, faculty, staff and alumni are constantly blazing new trails and opening new doors, all while being authentically themselves – even in areas typically dominated by men. To honor the contributions of this important group within Thornton's community, read this retrospective review of what Thornton's talented women have been up to within the span of a single year:
In Her Own Words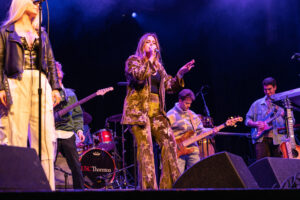 Let the women of USC Thornton tell you about the moments that made them most proud, the opportunities that changed their lives forever and what it feels like to be part of the Thornton community:
"Our class has become like a family over the past four years. I feel like we can all come together about music, but also about life. Our relationships as friends have impacted my growth not only as a musician, but as a person."
– USC Thornton Popular Music program senior Sophia Dion
"The best contribution you can make to the field is to bring your authentic voice to the profession. Bring your experiences, your research and your truth, and share it with the world. We have a story to tell and stories yet to be told. Be bold in your educational and musical leadership by taking up space, innovating in the classroom, leading instructional changes and serving as administrators, faculty, deans and more."
– USC Thornton Music Teaching & Learning doctoral student Angelica Brooks, winner of the 2022 Presser Music Award, which is given to a graduate student demonstrating excellence and outstanding promise for a distinguished career in music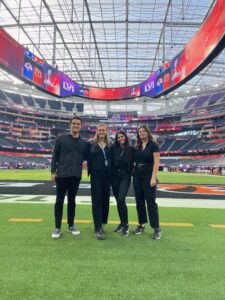 "Very few people really opened up to me about how to work in the industry or shared any resources, documents or budgets. I felt I had to fake it 'til I made it, which was a disservice to the artists I was working with early on. I want to teach the next generation how to do things, because that's going to serve the artists best."
– USC Thornton adjunct instructor Sophie Reeves, who hired her music industry program students to work as production assistants (PAs) for the Super Bowl LVI and the Free Larry Hoover Benefit Concert featuring Ye and Drake
"I believe the most important thing between a teacher and student is trust. A singer's voice is one of their most personal means of identity and expression. It is my job as a teacher to create an environment in which every student feels encouraged to uncover the thrill of technical discipline, the beauty of refined musicality and the most honest emotional connection in their singing."
– USC Thornton Vocal Arts Department and Opera program faculty member Elizabeth Hynes, who holds the Stephen H. Crocker Professorship in Music
"The arts leadership program helped me reach where I am today because it challenged me to think bigger and take on the issues that are immediately impacting communities around me. I now know that arts leaders have a responsibility to directly respond to the issues facing society today, which is the driving force behind the work I've committed to in the arts."
– USC Arts Leadership program alumna Jasmine Khorsandi (MS '21), who now works as a digital associate with the non-profit organization New Music USA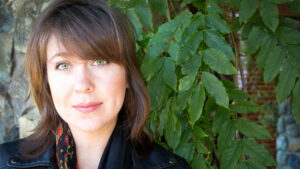 "As a woman in this field, you have to have pretty tough skin and a deep resolve in understanding who you are and what you want. At the moment, it may feel like you have to work much harder and make less mistakes to even have a chance to be considered on the same playing field. But, every day, it gets easier, and there are a handful of women in this role at the top of the industry who opened the door for me. I would encourage anybody who's interested to pursue it and not be discouraged by gatekeepers they perceive to be there."
– USC Thornton Screen Scoring program alumna Danielle Dupre ('11), a post-production sound mixer at Skywalker Sound
"Thornton in general and the classical guitar program especially have a really good, strong community. It's very supportive. Some studios can be very competitive; our studio here is more like a family."
– USC Thornton Classical Guitar alumna Bokyung "Bo" Byun (DMA '20), who became the first woman to win the Guitar Foundation of America International Concert Artist Competition in 20 years. Another USC Thornton classical guitar graduate, Martha Masters (DMA '00), was the winner in 2000.
"If I'm a model, it's a model for what's possible. In the popular music program, we need to take care of each other, lift each other up and inspire one another."
– USC Thornton Popular Music Program Chair Patrice Rushen, whose R&B track "Forget Me Nots" inspired a global dance craze on TikTok, and whose symphonic compositions are performed alongside works by Shostakovich and Tchaikovsky
Making Headlines
By no means a complete list, here is a collection of recent, headline-grabbing accomplishments from Thornton's female students, faculty and alumni:
---
Read more about the accomplishments and experiences of USC Thornton's female students, alumni, faculty and staff.
Alum Bokyung "Bo" Byun is the first woman to win Guitar Foundation of America competition in 20 years.
USC Thornton adjunct instructor Sophie Reeves gives students life-changing opportunities to work the Super Bowl and Ye and Drake performance.
Never miss a story
Subscribe to USC Thornton's e-newsletter
Subscribe