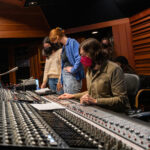 July 6, 2022
Third-year pop performance program students become session musicians and producers at LA's historic Village Studios.
---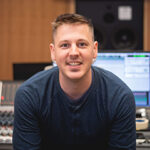 June 7, 2022
Christian Amonson is a recording engineer and producer specializing in acoustic music. Projects include John Williams and the Chicago Symphony Orchestra, Midori and the Kansas City Symphony, the Academy of St. Martin in the Fields at Abbey Road Studios in London and NPR's JazzSet at the Kennedy Center, as well as groups like the LA… Continue reading Christian Amonson
---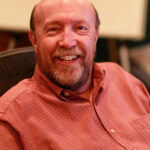 May 3, 2022
In this installment of a series highlighting the relationships forged among USC Thornton faculty and alumni, Dick McIlvery and alumnus Fred Vogler recall the early days of the Thornton Recording Arts program.
---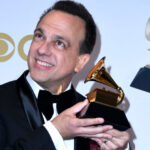 April 4, 2022
Faculty member Vince Mendoza and alums Grant Gershon, Robert Istad, and Carlos Rafael Rivera are among those who won awards.
---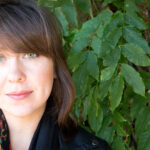 September 15, 2021
Dupre's passion and determination were recognized this year with a pair of Emmy nominations for her work mixing the Disney+ series "WandaVision."
---
May 13, 2021
Nick Stoubis, the Chair of the Studio Guitar program at USC Thornton, was awarded the Distinguished Faculty Service Award by the USC Academic Senate. The award honors faculty service to the University that is beyond normal research, administrative, clinical, and teaching responsibilities. The plaque that was part of the award given to Stoubis on Wednesday,… Continue reading Nick Stoubis awarded the Distinguished Faculty Service Award
---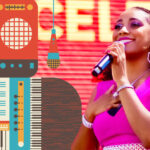 April 27, 2021
Innovators and entrepreneurs create their own path with USC's Arts Leadership program, a graduate program that redefines how we think about and practice arts leadership in the 21st century.
---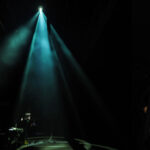 April 9, 2021
Nina C. Young, an assistant professor of composition at the USC Thornton School of Music, has been awarded a 2021 Guggenheim Fellowship.
---
March 17, 2021
Anj Vancura has found refuge with diverse creative projects, like an orchestra of one where music and mindfulness coalesce.
---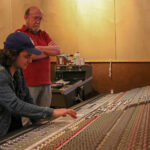 November 25, 2020
Recent alum Joey Messina-Doerning received his first nomination while alumni and faculty from across the school were nominated in multiple categories.
---