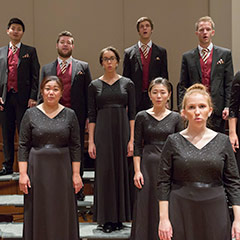 Chamber Singers awarded 2015 American Prize
The USC Thornton Chamber Singers, led by Jo-Michael Scheibe, have been awarded the 2015 American Prize in Choral Music in the University/College Division. The American Prize series celebrates artistic excellence in a number of creative disciplines.
Formed as the Madrigal Singers in 1939, the Chamber Singers have been hailed as a model of excellence since their inception. Most recently, the ensemble performed at the 2015 American Choral Directors Association (ACDA) National Conference in Salt Lake City, Utah. They have previously performed in China, South Korea, and New Zealand; at the Walt Disney Concert Hall in Los Angeles; and with Elton John, Barry Manilow, and The Rolling Stones.
This spring, the Chamber Singers will join the USC Thornton Concert Choir in a March 9th program of English music under guest conductor Simon Carrington. On May 19, the ensemble will perform in Sofia Gubaidulina's Canticle of the Sun for cello, chamber choir, and percussion, as part of the 2016 Piatigorsky International Cello Festival.