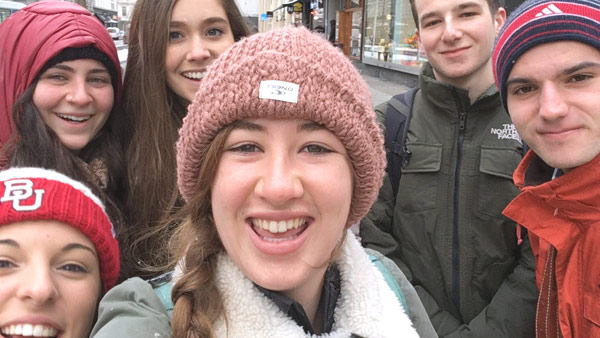 A Week in Oslo
The traditional Nordic practice of yoiking is not so easily found anywhere in the vicinity of Trousdale Parkway.
"You can yoik a wolf or a person, but you don't yoik at them," explained Peter Webster, vice dean of the Division of Scholarly and Professional Studies at USC Thornton. "You yoik them by trying to learn about them as much as possible. The practice includes improvisation and the characteristics that you think are very common to the person you're directing it to."
The traditional Nordic singing practice is an effort to conjure the essence of a person, animal or inanimate object, and it somewhat resembles a tribal chant. It was appealing enough to composer Christophe Becke that he collaborated with Norwegian musician Frode Fjellheim to bring traditional Nordic sounds—including yoiking—to the soundtrack of Disney's hit animated movie Frozen.
As part of a weeklong trip in February to the Norwegian Academy of Music (NAM), part of USC Thornton's new International Exchange program, a group of six undergraduates learned about Nordic folk music. And they learned to yoik, or, rather, tried to learn.
"They explained to us how to do it, but it was not very easy and we weren't very successful," said a smiling Daniel Seaman, a junior studying French Horn.
"Incredibly fun," said Music Industry alum Karlee Hormell '18 of the trip to Oslo. "A once in a lifetime opportunity."
International Opportunities
The trip was made possible through USC Thornton's International Programs. With a mix of opportunities that include Maymesters and semesters abroad, the short-term opportunities like the trip to Oslo are becoming increasingly popular. Similar programs this year have or will take students to Amsterdam, Bali, Vicenza, and Paris.
During their week, Thornton students attended lectures and classes centered around the study of Nordic folk music. In addition to specialized lectures, they joined their peers at NAM while also performing with members of the Oslo Conservatory.
"Our students had a pretty rich experience," Webster said. "I think they loved getting out of L.A. and visiting the snow country."
Webster traveled to Oslo with the students to discuss cross-cultural educational philosophies and practices with his NAM counterparts, and to serve as a chaperone in case the students needed assistance.
They didn't. Webster helped the students find their hotel on the night of their arrival and then mostly left them alone to experience the city while meeting them at lectures.
"In the mornings, we would walk around and see different museums or coffee shops or restaurants," said Hormell. "The public transportation system was great so it was easy to explore different districts."
The weather was, as expected, snowy and amazing. "It snowed every morning," she added. "It was really magical."
Within the classroom, the students explored traditional instruments like the Hardanger fiddle. Seaman received lessons with members of the NAM horn faculty while Hormell and fellow Music Industry classmate Kristin Robinson discussed international streaming with producer and sound engineer Ulf Holand.
The experience culminated in a dinner with the Norwegian and American students enjoying food and folk dancing. And as part of a cultural exchange, NAM students will visit USC for a similar cross-cultural experience—albeit, minus the snow.
"I would highly recommend this program to students next year," Seaman said. "I think it's a really good chance to go have an experience abroad without sacrificing the whole semester."
---
Click here to learn more about USC Thornton's International Study opportunities.
Never miss a story
Subscribe to USC Thornton's e-newsletter
Subscribe