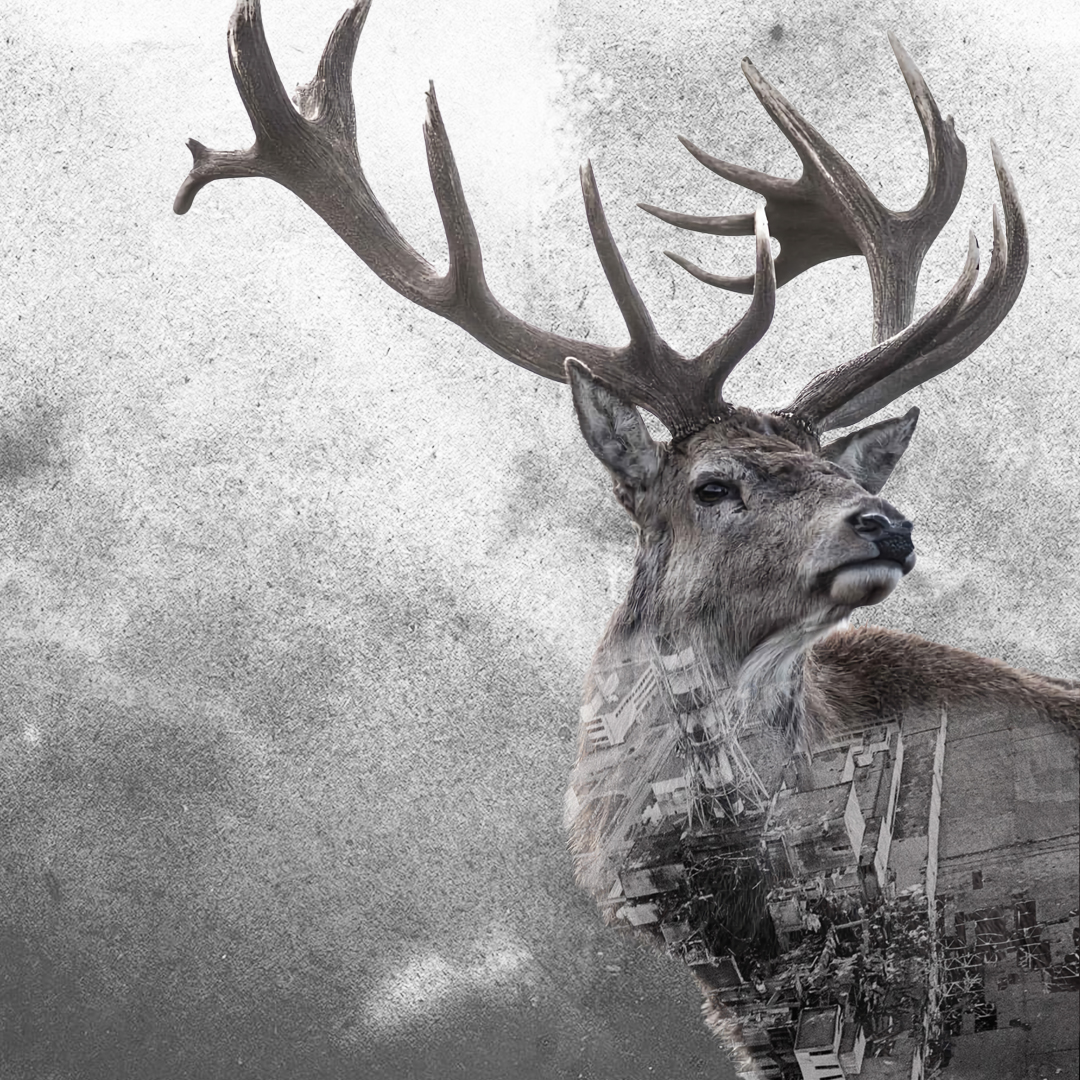 A Finnish-American Opera with Global Perspective
"It is exciting for two of the world's leading music schools to cooperate on a production of such musical, political and social importance," says Dean Robert Cutietta of the USC Thornton School of Music.
USC Thornton School of Music and Uniarts Helsinki's Sibelius Academy collaborate on world-premiere opera All the Truths We Cannot See: A Chernobyl Story.
---
On April 26, 1986, an explosion at the Chernobyl nuclear power plant released alarming levels of radiation far beyond Ukraine, causing the worst global environmental disaster ever seen.
"Chernobyl embodies the fundamental conflicts of human existence: courage and cowardice, love and hate, past and future, life and death," says American author and music scholar Glenda Dawn Goss. In this story, she found inspiration for a new opera.
All the Truths We Cannot See: A Chernobyl Story, with music by Finnish composer Uljas Pulkkis and a libretto by Goss, will be produced as a collaboration between the USC Thornton School of Music and Uniarts Helsinki's Sibelius Academy in Finland. Students from both institutions will perform in the world premiere at the Sibelius Academy's Sonore Hall on March 15, 2022, and the American premiere at USC's Bing Theatre on April 21, 2022.
"Language alone can only partially convey the depth and poignancy, the ironies and losses, the heights and depths of Chernobyl's real-life heroes and anti-heroes," says Goss, who is an adjunct professor at the Sibelius Academy. "I believe that by combining language with the musical, theatrical and visual dimensions of opera, we may perhaps come closest to communicating 'all the truths we cannot see' in this heart-rending story that should concern us all."
The opera will be directed by Professor Ken Cazan from USC Thornton, and Professor of Opera Markus Lehtinen from the Sibelius Academy is the music director. Lehtinen and Associate Professor of Opera Brent McMunn from USC Thornton will conduct. The creative team also includes set and lighting designer David Jacques, costume designer Pia Lasonen, projections designer Sean Cawelti and make-up design and body paint artist Riina Laine.
The Helsinki production will feature four named principal and six multiple-role singers and will be double cast with students from USC Thornton and the Sibelius Academy. USC Thornton talent includes: Lily Smith (Svitlana Fedorova), Krishna Raman (Maksym Smirnov), Christine Marie Li (Allura), Lorenzo Zapata (Borys Slykovitch) and Sunwoo Park (Bear).
"It is exciting for two of the world's leading music schools to cooperate on a production of such musical, political and social importance," says Dean Robert Cutietta of the USC Thornton School of Music. "The event this opera explores had international implications and happened before most of our current students were born. This collaborative project has the potential to make a life-changing impact on our students and audiences. Working in international partnership will amplify that message."
Feelings Past the Facts
The radioactivity from the Chernobyl accident was estimated to be 400 times greater than the levels unleashed in the bombing of Hiroshima and Nagasaki. As the Soviet Union kept quiet about the accident, Sweden and Finland were among the first to register the toxic radioactive count.
"The global spread of radioactive emissions led the German Green Party to invent the slogan 'Chernobyl ist Überall' (Chernobyl is everywhere)," Goss says. "A colossal disaster of this magnitude, which affected entire nations and altered the course of history, cried out for the spilling of feelings past the facts that opera affords."
"It's a very intense, very exciting storyline. As the piece moves on, it gets faster and faster and more frenzied," says Cazan.
And with its references to environmental disasters, survival and incompetent leaders, the opera is "incredibly timely," says Cazan.
"It invariably happens that art anticipates reality."
A 'Challenging and Fascinating' Production
Cazan says the production is both "uniquely challenging and fascinating" because of the elements of fantasy and mythology.
"We have singing animals, and one of the main characters is a female brown bear," he says.
"Nature was both one of the biggest losers and one of the few winners in the Chernobyl story," Goss says. "Although there was widespread destruction of waters, woodlands and animals, with the evacuation of humankind from the area, much of the wildlife in the evacuation zone has begun to flourish to the point that the zone has become something of a wildlife refuge."
In place of a large physical set, projections designer and Rogue Artists Ensemble theater and opera director Sean Cawelti's video projections will cover multiple towers of differing heights and materials. Projections — an approach to set design popular with many professional opera houses — will create the control room of the power plant and make other fantastical elements possible.
"There are firemen and soldiers that melt — you can't do that on stage, not on a university budget," says Cazan, who previously worked with Cawelti on a production of Billy Budd. "His projection work is exceptional, and he is a director, too, so he gets into it from an emotional perspective as well."
With the visual aspects already in the works, Cazan can focus on the libretto and the student talent delivering it.
"We can really concentrate on the human situation going on, the absolute panic of the people in the control room when the disaster takes place," he says. "For me as a director, it's all about the human beings on stage and their relationships and the stories they are telling."
Composing a 'Collection of Emotions'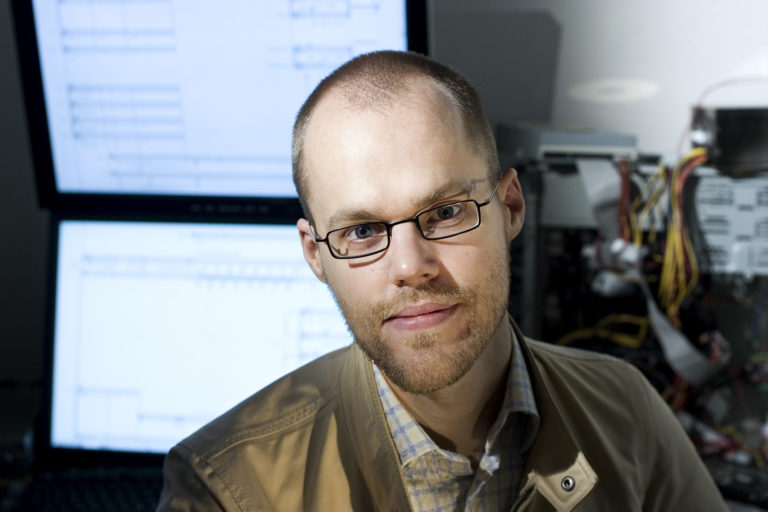 A well-known composer and current doctoral student at the Sibelius Academy, Uljas Pulkkis says he has tried for most of his 25-year career to apply mathematics to music without compromising the emotional impact.
"Opera music is the ultimate challenge," he says, "since opera can be thought about almost purely as a collection of emotions."
Harmonically, his biggest influence is the French spectral school, "the guys from the '70s who tried to mimic synthesizers with the orchestra."
"My idiom is sound that fills the hall," Pulkkis says. "For this opera, I have created a new tool to create a big sound from the singers: a computer program that calculates the thickest orchestration that can be used for each singer without the voice being masked by the orchestra."
Markus Lehtinen, music director for the Sibelius Academy's 30-musician orchestra, described Pulkkis' composition style as distinctive and bold.
"He is not afraid of combining different styles; of using understandable harmonies; of using different speeds, sometimes changing quickly to next mood; of painting sometimes long lines, and by that, stretching the feeling of duration; and of using very colorful orchestration," Lehtinen says.
An Opportunity for Students and Opera Alike
This artistic collaboration came about thanks to an ongoing partnership between USC Thornton and the Sibelius Academy, who regularly send students to study at each other's institutions and are members of ConNext, an elite consortium of ten international conservatories based in Belgium.
"When a unique opportunity like this comes along, you have to grab the bull by the horns and go for it," Cazan says. "I'm excited for my students and thrilled that a number of them will perform principal roles in Finland. The kids are ecstatic because before they graduate, they will have an international credit."
"Surely, we can talk for ages about the necessity of international projects and about the importance of collaborations," says Lehtinen. "For me, the themes and questions we are dealing with in this opera make this project much more important than a normal co-production. The fact that students can be involved with the creative process also makes this process unique."
Lehtinen believes All the Truths is everything opera should be.
"We are creating something new, expressing fresh thoughts and deep emotions in a new piece which is about our life, about the world we are living in," he says. "This is how we can keep the great form of art called opera alive."
---
Learn more about All the Truths We Cannot See: A Chernobyl Story on the production's website.
Never miss a story
Subscribe to USC Thornton's e-newsletter
Subscribe