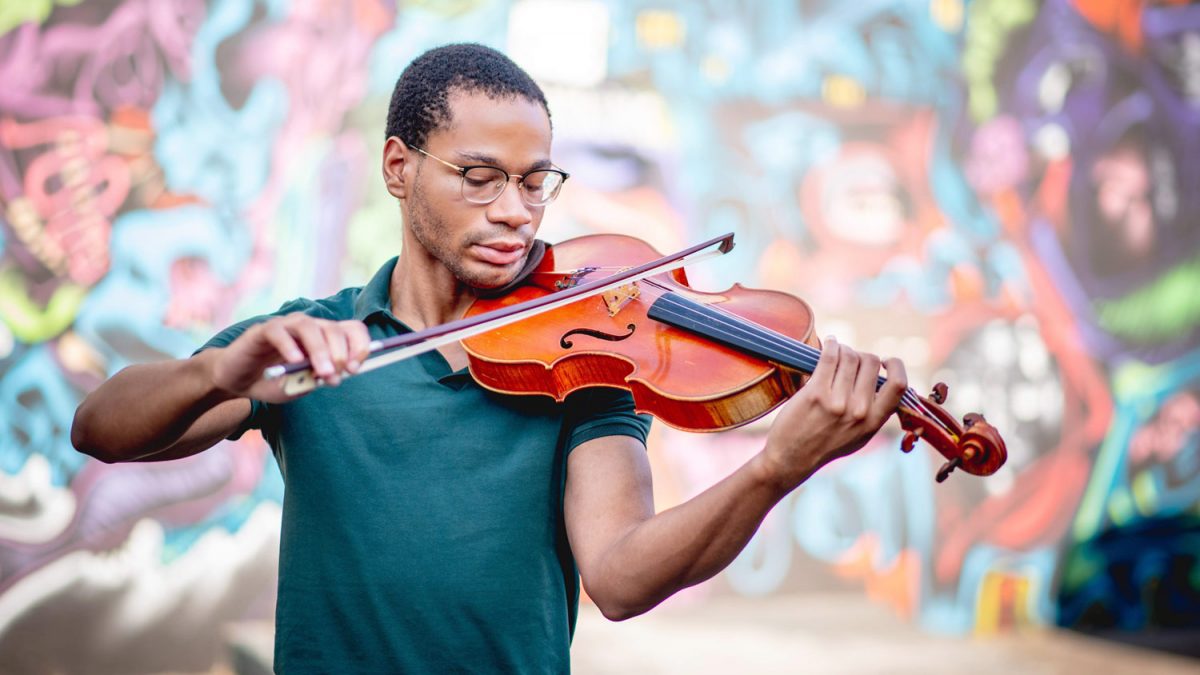 The Los Angeles Orchestra Fellowship
The Los Angeles Orchestra Fellowship, a program designed to increase diversity in American orchestras, welcomes its first class this fall. The four top-tier post-graduate string musicians from underrepresented communities include violinist Sydney Adedamola (BM '18), violinist Ayrton Pisco, violist Bradley Parrimore, and cellist Juan-Salvador Carrasco.
Launched in August 2018, the groundbreaking program was conceived by a partnership of Inner City Youth Orchestra of Los Angeles (ICYOLA), the country's largest African-American-majority youth orchestra; Los Angeles Chamber Orchestra (LACO), one of the world's leading chamber orchestras; and USC Thornton School of Music, one of the country's top music programs.
A 360-Degree View
The fellows will receive a 360-degree view of a career as an orchestral musician in this rigorous two-year training program. A key pillar of the fellowship is the artistic mentoring fellows receive from LACO musicians and USC Thornton faculty. In turn, fellows will actively mentor, teach, and guide young ICYOLA musicians. Among the other opportunities provided are extensive performance and rehearsal experience; compensation, benefits, housing; and unprecedented support to prepare participants to win auditions in professional American orchestras.
The fellowship was developed to address the fact that less than 5% of America's orchestra workforce is African American, Hispanic or Native American, according to a 2016 report on diversity issued by the League of American Orchestras.
In a joint statement, ICYOLA Founder/Executive Director/Conductor Charles Dickerson, LACO Executive Director Scott Harrison and USC Thornton Dean Dr. Robert Cutietta welcomed the inaugural class. "A partnership of ICYOLA, LACO and USC Thornton, this Fellowship stands alone in having an institution of color leading the way and in offering pipelines of support in every direction. The Los Angeles Orchestra Fellowship serves as an innovative bridge to promising professional careers for these four exceptional, accomplished and dedicated early-career artists, providing a rigorous educational component, substantial audition support, and connections to LACO musician-mentors, peers at USC, and a future generation of musicians the Fellows will themselves mentor at ICYOLA. We look forward to guiding them through the next two years."
"The Inner City Youth Orchestra of Los Angeles is especially pleased to partner with LACO and USC Thornton in this project that we hope will be a game-changer in our industry's efforts to diversify American orchestras," adds Dickerson. "We believe our Fellows will impact the orchestra world in huge ways, and we are delighted to have the opportunity to take part in their development."
Practical Experience
Adedamola, Pisco, Parrimore and Carrasco will receive a range of practical, in-the-field experience. As participants in intensive mock auditions run by Los Angeles Chamber Orchestra, they will learn essential prep tips and best practices. They will perform and rehearse as part of ICYOLA, the USC Thornton Symphony and in LACO's strings sections. Fellows will also perform as a string quartet throughout Los Angeles, especially in underserved communities.
The fellows experience regular artistic mentoring and coaching from LACO strings principals, including concertmaster Margaret Batjer, and section musicians, as well as weekly lessons with USC Thornton faculty, including Batjer, violinist Bing Wang, violist Karen Dreyfus and cellist Ralph Kirshbaum.
According to Kirshbaum, Thornton's Gregor Piatigorsky Chair in Violoncello, "As Chair of the Strings Department at the USC Thornton School of Music and the teacher of Master's candidate Juan-Salvador Carrasco, my colleagues and I at Thornton are pleased to salute and support this exciting new initiative. Through intensive and comprehensive mentoring and diverse performance opportunities, this program will offer a significant boost to the professional prospects of numerous talented and deserving young musicians from underrepresented communities with the laudable and achievable aim of redressing an imbalance that has persisted for far too long within the ranks of our musical institutions."
Work With LACO
The fellows' work with Los Angeles Chamber Orchestra includes performing chamber music alongside New York Philharmonic principal clarinet Anthony McGill, one of the classical music world's finest solo, chamber and orchestral musicians, during his week with LACO as the Shaheen and Anil Nanji Guest Artist-in-Residence, which includes community engagement activities and free public performances. They'll perform as part of LACO's strings section at two orchestral concerts, one led by violin soloist and Toronto Symphony Orchestra conductor emeritus Peter Oundjian, with works to include Beethoven's Symphony No. 5, and the other by LACO's music director designate Jaime Martín, featuring a West Coast premiere by Bryce Dessner and Mozart's Requiem with the USC Thornton Chamber Singers.
"From the moment this program began to take flight, I have viewed it as an extraordinary opportunity that serves not only as a unique experience for the fellows but also for LACO musicians who will mentor young talent with a goal to help expand diversity in American orchestras," says LACO concertmaster Margaret Batjer. "And personally, I am enthusiastic about teaching and mentoring violinists Ayrton and Sydney during the coming two years."
Public Performances
One of their high-profile, free, public performances as a string quartet takes place at Grand Ave Arts: All Access, during a collaborative, "community partners" performance co-hosted by Grand Performances and LACO, which will also include a performance of ICYOLA musicians during the day.
Fellows will rehearse and perform with ICYOLA throughout the year, helping guide the orchestra's young musicians, including its season opener at Holy Names Catholic Church and a program of hymns at Holman United Methodist Church, both located in South Los Angeles's Jefferson Park area, and a holiday concert at Rolling Hills United Methodist Church. Their work with ICYOLA members will include section coaching, individual mentoring and orchestral performance.
Among their appearances at USC Thornton, the fellows will perform in October with Thornton faculty in a recital followed by a panel discussion about diversity & inclusion in today's orchestras. In 2019, they will perform with the USC Thornton Symphony as part of the annual New Music for Orchestra concert featuring works by Thornton student composers, and at Walt Disney Concert Hall featuring works by Thornton faculty Morten Lauridsen and Frank Ticheli as well as Beethoven and many others.
Professional Development
The Fellows will attend arts administration and professional development training with ICYOLA's Dickerson, LACO senior management and USC Arts Leadership faculty as well as learn entrepreneurial skills including social media and brand engagement.
Valued at approximately $140,000 per fellow, the fellowship covers a full-tuition scholarship for USC Thornton School of Music's Graduate Certificate program; housing and utilities; approximately $25,000 in compensation, including performance fees; fully paid AFM Local 47 union dues; and eligibility for funds to be used for audition travel during and after the program.
The Los Angeles Orchestra Fellowship is funded in part by the Andrew W. Mellon Foundation, the Office of Los Angeles County Supervisor Mark Ridley-Thomas and AFM Local 47.
Never miss a story
Subscribe to USC Thornton's e-newsletter
Subscribe