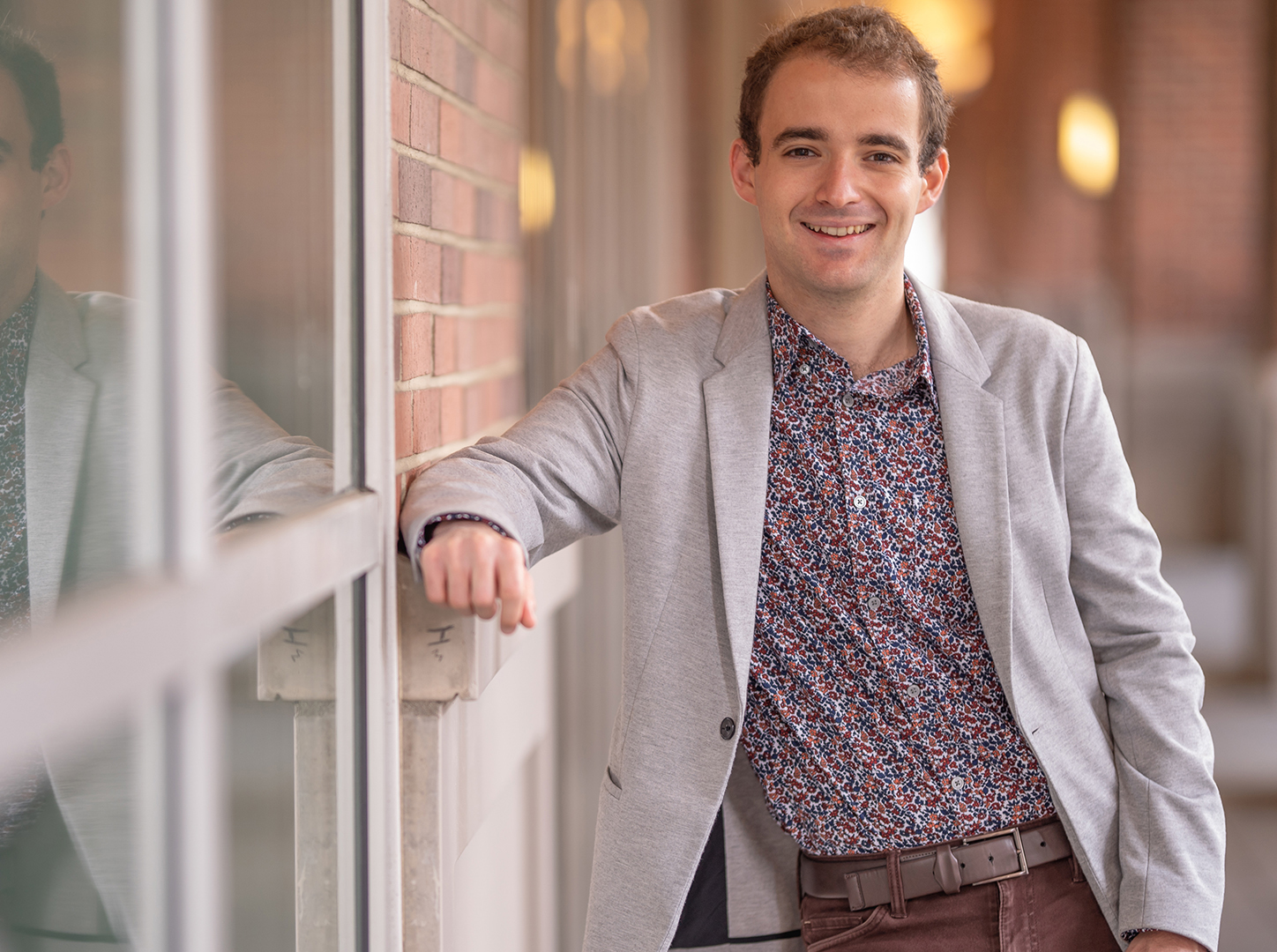 A Joyous Finale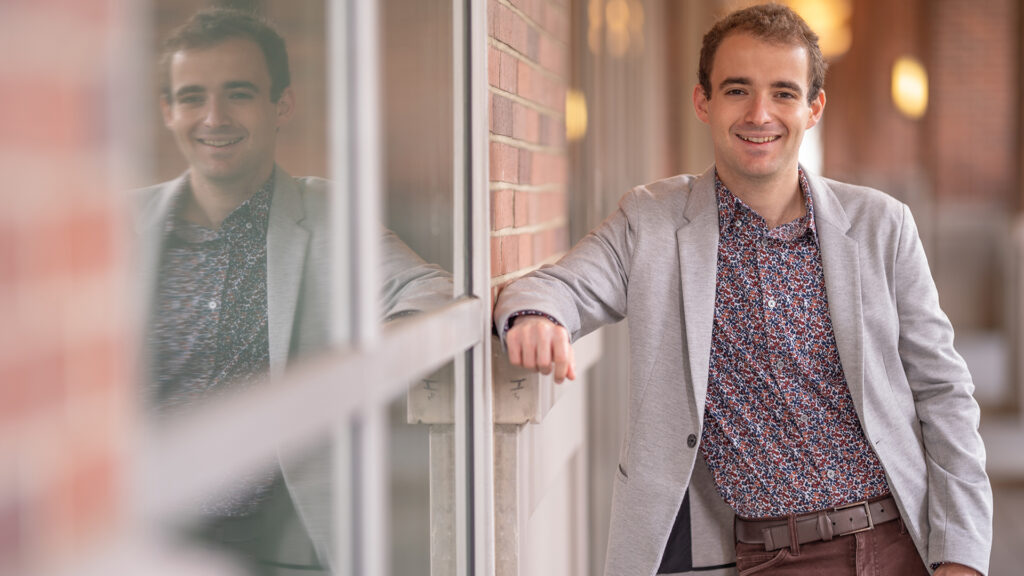 Composition major Adam Karelin is named valedictorian of USC and an outstanding graduate for USC Thornton's Class of 2022.
---
Adam Karelin ('22) probably couldn't have orchestrated a more triumphant ending to his college career if he'd tried. The USC Thornton Composition program major who plays trombone and led the Student Symphony Orchestra of USC (SSO) for three years has been named valedictorian of the Class of 2022. He will give a valedictory address at the USC Commencement Ceremony, which begins at 8:30 a.m. on Friday, May 13.
Additionally, Karelin has been named USC Thornton's Outstanding Graduate for the Class of 2022 bachelor's degree students.
"It's very humbling," Karelin said. "I'm very fortunate to be in a class of extraordinarily talented, brilliant peers, any of whom could have received this distinction. I'm very humbled and honored to be in such incredible company."
As music director and principal conductor of the SSO (formerly the Concerto Chamber Orchestra), Karelin accomplished many things, including diversifying the ensemble's repertoire, more than tripling the size of the ensemble from 40 members and eight staff to 140 members and 30 staff, ramping up fundraising, and spearheading marketing and rebranding efforts.
During the height of the pandemic, Karelin led the SSO through a banner 10th anniversary season, featuring animated video concerts and a Zoom ensemble playing pieces specifically composed to handle latency while performing live and remotely. Inspired by the Black Lives Matter movement, the SSO introduced its audiences to a remarkable 18th-century Black composer named Joseph Bologne. The ensemble also began collaborating with the Thornton Jazz Studies Department.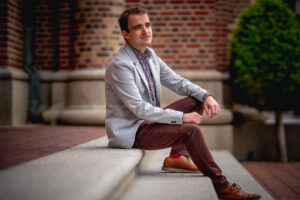 But Karelin doesn't cite any of those achievements as his most meaningful.
"I'm most proud of how I was able to grow and foster a community in the Student Symphony Orchestra and provide a place for music majors and non-music majors alike to come together every week and make music," he said.
Thornton faculty and administrators, including Dean Robert Cutietta, Associate Dean of Operations Jeffrey de Caen and faculty advisor and chair of the Thornton Strings Department Lina Bahn, helped him build that community, he said.
"I was very grateful for all of the faculty members and administrators who supported us and supported me specifically during my tenure with that orchestra. Thornton was a really powerful enabler for what I was trying to do with the organization."
Karelin found a true mentor in professor and chair of the Thornton Composition program Donald Crockett, recipient of an Arts and Letters Award in Music from the American Academy of Arts and Letters, as well as a Guggenheim Fellowship.
Early on during a lesson, Crockett suggested that Karelin listen to Górecki's Little Requiem for a Certain Polka, specifically the third movement.
"And when I listened to that, I realized he really understands my music and what I'm trying to do," Karelin said. "Don is the kind of teacher who's not trying to impose his own aesthetic will onto his students; he's trying to help them and facilitate the realization of their own creative ideas."
Karelin's music has been performed by the likes of the Los Angeles Philharmonic, the Kaleidoscope Chamber Orchestra and the Lyris Quartet, and in 2019, he was named a National YoungArts finalist in classical music composition and received the ASCAP Foundation Morton Gould Award.
As a trombonist, Karelin performed with six ensembles while at USC, including the USC Thornton Symphony and Baroque Sinfonia. He studied conducting and orchestral leadership with Larry Livingston. He also spent a semester abroad in Finland, studying trombone performance and composition as an exchange student at the Uniarts Helsinki Sibelius Academy. The depth of his musical education at Thornton did not surprise him, but the breadth did.
"I was really surprised at how I was able to broaden the scope of what I was studying at Thornton, both with Ken Foster through the Young Artist Project and Andrew Leff in the music industry program, and even within my own department, taking Nina Young's Max class," he said. "I was really surprised by the kinds of skills I was able to acquire, things that I didn't think I'd be working on when I entered."
His studies in linguistics took him to the USC Dornsife College of Letters, Arts and Sciences, where he wrote an extensive research paper under the guidance of Professor Louis Goldstein called "Music as Language," which looked at applying pedagogical models from linguistics to music theory. Having completed requirements for a major and a minor in disparate fields, he earned the distinction of Renaissance Scholar from USC and won the Renaissance Scholar Prize.
One of the most important things Karelin learned at Thornton was about music's relationship to the world.
"One's creative practice does not exist in a vacuum, and the music industry doesn't exist in a vacuum," he said. "We're part of a larger world and are beholden to the forces in that world. Now when there's a war happening on the other side of the planet, all musicians are affected by it, from everything as small as gas prices affecting our ability to travel to gigs to our own relatives being implicated in the war."
Karelin has family in Ukraine, which was invaded by Russia in March.
"Fortunately, they've all been safe so far. Knock on wood," he said. "But that's been very, very difficult."
A child of the post-Soviet diaspora, Karelin was born in Israel and moved to the United States when he was 5. He has lived in Los Angeles ever since. His mother and grandparents have been taking him to concerts since he was young and supporting his musical aspirations every step of the way. He started playing music more seriously when he was 10.
"I had incredible public school music teachers in the L.A. Unified School District, and that's something I'm always very vocal about and grateful for."
After graduation, Karelin will continue his studies at Thornton, having signed on for the master's program in arts leadership with Ken Foster. He knows music and teaching will always be part of his life.
"I want to help artists make the art they want to make sustainably from an economic perspective, an environmental perspective and a social perspective," he said. "I want artists to be able to function in the world healthily, happily and creatively."
Never miss a story
Subscribe to USC Thornton's e-newsletter
Subscribe