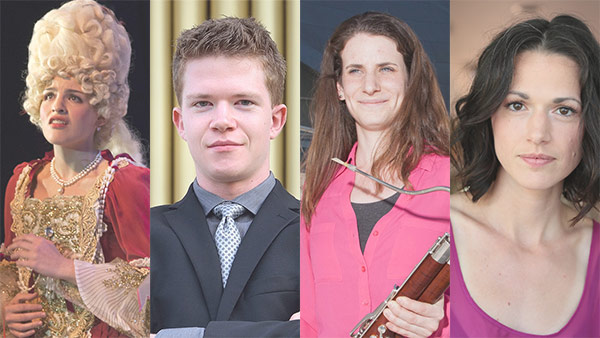 Ending on a High Note
This year, on May 12, yet another exceptional class of musicians and arts leaders will graduate from the USC Thornton School of Music. Before marching at Commencement, one student from each degree program will be honored as an Outstanding Graduate at Thornton's 62nd annual Honors Convocation, taking place May 11 at USC's Town & Gown.
Through their commitment, their scholarly and artistic achievements, and their dreams, Thomas Mellan, B.M.; Graycen Gardner, M.M.; Emily Schoendorf, G.Cert.; and Alison Maggart, Ph.D., represent all of Thornton's accomplished and promising graduates.
Thomas Mellan, B.M. '17, organ performance and composition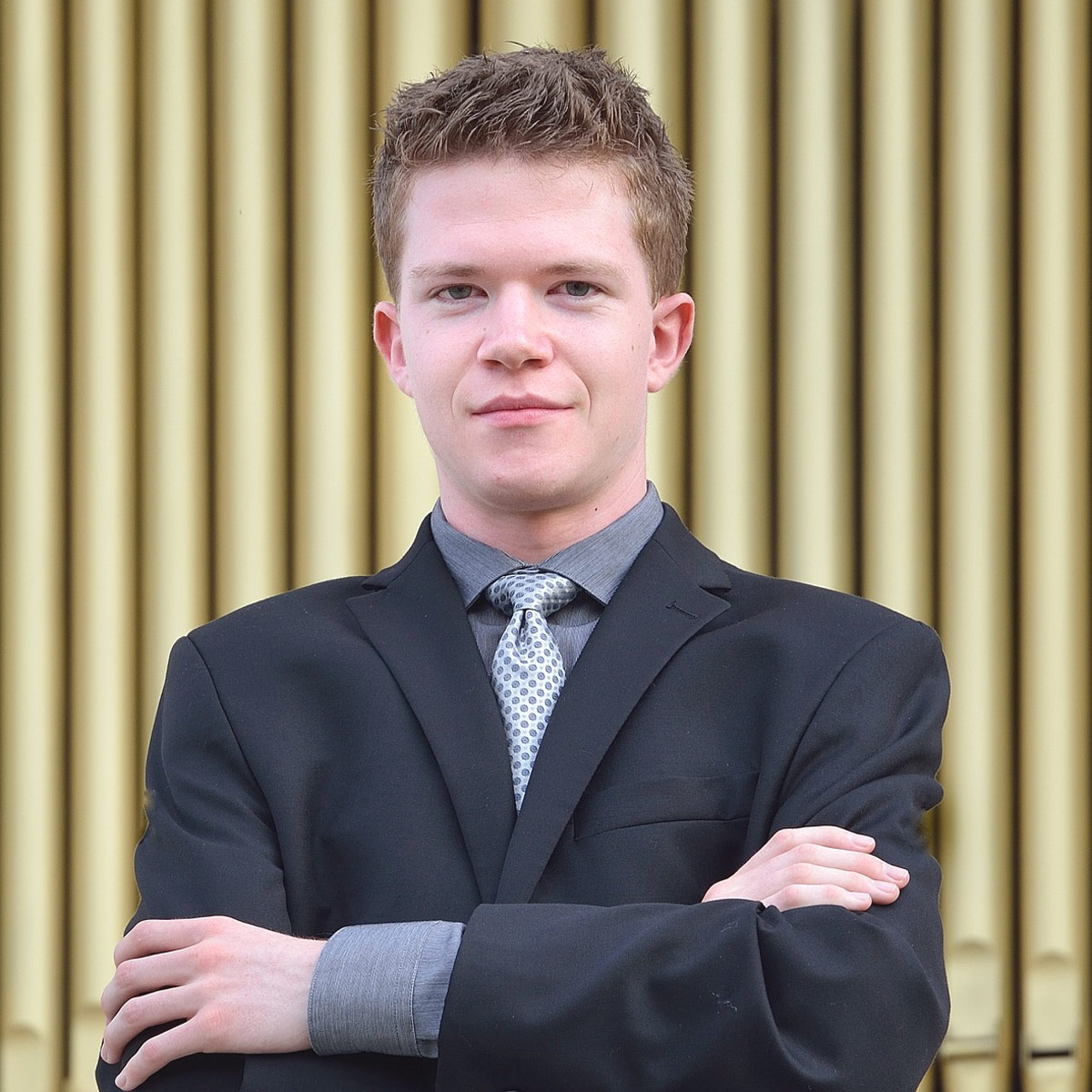 Organ Studies graduate Thomas Mellan. (Photo courtesy of the artist)
Thomas Mellan traveled far from home — Villeurbanne, France — to attend USC Thornton, where he double majored in organ performance and composition. His career goals are equally ambitious: he hopes to be a composer, a concert organist and a teacher. With two degrees under his belt, he will return to Thornton after graduation for master's studies in both fields.
Realistically, a double major presented some challenges. "How do I compose major works while spending hours per day at the organ?" Mellan said. "In the end, these two disciplines, while very different in their natures, feed each other so beautifully that each minute spent playing the organ enriches my composing, and vice-versa. Performer-composers were quite common before the 20th century, so I trust that it's possible to achieve a double career."
Mellan found inspiration in the musicians around him: his professors and his peers. "Morten Lauridsen's freshman theory class, Stephen Hartke's orchestration class, Cherry Rhodes' organ lessons and Neil Desby's counterpoint class gave me a starting point as to how to study music in order to understand it, and how to express my complex thoughts in music."
He found every moment at Thornton was a learning experience that furthered his development as a composer, performer and person. "In my time at Thornton, I've bettered my understanding of how to listen to music, people, ideas — and myself," he said. "This is the most important capacity for any artist."
"I hope to contribute to the canon of 21st-century music as a composer of expressive and deliberate music," Mellan said. "I feel that the organ holds so much expressive potential. … An idea I've been experimenting with recently is using the organ's registers to create a symphonic 'color argument' — to use Distinguished Professor Emeritus Stephen Hartke's phrase — just as any composer would when they orchestrate their music for large orchestra. The organ is the only instrument capable of this, as it boasts often hundreds of ranks of pipes, each with their own color and character and which may be mixed and matched at the organist's will." 
Graycen Gardner, M.M. '17, vocal arts performance
Vocal Arts & Opera graduate Graycen Gardner, pictured in the USC Thornton Opera's 2015 production of La clemenza di Tito. (Photo by Kristina Jacinth/USC)
In her master's degree studies in vocal arts performance at USC Thornton, Graycen Gardner learned a valuable lesson that could set her up for a lifetime of success as an artist: "The more genuine part of yourself that you put into your music and artistry, the more profound the impact will be not only for you but for your audience as well."
Gardner had the chance to put that idea to the test through the role of actress Margarita Xirgu in Osvaldo Golijov's Ainadamar with USC Thornton Opera last fall. "It was a really incredible opportunity to take risks as a performer and as a human being," she said. "I grew as an artist and a collaborator."
With a Spanish-language libretto by David Henry Hwang, Ainadamar begins with an elderly and dying Margarita reflecting on her life and relationship with poet and playwright Federico García Lorca and is told through a series of flashbacks.
"I frequently had to switch back and forth between playing a fiery and vivacious actress in the prime of her life and an elderly woman reflecting on the atrocities committed by a fascist regime long ago, including the murder of her beloved friend," Gardner said. "There was a period on stage where I sobbed for 10 minutes as I envisioned Lorca's execution, and then I succumbed to my illness and died on stage 15 minutes later. So dramatically, the work required absolute commitment of self."
The work presented musical challenges as well, she added, as the Spanish and flamenco styles of the music required a variety of vocal techniques, as did the dramatic requirements of the score.
"At Thornton, I have gained a new confidence in my voice and my abilities as a performer and a communicator and an educator through my work as a teaching assistant," said Gardner, who enjoys art song and chamber music as well as opera. "I'm grateful for the opportunity, and it's really exciting graduating into the world."
This summer the Mequon, Wisconsin, native plans to attend the Taos Opera Institute. After that, she will return to Thornton to complete a graduate certificate in Vocal Arts and apply to young artist programs with the goal of pursuing a professional singing career.
"I want to impact people through art, and educate them on the power of art and the necessity of it in a society that doesn't always prioritize the fine arts," she said.
Emily Schoendorf, G.Cert. '17, bassoon performance
Winds & Percussion graduate Emily Schoendorf, pictured in front of Walt Disney Concert Hall. (Photo by Noé Montes/USC)
Emily Schoendorf admits she didn't know very much about the bassoon when she started playing it in seventh grade in University Park, Maryland. Now she has earned a graduate certificate on top of her master's degree in bassoon performance from USC Thornton and can't imagine not playing the double reed bass instrument.
"I love the versatility of the bassoon," she said. "It can be low and goofy. But people forget how beautiful and singing the bassoon can be as well."
The best part of her Thornton experience, she said, has been working with faculty member Shawn Mouser. "He has been an invaluable mentor throughout my time here. I've learned so much from him in lessons, and also from seeing him perform with the L.A. Philharmonic, where he plays associate principal bassoon."
During her first year as a master's student, Schoendorf won the Winds and Percussion Concerto Competition and the opportunity to perform as a soloist with the USC Thornton Symphony the following year. She considers that accomplishment one of her proudest at USC.
But surely the best is yet to come, as Schoendorf is currently taking orchestral auditions and considering her options.
"I'd like to play in an orchestra," she said. "I know that is a challenging avenue to go down, but it's what I love the most about playing an orchestral instrument. I love playing chamber music and teaching, so I also want to do that, no matter where I end up."
Alison Maggart, Ph.D. '17, historical musicology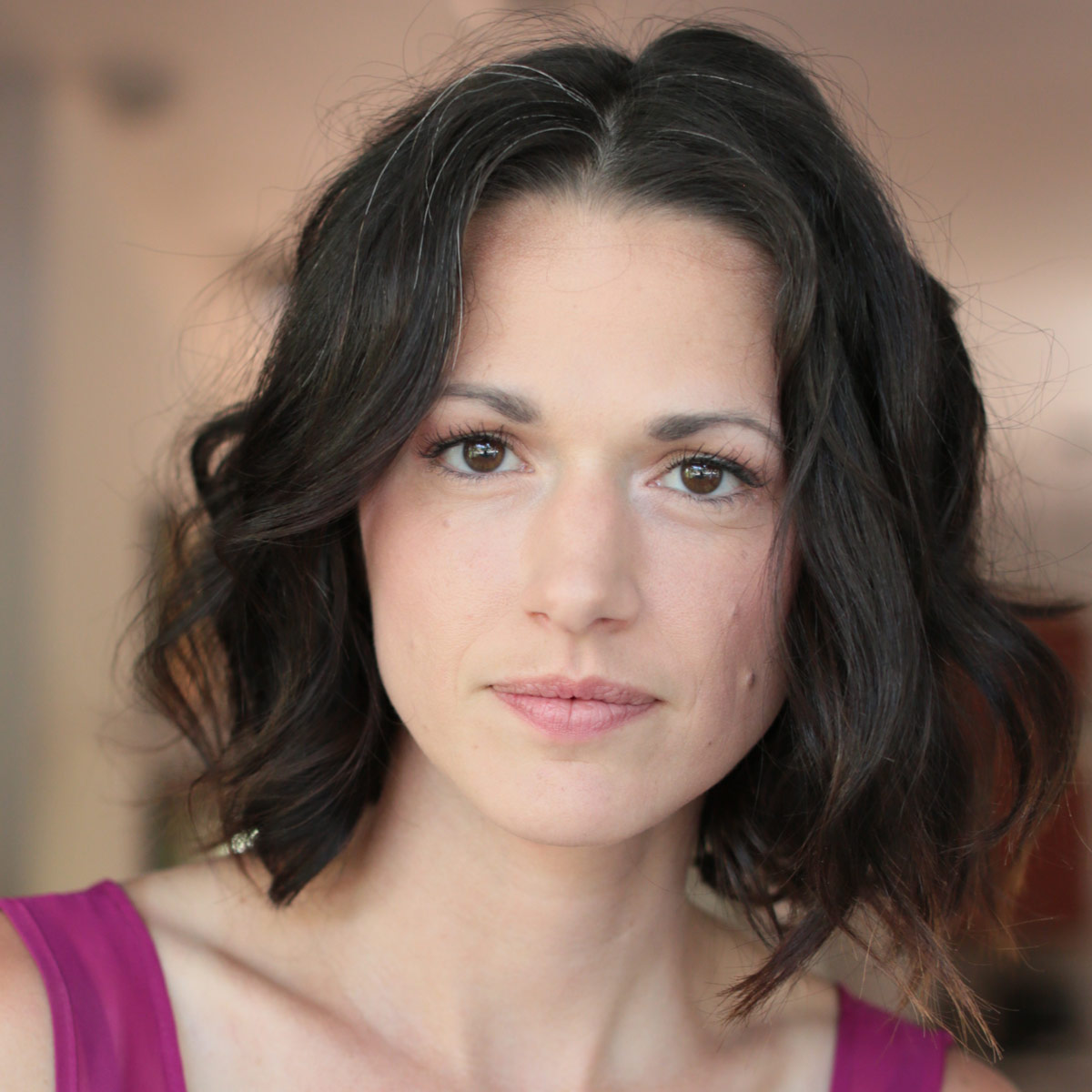 Musicology graduate Alison Maggart. (Photo courtesy of the artist)
As a Ph.D. student in historical musicology at USC Thornton, Alison Maggart learned "to think of writing as an art." Her dissertation on American composer Milton Babbitt explored allusion and citation in his formalist works, taking an approach that embraced cultural history, literary theory, philosophy, music theory and biography.
"During the 1980s, beliefs about musical meaning shifted from a perspective that favored intellectualism, objectivity and autonomy to one that values expressivity, subjectivity and historicity," said the Knoxville, Tenn., native. "Because Babbitt's music manifests the former view, his reception became increasingly polarized.
"My dissertation argues that by dissecting what is at stake in how Babbitt's music was and is perceived, we can gain a deeper insight into today's aesthetic values."
Maggart is working on developing her dissertation into a book, which explores the influence of Babbitt's Jewish identity on his aesthetics. She also plans to publish three articles next year. "One presents a new musical fragment by Richard Strauss — a cadenza for the second movement of the Haydn Cello Concerto in D Major in which Strauss quotes a passage from Till Eulenspiegel — which I discovered in the Piatigorsky Archives. The second details the use of opera in Donald Trump's presidential campaign, and the third discusses the performative aspects when there is no human audience of Northeastern Chinese ritual shadow puppet shows."
But she finds teaching as important as scholarship. "After I taught Music and Culture, two students whose majors were not in music told me that, as a result of my teaching, they would be incorporating music into their undergraduate theses. That made me really proud," Maggart said. "Hearing students say that one of my lectures got them excited about a topic, hearing students that I tutor say they feel more confident in their writing after working with me: these are the things that make me the most proud."
Never miss a story
Subscribe to USC Thornton's e-newsletter
Subscribe