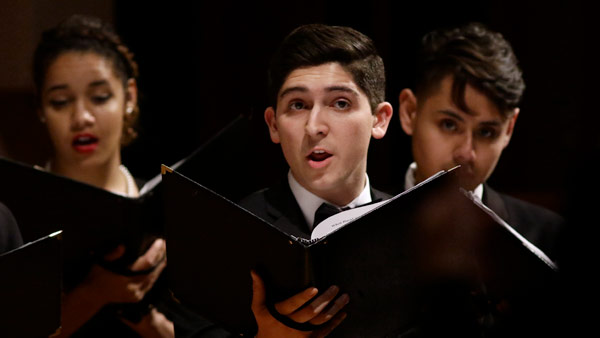 Fall Concert & Event Preview
You may have spotted USC Thornton's Fall events brochure in your mailbox recently – if not, we invite you to pick up a copy today! From Bernstein to Boulez, this semester's concerts are a testament to the versatility and artistry of our incredible student musicians.


Classical Ensembles
On Sep. 7th, Carl St.Clair and the USC Thornton Symphony will kick off the 2018/19 season with a work that forever shifted the musical landscape – Mahler's iconic First Symphony. Later in September, Sharon Lavery leads the ensemble in a rousing celebration of Bernstein at 100, featuring the overture to Candide, Symphonic Dances from West Side Story, and selections from Prokofiev's Romeo and Juliet, Suites 1 & 2 (Sep. 19).
In October, guest conductor Andrés Cárdenes leads the Symphony's popular Concerto Night, featuring flutist Elissa Brown, violinist Strauss Shi, and pianist Yuhan Yeh (Oct. 12). H. Robert Reynolds and Sharon Lavery lead the USC Wind Ensemble in works by Dvořák, Mahler, Stravinsky, Joan Tower, and alumnus Zhou Tian (Oct. 5), and return with a birthday tribute to Leonard Bernstein, plus music by Adam Schoenberg and faculty member Jim Self, on Oct. 26th. Finally, on Nov. 9th, Carl St.Clair returns to lead the USC Thornton Chamber Orchestra in works by Haydn and Ravel.
The USC Thornton Chamber Singers and Concert Choir join forces Oct. 19th for a program ranging from Monteverdi to faculty member Ted Hearne, featuring a collaborative commission by Stacey V. Gibbs and Shawn Kirchner, along the way. The Apollo and Oriana Choirs present a joint concert Oct. 26th, while the University Chorus returns to St. John's Episcopal Cathedral on Nov. 9th.
This November, the USC Thornton Opera presents a French double-bill, featuring Stravinsky's Le Rossignol and Ravel's L'Enfant et les Sortilèges (Nov. 14, 16 & 18). Both one-act operas, with libretti by Hans Christian Anderson and Colette, embrace the harmony of nature with a child-like fascination.
Faculty Recitals & Masterclasses
Renowned baritone and Vocal Arts & Opera faculty member Rod Gilfry takes to the stage of Newman Hall on Sep. 28th for a faculty recital. Joined by Thornton student and alumni musicians, Gilfry will perform excerpts from Matthew Aucoin's Crossing, jazz arrangements of songs by Fauré and Debussy, songs of Leonard Bernstein, and selections from the Great American Songbook. On October 30th, Thornton's tuba faculty – Jim Self, Norm Pearson, and Doug Tornquist – will present a collaborative recital, performing solo, as a tuba trio, and with guest performers, including a world premiere.  
Thornton's venerable Strings program hosts a series of weekly Strings Showcases throughout the semester, culminating in a three-day Chamber Music Festival (Nov. 26-28), featuring talented Winds & Percussion, Vocal Arts, and Strings students. The school welcomes esteemed violinists Cho-Liang Lin (Sep. 28) and Pamela Frank (Oct. 10) for masterclasses this Fall, along with classical guitarists Paul O'Dette (Oct. 25) and Pepe Romero (Nov. 12-13), among other artists.
From Early Music to New Music
The Thornton Edge new music ensemble will brighten audiences with a program of modern European music on Oct. 2nd, featuring works by Pierre Boulez, Hans Abrahamsen, and Judith Weir, followed by a program of American composers, including Thornton alumna Elizabeth Ogonek, on Nov. 13th. Joseph Pereira leads the USC Thornton Percussion Group in a concert of contemporary works on Nov. 5th.
The Polish Music Center celebrates 100 years of Polish independence with the annual Paderewski Lecture-Recital on Oct. 14, featuring the USC Thornton Chamber Singers, the Quadraphonic String Quartet, and guest lecturer, musicologist Lisa Cooper Vest.
And Thornton will come to life with Early Music on Oct. 5th with a concert of "musical flowers" from 17th century Italy by the USC Thornton Baroque Sinfonia, followed by music from 17th century Spain on Nov. 30th. Meanwhile, the USC Collegium Workshop presents a program of song and dance from Early Modern England Nov. 17-18, featuring some of the earliest-known English songs.
Jazz & Popular Music
Monday is #JazzNight this Fall at USC Thornton, beginning with the Jazz Honors Combo on Sep. 24th. Other highlights include the USC Concert Jazz Orchestra performing music from West Side Story on Oct. 8th, the Afro-Latin American Jazz Ensemble (ALAJE) on Oct. 15th, and the USC Thornton Jazz Orchestra with drummer Peter Erskine on Oct. 29th.
And throughout the semester, Thornton's cutting-edge Popular Music program will present showcases for First (Oct. 10, Nov. 28), Second (Oct. 12, Nov. 30), and Third-year majors (Dec. 1), along with Latin Pop (Nov 16) and Pop Strings (Nov. 2).
Winter Gala
Finally, musicians from across the school's Division of Classical Performance & Composition will come together for the annual Sounds of the Season holiday scholarship gala on Dec. 8th, featuring 250 sings and instrumentalists ringing in the season with carols and songs, in support of scholarships for Thornton's most talented musicians.
---
Events listings are updated frequently. Be sure to visit our website calendar or follow us on Facebook to hear all about the latest concerts.
Never miss a story
Subscribe to USC Thornton's e-newsletter
Subscribe