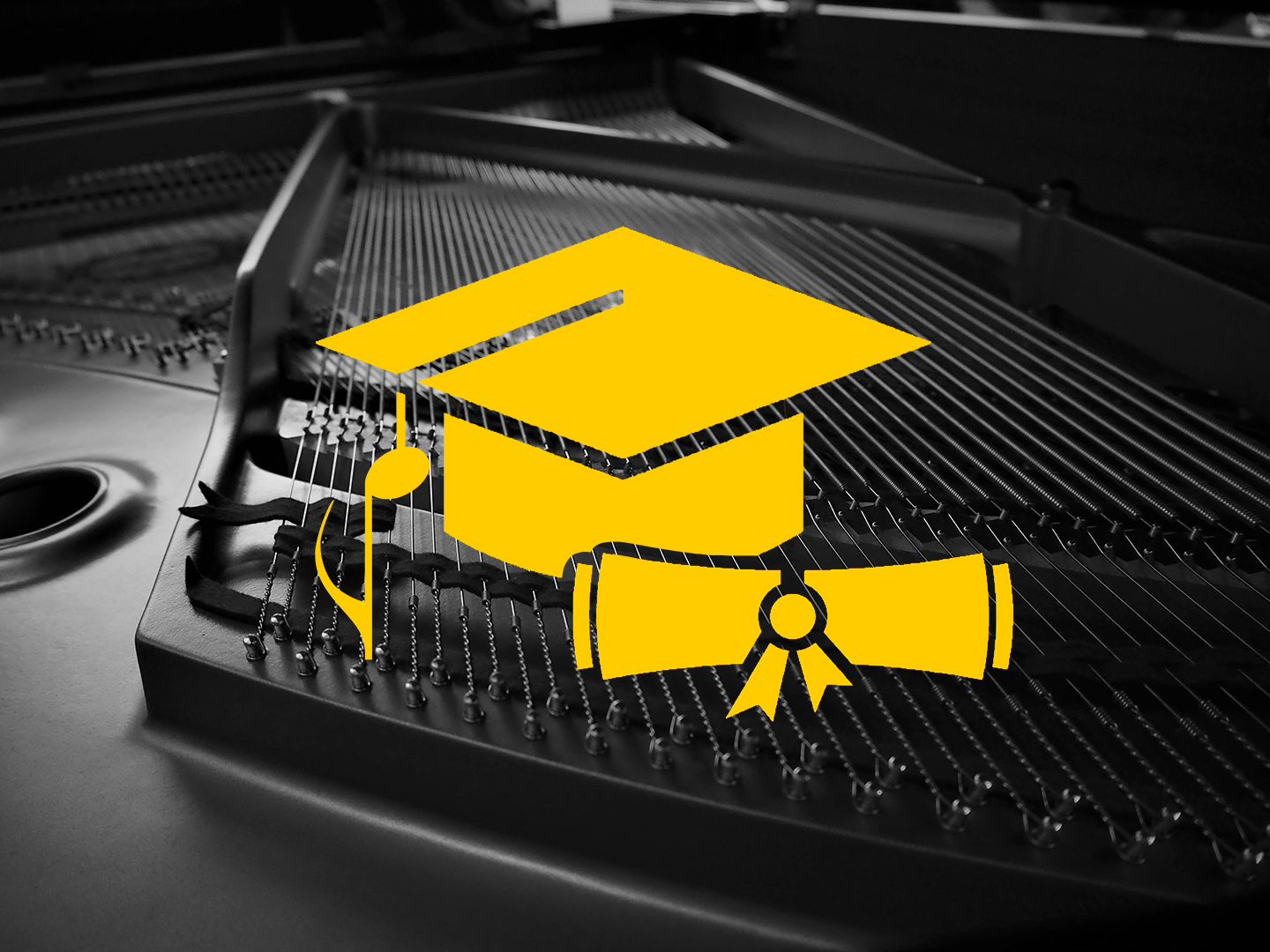 2023 Outstanding Graduates: Part One
The five Outstanding Graduates of the Class of 2023 share their favorite memories from Thornton, lessons they've learned and their future plans.
---
Outstanding Graduate – Bachelor's
Ashley Fulton (BM, Music Production)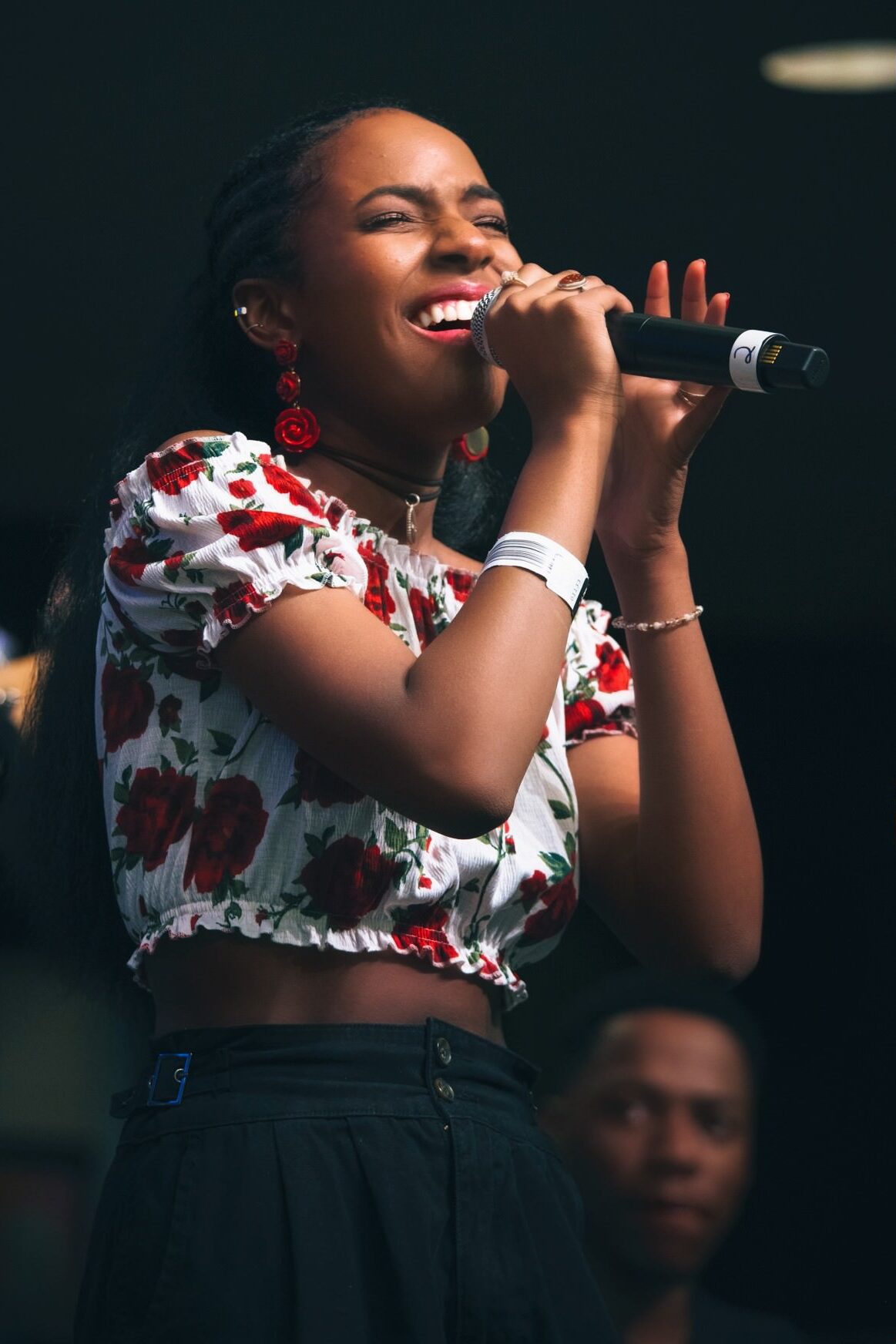 Singer-songwriter-producer-pianist-composer Ashley Fulton (BM '23) worries it may sound cliché, but it's a lesson she is incredibly grateful to have learned at USC Thornton: Be yourself.
"I realized how indispensable it is to making memorable — if not good — art," said the USC Trustee Scholar, who graduates with her bachelor's degree in Music Production as a USC Thornton Outstanding Graduate. She is also one of 10 students campus-wide selected as a USC Discovery Scholar — a distinction that celebrates graduating seniors who have excelled academically while making a meaningful contribution to their field of study through exceptional new scholarship or artistic work.
"I'm a firm believer in music as self-expression on exhibit, and what you choose to say creatively reflects your circumstances and values," said the Ohio native. "It took until midway through my time at Thornton to start realizing that the more time I spent making music that wasn't intentionally about something, the more I'd lose sight of who I was and what I wanted to say."
An empowering experience came junior year and led to her first major project, Glass, a five-piece, 18-minute work she describes as an "autopathographical compositional memoir," written under the instruction of USC Thornton Popular Music program founder and professor of practice Chris Sampson.
"Professor Chris Sampson was instrumental in helping me find my voice. At the top of junior year, I walked into our first day of one-on-one instruction with a lofty idea of how I wanted things to go. Chris, thankfully, was quick to remind me to venture in search of what I hadn't yet tried before. The outcome was transformative. I spent the semester producing Glass, my first audio essay and a unique start to a compositional genre I expect to sit with for the rest of my career."
Sampson invited Fulton to give a speech about the production process for Glass the following summer at the annual Association for Popular Music Education (APME) conference, held in Detroit. She also submitted Glass as an example of her work in her successful applications for a USC Undergraduate Research Fellowship Grant and the Discovery Scholar Prize of $10,000.
Then came Elphidium — her senior capstone project and "one of the defining moments" of her Thornton experience. The project includes seven full-length mixes and 70 pages of research on hydrological climatology combined in an audio essay.
"Mostly, the album's creation process was full of colossal ups and downs — head-banging mixing sessions in a pink-lit room, grin-tugging string recording sessions, eye-wetting mental ambushes where I genuinely feared it couldn't be done," she said. "That, to me, just feels like living. And this is certainly how I want to be doing it."
Other highlights of her work at Thornton include the debut (and two sold-out shows) of an original instrumental-electronics composition for small dance ensemble for the USC Glorya Kaufman School of Dance's Choreographers & Composers Showcase this spring. She was also executive composer and music director for "Part 7: Black Lives Matter," the final installment in Thornton's 2021 film and music series From Tragedy to Triumph.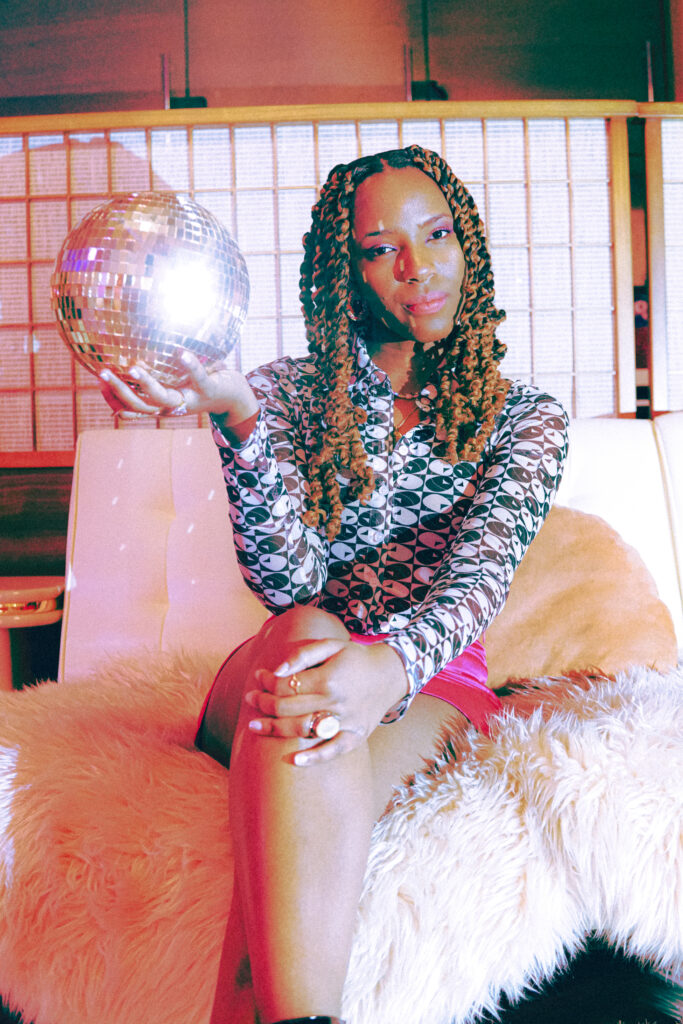 Fulton has also added some impressive professional experience to her resume, having worked with Universal Music Group and FOX Entertainment, among others. "The Thornton Music Production program has been spectacular in helping me shape preliminary connections with industry professionals," she said.
In addition to Sampson, Fulton studied with lecturer in Music Technology Timo Preece, associate professor of practice in Popular Music Lyndia Johnson (voice), retired Jazz Studies faculty member and keyboardist of the Yellowjackets Russell Ferrante, and adjunct professor in Jazz Studies Vince Mendoza, an eight-time Grammy Award-winning composer and arranger.
Along with those wide-ranging studies, she took classes on media scoring for film and video games, and that led to another avenue she plans to pursue after graduation.
"Aside from scoring for screens, I'll be working as a producer for other artists, potentially under a label umbrella, until I deem it time to release my own artist project. I already have the first 14 albums written. It's really just about deciding what I want to go where. I'm geared up, nervous, and excited."
But, for Fulton, gratitude comes first.
"Between my best friends, my partner, my mentors, my co-writers, my artistic collaborators, my management, all the professors who've guided me and trusted me, there's no shortage of acknowledgements to go around," she said. "Without the vital, dedicated support of all the people in my network, I don't think I would have grown into the multidisciplinary producer I am today."
"After I graduate, I'll be writing a lot of thank-you letters before I start asking for things."
---
Outstanding Graduate – Master's
Mingjia Chen (MM, Composition)
The list of Mingjia Chen's (MM '23) compositions and performances during her graduate studies at USC Thornton goes on and on. Given the intensity of the last two years, the USC Thornton Outstanding Graduate plans to spend some idle hours this summer.
"I really enjoy being in school, but my brain needs a break," said Chen, who came to Thornton with a bachelor's degree in jazz and contemporary vocal performance. "These last two years have been super-fast-paced and I'm looking forward to being criminally un-precious with my time this summer, just spend hours staring into my friend's pool, things like that."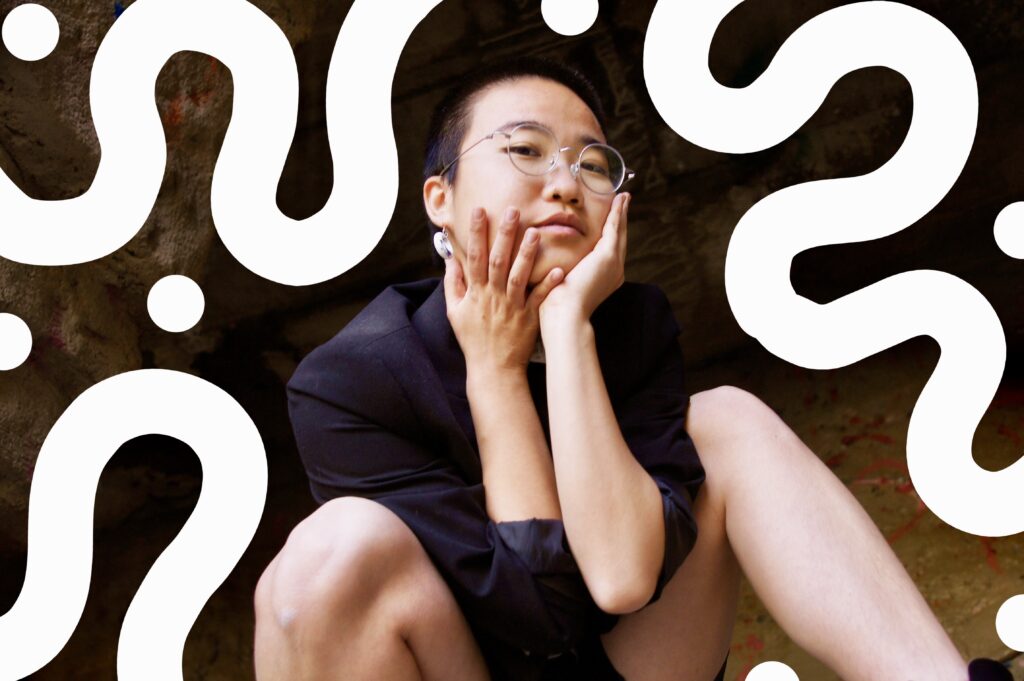 But the multi-hyphenate artist — performer, composer, improviser and lyricist — already has a tour of Europe lined up with the GRAMMY-winning Roomful of Teeth ensemble, among other things. The artistic mind can never really take a vacation.
One of the highlights of her time studying composition at Thornton was premiering her 2023 work for voice and orchestra, Come On Now Narcissist, with the Thornton Symphony. She played piano and sang at that performance.
And while she performed with the Thornton Edge ensemble four times and scored the music for an evening-length student play, she has also loved singing in various composition showcases on her own and other students' pieces and on her peers' recordings. Meanwhile, she was also performing, composing and recording as part of ensembles like Roomful of Teeth, Wild Up and Queer Songbook Orchestra in the United States and Canada.
And then there was what she calls the "most challenging musical undertaking" of her life. For her final recital, Chen presented the first full iteration of an hour-long piece she has been thinking about for years.
"It's called Wolves, and it is a theatrical multimedia song cycle about grooming and abuse in the music education system," she said, adding that her screenwriting and playwriting/acting course and her studies with Daniel Lincoln on the structure of musical theatre writing gave her additional skills she needed to create the composition.
"Every day of the month leading up to the performance, I considered scrapping the whole thing and piecemealing together a more 'chill' recital of random pieces that were already complete," she said. "Presenting this work was the most artistically vulnerable I had ever been. It feels like I took a risk with every decision I made."
But hearing it performed live made all those risks worthwhile.
"I am incredibly proud of and grateful for the band I assembled for the performance and everyone worked super hard on what was sometimes unforgiving music, and brought their A game, and put their trust in me — that was such a special thing."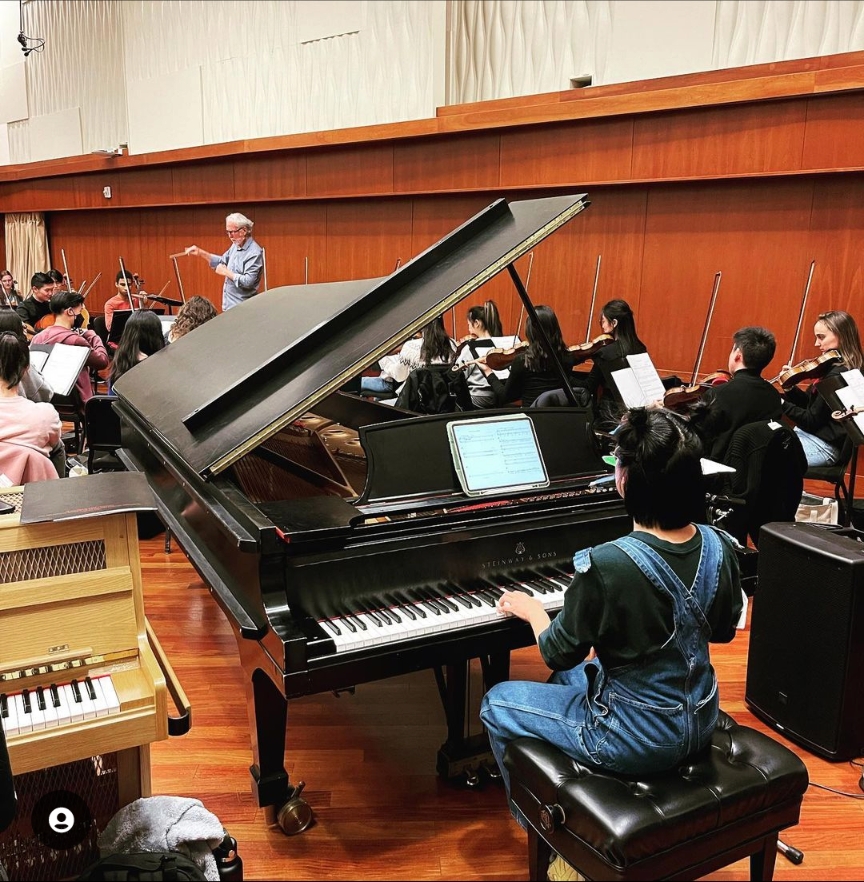 "Feeling love and support" from her peers, she said, has made every project rewarding, especially the challenging composition of a new piece for the New Music for Orchestra concert with Thornton Edge. In addition, her composition professors provided so much more than professional guidance.
"Larry Livingston taught me to be unabashed, Ted Hearne taught me to be unafraid, Camae Ayewa taught me to be true, Don Crockett taught me to be generous, Chris Trapani taught me to be thoughtful, Frank Ticheli taught me to be joyful," Chen said. "And working with Daniel Allas as a [teaching assistant] in aural skills has been so incredibly enjoyable. He is also my peer and friend, as he is graduating with his DMA degree in composition this year."
Born in Beijing, China, and raised in Toronto, Canada, Chen plans to stay in Los Angeles after graduation, where she will continue to perform, write and teach (she's had a private studio in piano, voice, music theory, improvisation and composition since 2016).
"There's lots of adventure ahead," she said. "Also, I hope to continue to refine and eventually present Wolves in a 'more official' capacity. Being at Thornton and having the resources available to present the beta version makes me feel more confident about telling my story to more people. If I hadn't had the safe school environment to experiment and fall on my butt onto a soft landing, I'm not sure if I would have ever had the courage to complete the show."
---
Outstanding Graduate – Master's
Adam Karelin (MS, Arts Leadership)
A year after finishing his undergraduate career as a USC Thornton Outstanding Graduate, a USC Renaissance Scholar and USC Class of 2022 valedictorian, composer-conductor-arts leader Adam Karelin (BM '22, MS '23) has once again earned the distinction of Outstanding Graduate, this time for his accomplishments in the Arts Leadership Master of Science program.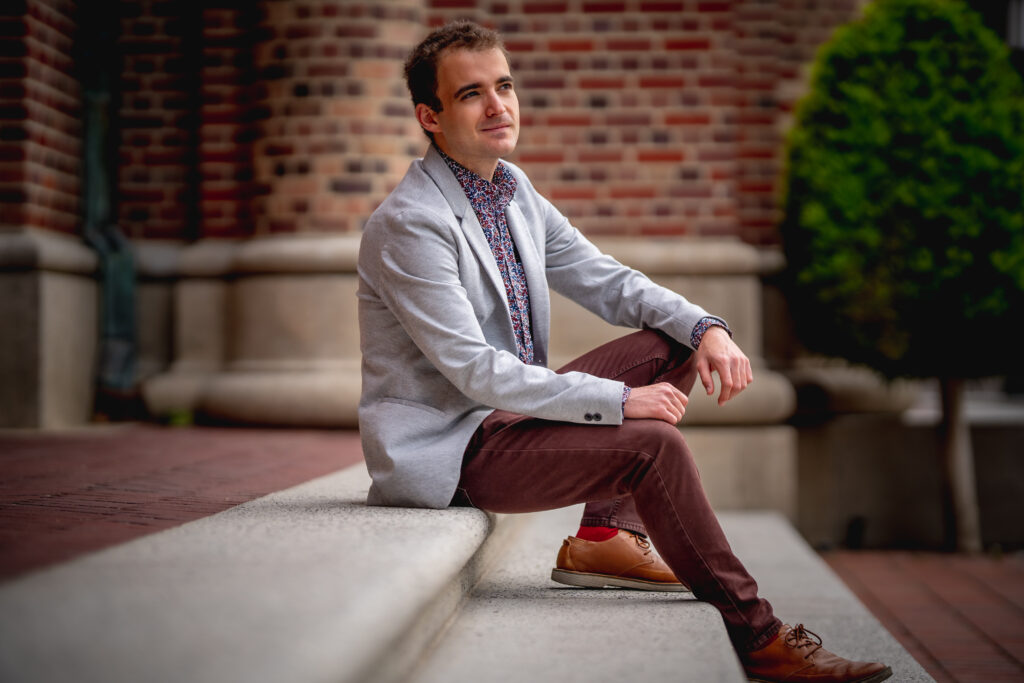 A multidisciplinary and self-directed program designed for arts administrators and cultural entrepreneurs, the Arts Leadership master's degree is typically a two-year curriculum, but Karelin opted for the accelerated track, finishing in two semesters. During that time, he spearheaded an arts festival at USC that highlighted artists of Ukrainian origin while raising money for humanitarian aid. He also served as principal conductor of the youth orchestra at the Riverside Arts Academy, where he will start his tenure as artistic director later this summer.
"The Riverside Arts Academy is an extraordinary El Sistema program out in Riverside, Calif., that provides students access to a free music education from the ages of 7 to 17," Karelin said. "As the artistic director, I am most looking forward to implementing a responsive curriculum. Both my classes in the Arts Leadership and Music Industry departments adapted their syllabi every semester to match the ever-changing realities of the arts world. I now want to bring that spirit of adaptability and responsiveness to my new role."
"Everything I have learned in my arts leadership and composition and conducting studies here at Thornton empowers me to build a career that symbiotically balances my artistic and leadership practices," he said.
Karelin believes one of the most valuable experiences he had in the program was the arts leadership intensive, in which students defined both their personal and professional values.
"That process, paired with the whole of my graduate studies, helped me realize that what I value most in the arts is active participation," he said. "And while I still love performing for audiences, I believe that the most important thing I can do is empower others to create art themselves."
Another highlight was his mentor, Director of the Arts Leadership Program and Professor of Practice Ken Foster.
"I especially appreciated the guidance and mentorship of Professor Ken Foster," Karelin said. "His steadfast commitment to the iterative creative process gave me the flexibility and support to try different ideas, let them fail in a safe environment, and learn from those experiences.
As principal conductor of the youth orchestra, Karelin drew on his three years of undergraduate experience as music director and principal conductor of Thornton's Student Symphony Orchestra. He had essentially transformed the ensemble by more than tripling its size; diversifying the repertoire; and leading the SSO through a banner 10thanniversary season during the pandemic. Taking a cue from the collaboration he started between the SSO and Thornton's Jazz Studies department, he established a partnership between the youth orchestra and Riverside Arts Academy's other ensemble, the mariachi band — an experience that brought him "immense joy."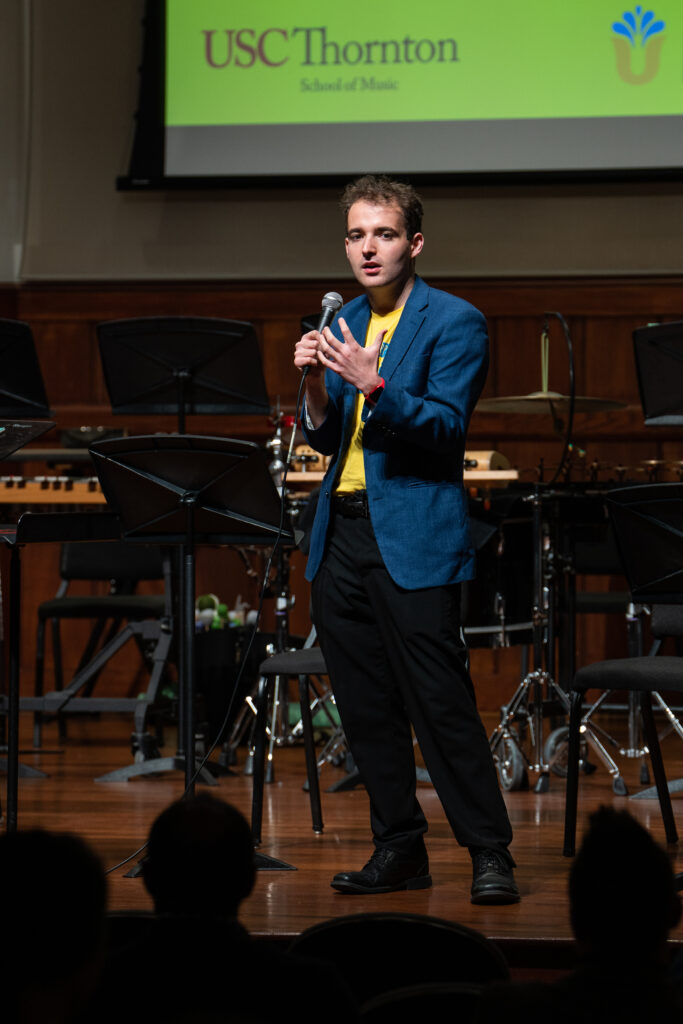 Karelin truly put his leadership skills to work as founder and artistic director of the Slava Festival, a Ukrainian arts festival that featured an audio-visual installation by interdisciplinary artist Yulia Lanina and Associate Professor of Composition Nina C. Young, music by Ukrainian composers Valentyn Sylvestrov and Ivan Karabyts, and the world premiere of his oratorio Forget Your Past.
To bring the festival to fruition, Karelin tapped into the network he built as an undergraduate, collaborating with Thornton Edge, a contemporary music ensemble led by his mentor Professor and Chair of Composition Donald Crockett, and the USC Dornsife Department of Slavic Languages and Literatures. Karelin had completed a minor in linguistics, and because his major and minor were in disparate fields, he earned the distinction of Renaissance Scholar.
The festival had personal meaning to Karelin. A child of the post-Soviet diaspora, he is a Russian-speaking Ukrainian Jew who was born in Israel and moved to Los Angeles when he was 5.
"My family in Ukraine lives in Kherson, which has been subject to barrages of attacks recently. Though they are fortunately still alive, the reality is that everyone in Ukraine faces death and destruction every day and night, at the hands of Russia — a terrorist state. In response to the ongoing war, I wanted to harness the power of music to raise humanitarian relief funds."
As he begins his next chapter, Karelin feels confident with his Thornton family at his side.
"The relationships I built in Thornton, both with students and faculty, support me well beyond the confines of our campus. It's not just that those relationships bring about work opportunities; it's that when those work opportunities come, you have the support system to enable you to perform at the highest level."
Never miss a story
Subscribe to USC Thornton's e-newsletter
Subscribe