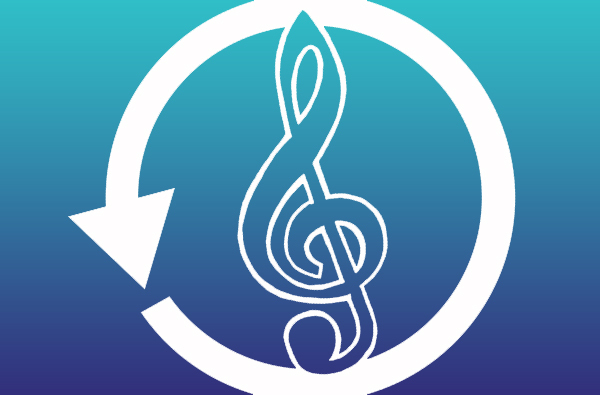 USC Thornton Summer Rewind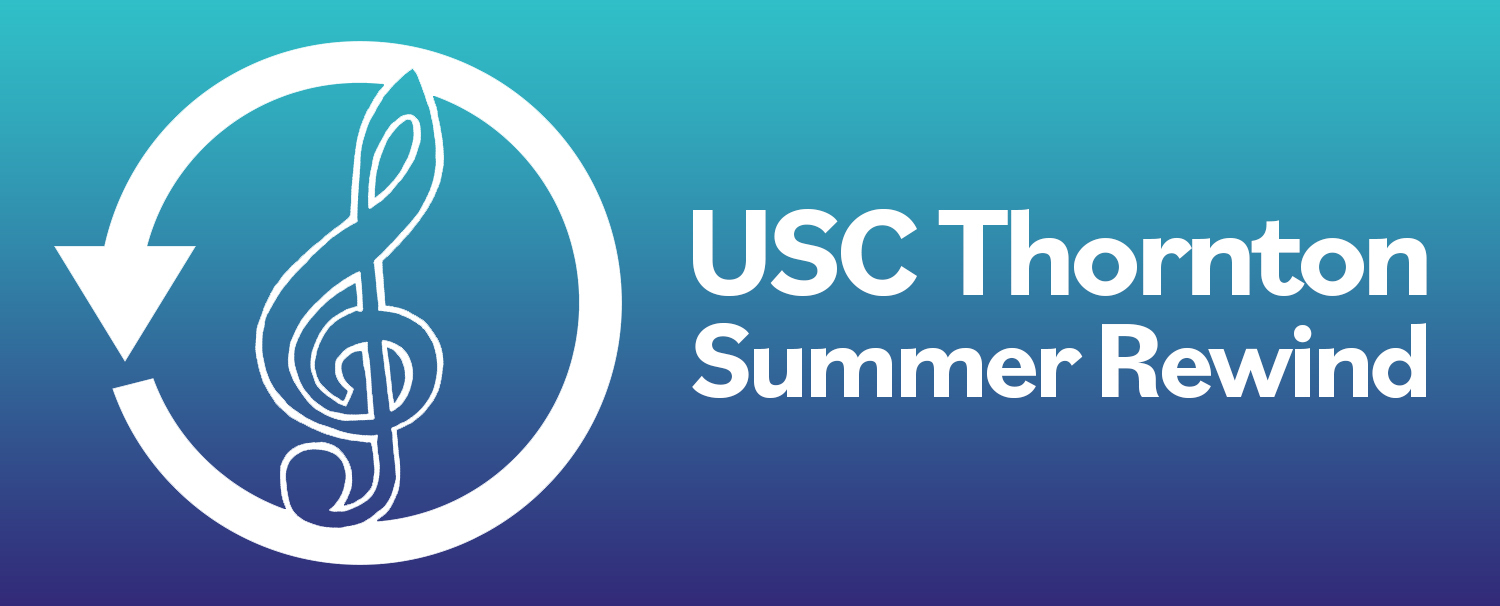 Classes have ended, finals are over, and the Class of 2020 has completed their USC Thornton journey. It's officially summer at Thornton, and there's no better time to look back at the 2019-2020 school year and celebrate some of our favorite moments. It's been a year for the memory books—from the inauguration of our new university president, to world-class performances, to watching students, faculty, and alumni respond to the shift to remote learning with resiliency and creativity—there is no shortage of incredible moments to remember. Join us each week as we celebrate another collection of stories from the 2019-2020 school year.
---
Week 1: The Thornton community | Week 2: Faculty opening doors | Week 3: It all starts here | Week 4: Award-winning artists | Week 5: Creative careers | Week 6: Collaboration for all | Week 7: Fresh releases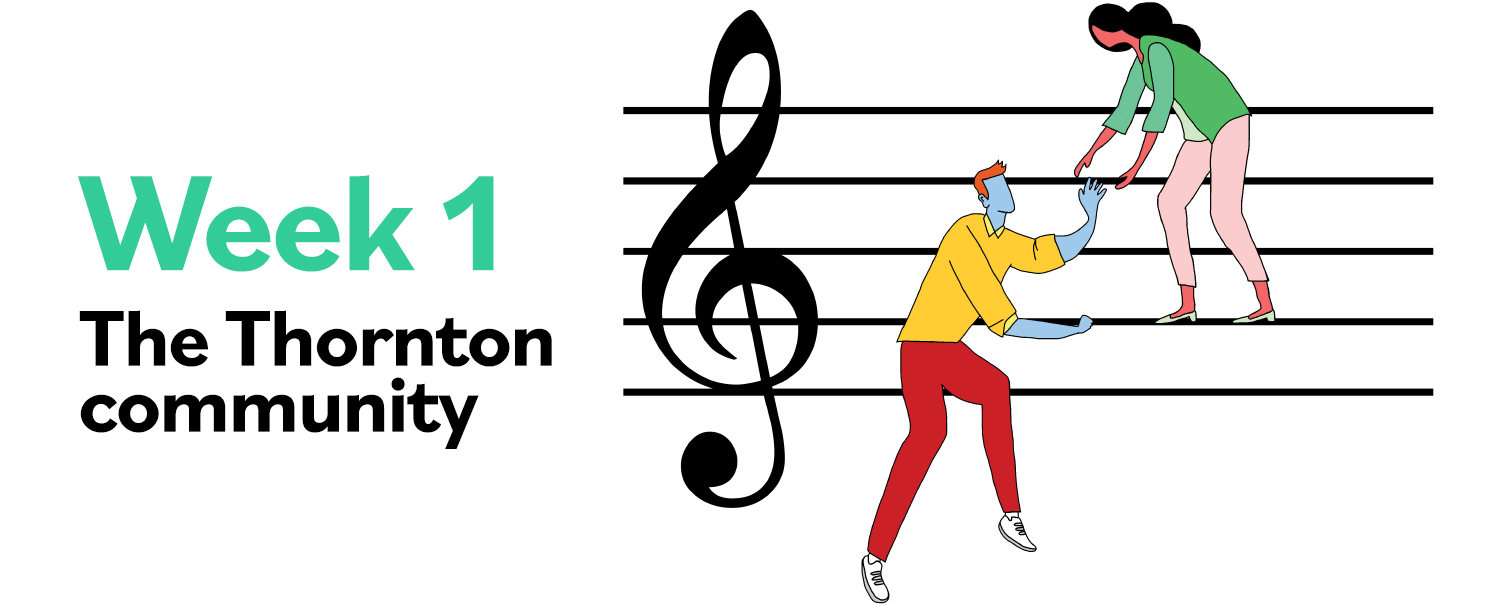 The 2019-2020 school year kicked off in style with the inauguration of President Folt, and ended under unprecedented circumstances as students and faculty adapted to remote learning. In its usual fashion, the USC Thornton community always rose to the occasion. These stories remind us how Thornton faculty, students and alumni show up for each other and our wider USC community.
Artists to the Stage
USC gave an enthusiastic welcome to Carol L. Folt as she was formally inaugurated as the university's 12th president on Sept. 20, 2019. Student performers from USC Thornton provided the soundtrack for the week's festivities, including an Arts Showcase, a Faculty Research Symposium and the Inauguration Ceremony.
USC Thornton Presents: Live! From Somewhere
As classes became remote, and venues and concert halls closed, USC Thornton launched Live! From Somewhere, a video series highlighting virtual performances by students, faculty and alumni. Artists from across the school have now graced our virtual stage with stunning performances for the community to enjoy from home.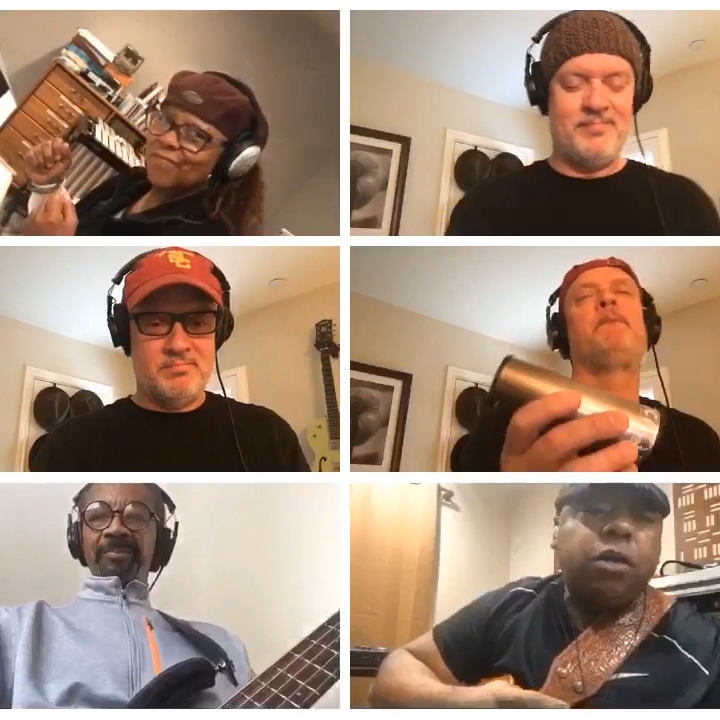 Silver Linings
Looking for a way to uplift their students while conducting classes and making music from home, Popular Music program Director Patrice Rushen and four of her faculty members had a brilliant idea. The five collaborated on a virtual performance of the late Bill Withers' "Kissing My Love," and the infectious rendition was a hit.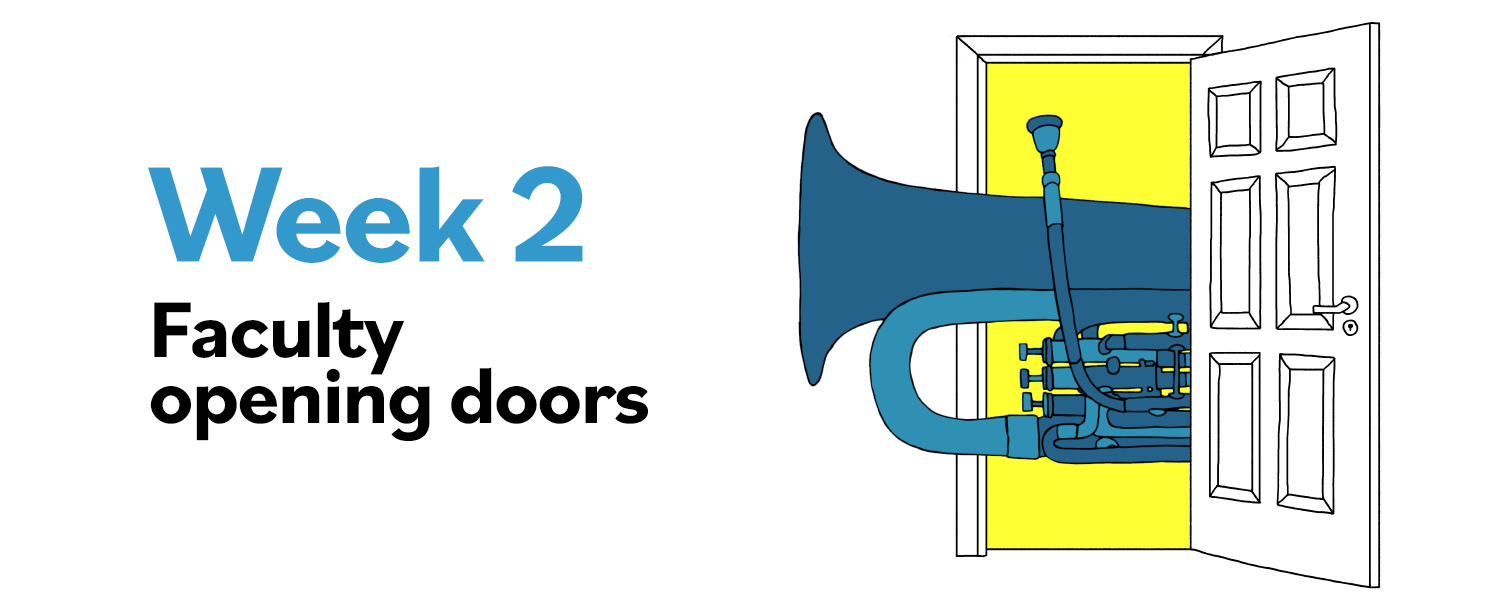 USC Thornton faculty are a bridge to transformational opportunities for our students. As educators and music professionals, they bring their knowledge and networks into the classroom, and create educational experiences that can launch careers. Read about how our faculty make it happen in these stories from the 2019-2020 school year.
Back and Forth
When Fender was developing the curriculum for their  online music instruction platform, Fender Play, they needed guidance from expert music instructors. They turned to Nick Stoubis, chair of the Studio Guitar program, who brought a number of Thornton students and alumni on board the project, creating learning and career opportunities for many.
One Degree of Separation
When classes transitioned to online instruction in March, faculty were tasked with creating alternatives to in-person lessons and performances. Within days, faculty had compiled an impressive lineup of artists from their vast networks to conduct virtual masterclasses. Without the obstacle of geographical distance, a world of top-tier artists were suddenly at students' finger tips—and on their screens.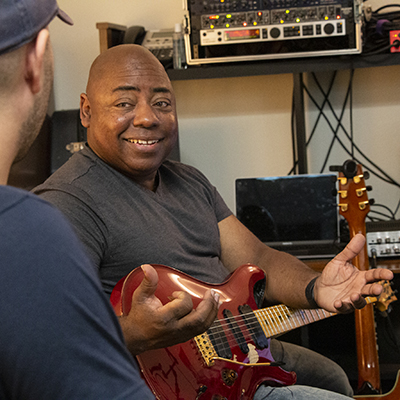 Lessons in Real Time
Celebrated studio guitarist and faculty member Paul Jackson Jr. brought his work into the classroom, teaching students the music he plays for the Emmy Awards, and even inviting a group of students to a pre-recording session for the award show. The hands-on lessons allowed students to get comfortable in a studio setting and refine the skills they'll use in studio work in their own careers.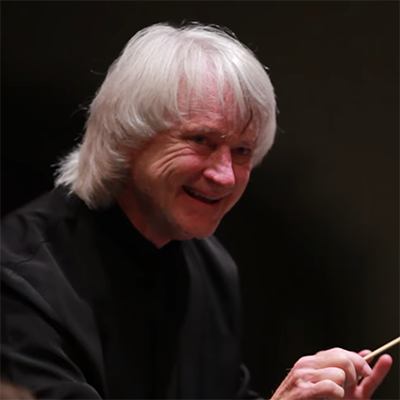 Every Note has a Purpose
For over 20 years, celebrated music director of the Pacific Symphony, Carl St.Clair, has had a relationship with USC Thornton. Since the 2005-06 season, he has been principal conductor of the USC Thornton orchestras and a faculty lecturer in conducting. Week after week, he has brought the best out of his students and led the symphony in amazing performances.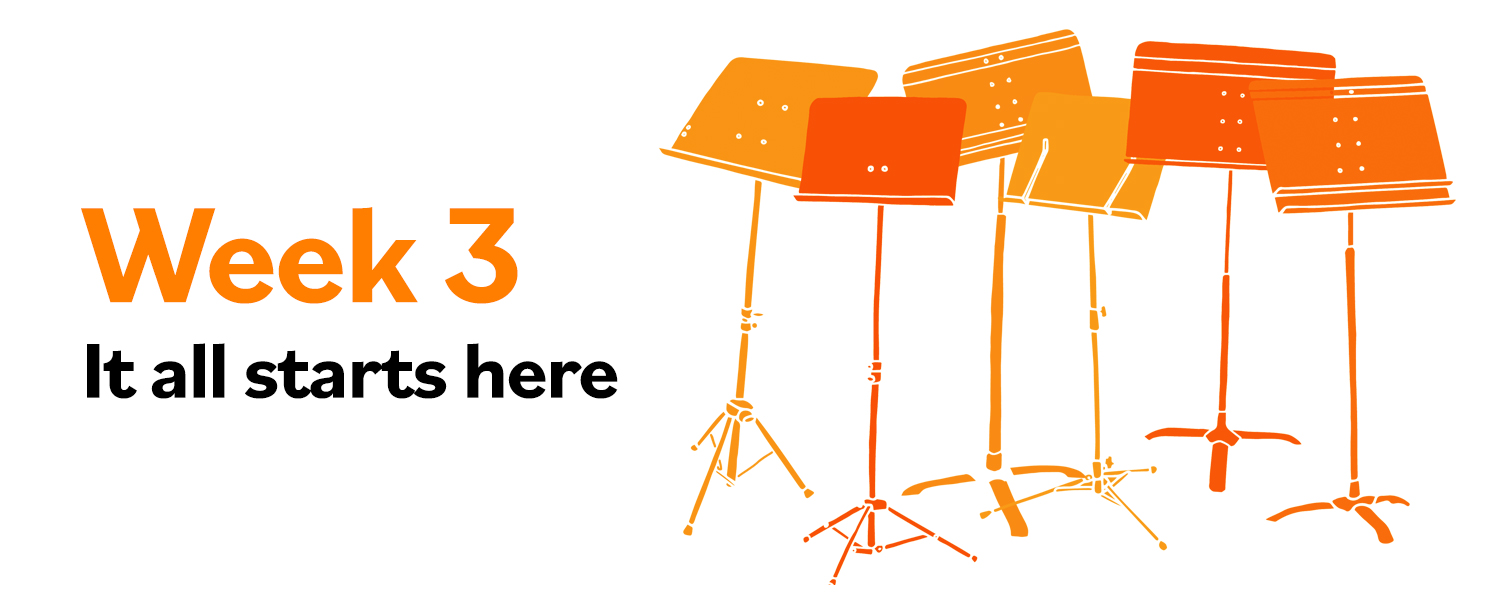 Students at USC Thornton know that a career in music doesn't have to wait for graduation. As creative entrepreneurs, students draw on the community of music professionals in the Thornton network and their own tireless passion to start shaping their careers, and even launch career-making projects, from the halls of Thornton.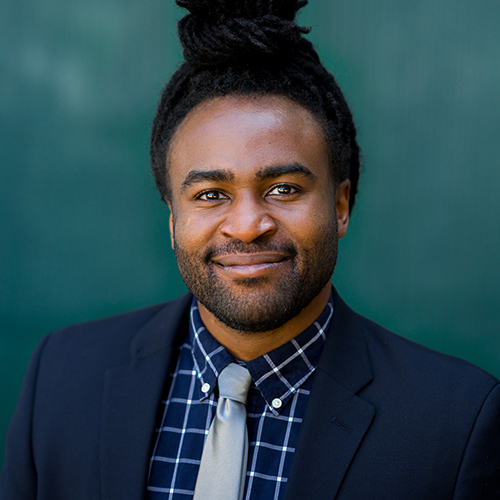 Opportunity Knocks
While a doctoral student in the Choral and Sacred Music program, Alexander Lloyd Blake began finding opportunities through Thornton's vast network that helped him build a multi-faceted career that he loves. Blake founded his own choral ensemble, Tonality, leads choirs, and works as a session musician.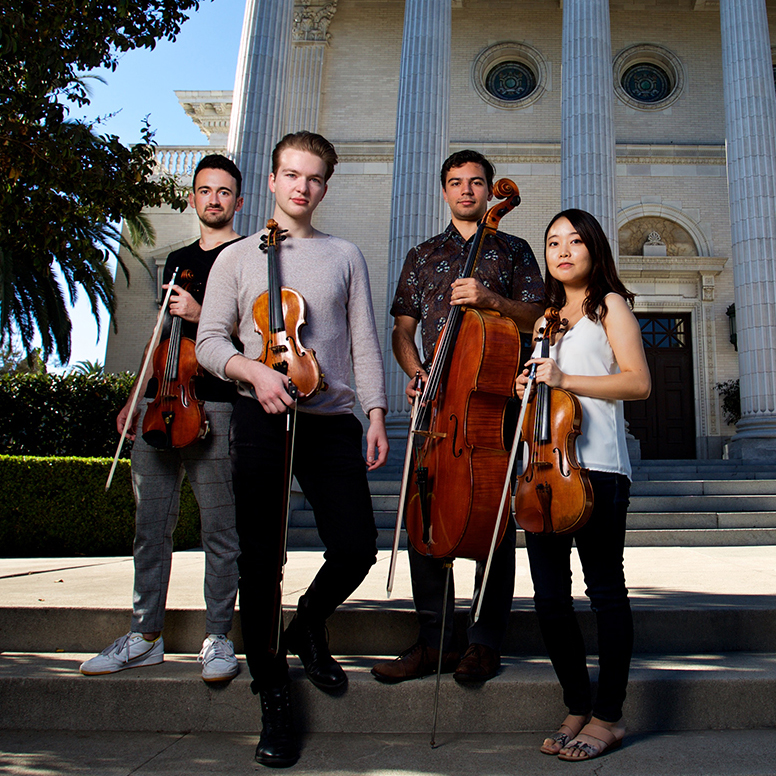 Performing a Playlist
Inspired to bring modern listening habits into the concert hall, a group of Strings students formed the Mixtape Quartet, and launched a brand new concert series that aims to bring together classical and contemporary music to mimic the experience of listening to a curated playlist.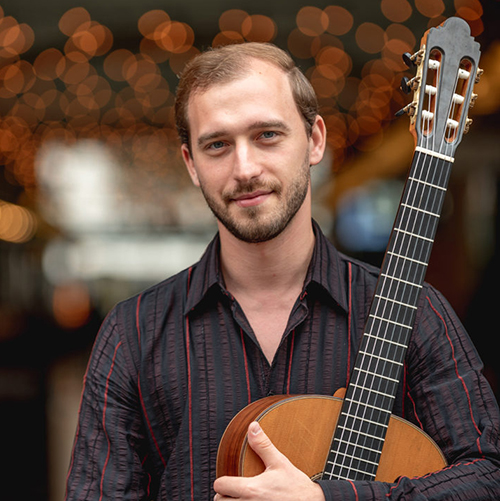 Delivering Classical Guitars and Inspiration
After connecting with classical guitarist Taiwo Adegoke in Nigeria over Facebook, doctoral student Mircea Gogoncea learned that Adegoke and his students didn't have classical guitars to practice on. Naturally, Gogoncea organized an international tour and fundraiser, and delivered Adegoke's first classical guitar to Nigeria himself.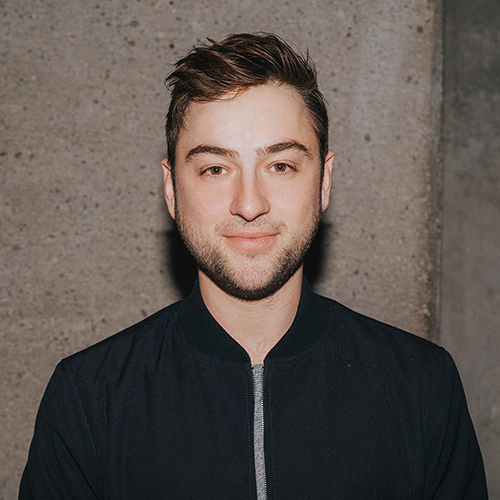 A Wild Ride for Darkroom
Music Industry alum Justin Lubliner carved his own path in the music industry, and it all started with the record label he started building while studying at Thornton. At 29, he watched the second artist he signed to the label, Darkroom Records, sweep the big four categories at the GRAMMY Awards.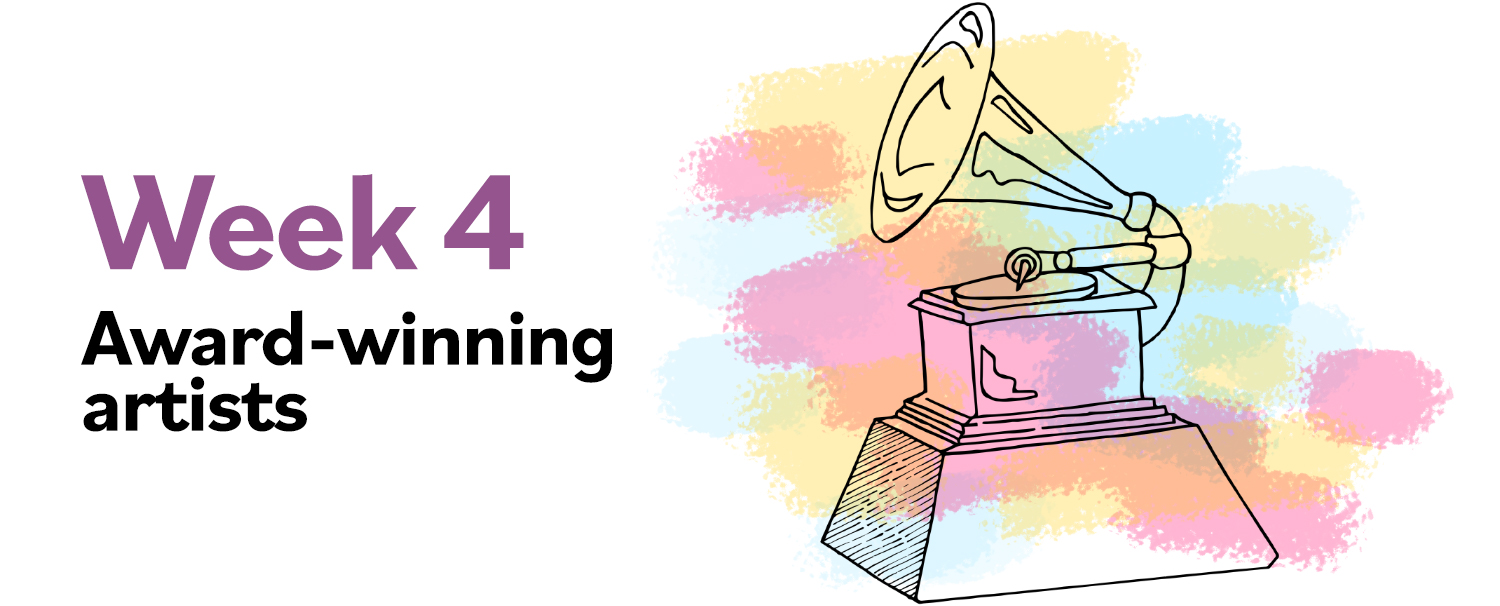 Each year, USC Thornton students, faculty and alumni earn top honors and awards from across the music industry, and this year was no exception. Take a look at just a few of our award-winning artists from the 2019-2020 school year.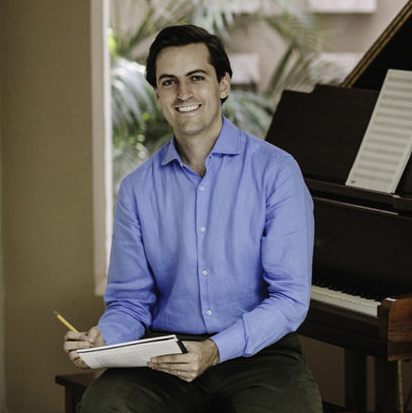 Juan Pablo Contreras nominated for Latin GRAMMY
Doctoral student and composer Juan Pablo Contreras received a Latin GRAMMY nomination in Best Arrangement for the title track of his debut orchestral album Mariachitlán. The piece depicts a day at Guadalajara's famed Mariachi Plaza, where different mariachis can be heard on every corner competing for the crowd's attention.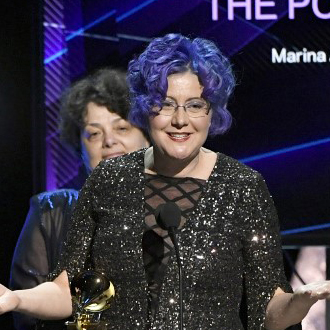 A Big Night for Music
The 62nd GRAMMY Awards brought two first-time wins for USC Thornton Composition faculty member Andrew Norman and alum Nadia Shpachenko (MM '99, DMA '04), with many other Thornton artists nominated for one of the industry's top honors.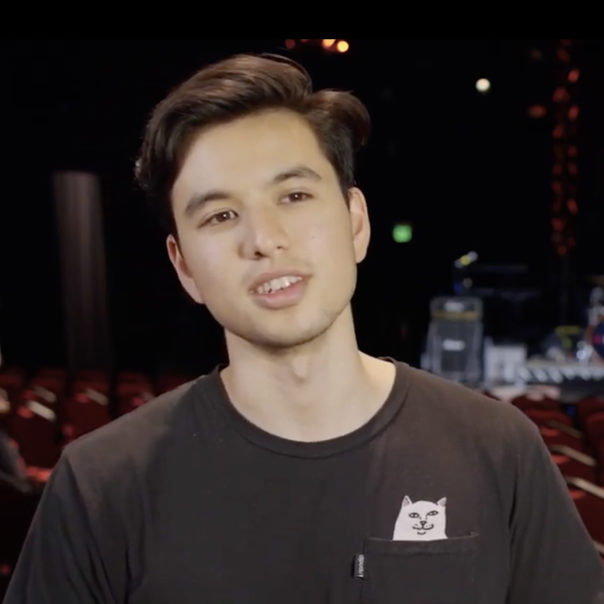 DownBeat 43rd Annual Student Music Awards
The USC Thornton Jazz Orchestra, the Thornton Monday Night Band, and undergraduate pianist and composer Luca Mendoza were winners in DownBeat's 43rd Annual Student Music Awards.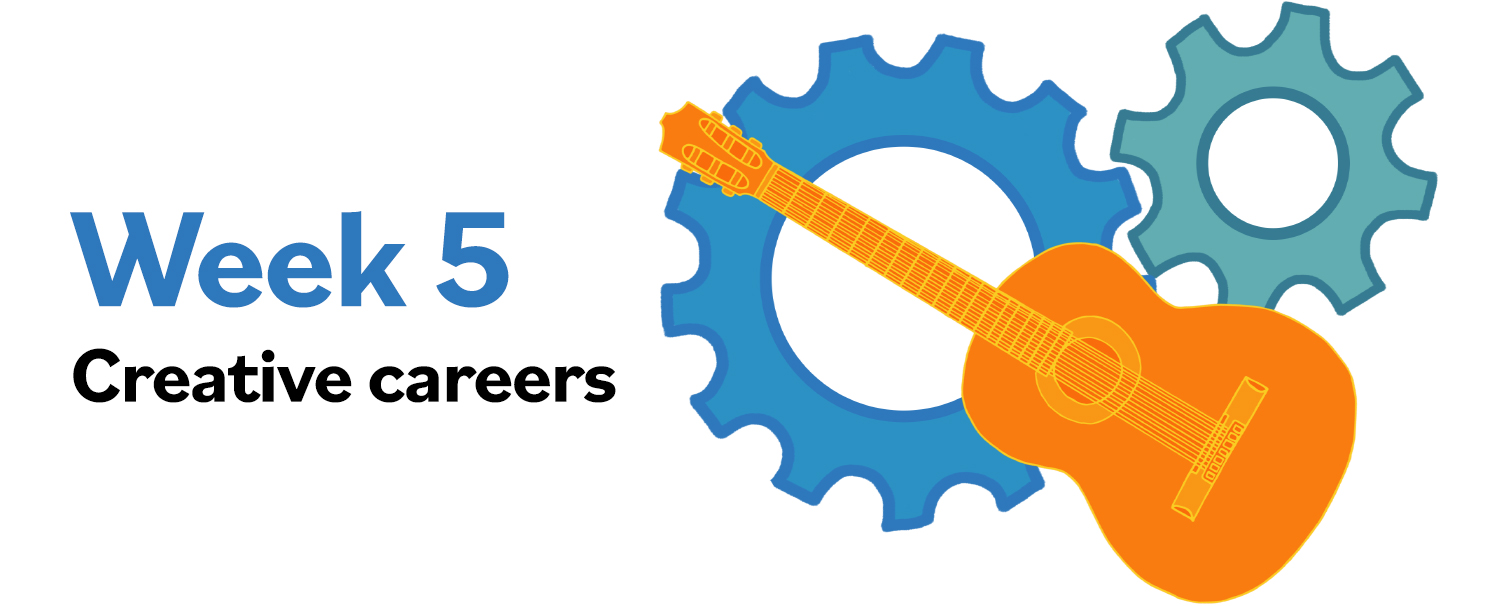 Alumni of USC Thornton are adaptable and versatile artists, leading them to pursue varied careers that are as unique as they are. Read about how these Thornton graduates followed career paths that took them beyond the concert hall.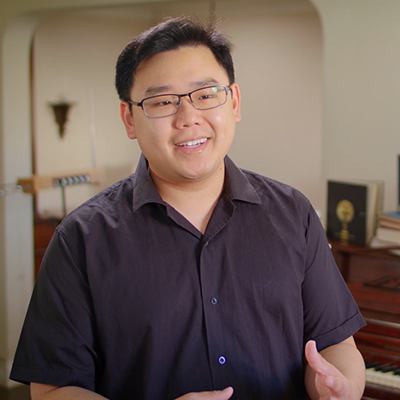 Jonathan Ong: The New Classical
Alum Jonathan Ong is a talented concert pianist, working as a musician and teacher in his native Australia. He's also a successful Twitch streamer, having found success hosting interactive music shows on the online platform. For both avenues of his career, Ong credits his classical training for preparing him to pursue his unique interests.
Instrument Repair
Alumni Brad Close, Gabriel Golden and Cynthia Kelley don't just play their instruments, they dissect them, too. The classical musicians found similar paths in instrument repair, and enjoy careers both on and off the stage as experts with their instruments.
Faculty at Thornton work closely alongside their students on exciting projects, giving students first-hand experiences collaborating on a professional level, and even leading to new opportunities after graduation.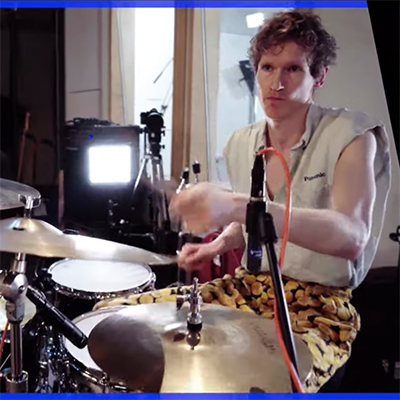 Returning to Campus with a Collaboration
Jazz Studies faculty member Bob Mintzer and alum Louis Cole struck up a collaborative partnership after Mintzer caught wind of Cole's band, Knower. They came together this Spring for a show with the USC Thornton Jazz Orchestra.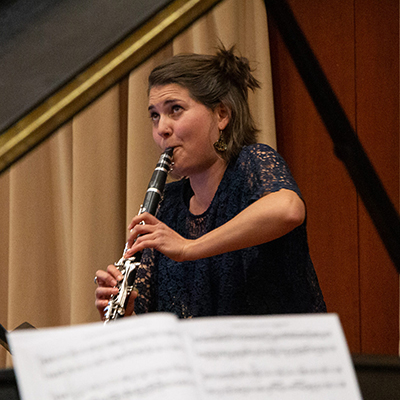 A Golden Concerto
When clarinetist Yasmina Spiegelberg, then a doctoral student, wanted to take on an ambitious concerto with the new music ensemble, Thornton Edge, faculty members stepped in to help make the concert happen.
The Festival Must Go On
Students in the Music Industry program spent a year planning a music festival supporting mental health in the arts alongside faculty member and Warped Tour-founder Kevin Lyman. After the pandemic forced event cancelations, Lyman and his students pulled out all the stops to stage the festival online.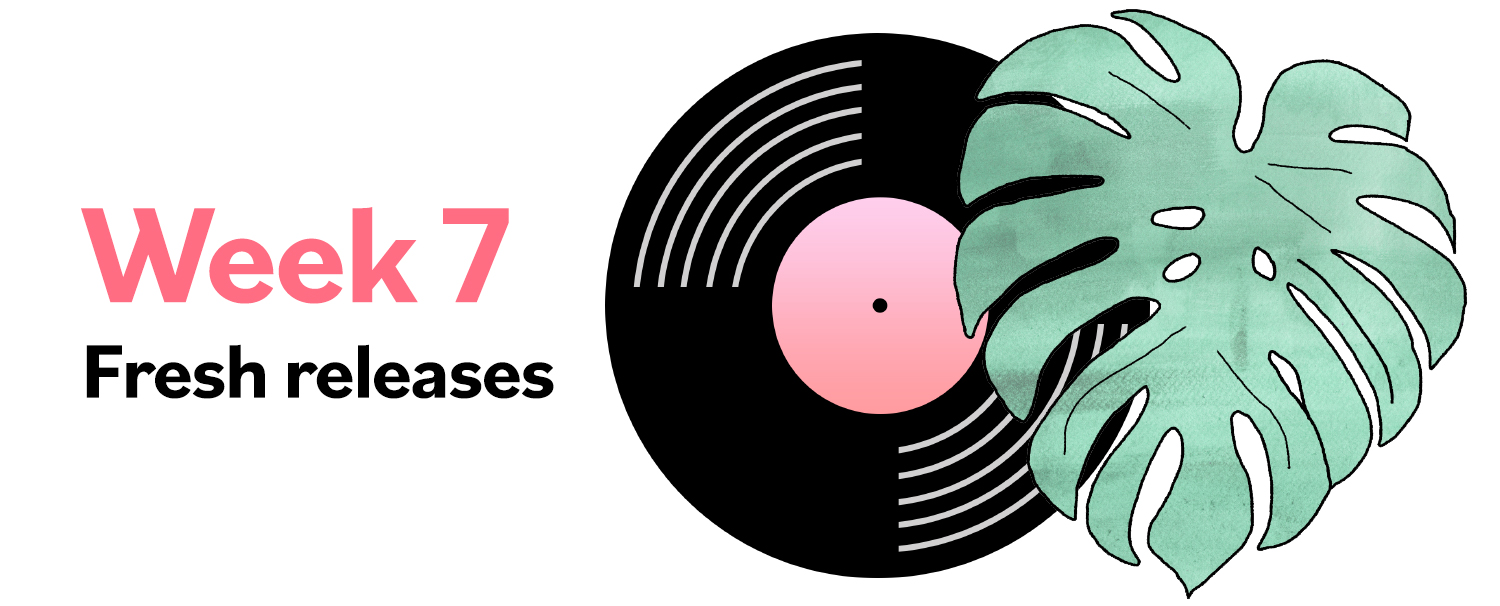 Thornton artists are always churning out fresh new music, and this year brought us an exceptional selection of new projects by alumni and faculty. This round up of recent releases may not scratch the surface of all the music made by Thornton artists this year, but it's the perfect starting point for exploring the incredible breadth of music they create.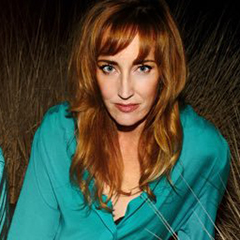 Kathleen Grace, Tie Me to You 
Jazz Studies alum and faculty member Kathleen Grace released a few singles before the release of her latest album, Tie Me to You, in collaboration with pianist Larry Goldings.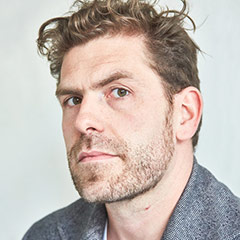 Ted Hearne, Place 
Composition faculty member Ted Hearne released a new album, Place, from New Amsterdam Records on April 3. The 72-minute reflection on gentrification and displacement is a collaboration with poet Saul Williams.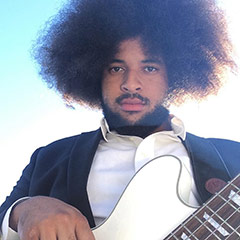 Brian Robert Jones, Only Human Natural 
Bassist and Popular Music alum Brian Robert Jones released a debut LP, Only Human Natural, with his pop funk duo Human Natural. The duo began releasing music together in 2018.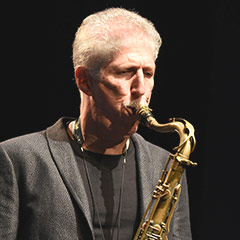 Bob Mintzer, Blue Soul
Jazz Studies faculty member Bob Mintzer released Blue Soul, a collaborative album with guitarist Dave Stryker, in June from Strikezone Records. Mintzer leads the Germany-based WDR Big Band on the recording.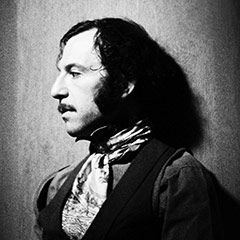 Daedelus, What Wands Won't Break
Jazz Studies alum Alfred Darlington, known professionally as Daedelus, released a new album from record label Dome of Doom in May. The album was Darlington's second release of the past year, following The Bittereinders in the fall of 2019.
---
Enjoy more stories about the students, faculty and alumni of USC Thornton by browsing our Spotlights and News.
Never miss a story
Subscribe to USC Thornton's e-newsletter
Subscribe