Highlights of 2015-16
Looking back on 2015-16, there's no doubt that USC Thornton students, faculty and alumni enjoyed an extraordinarily fulfilling year. Let's take a look at some of the most interesting news items from the past two semesters.
---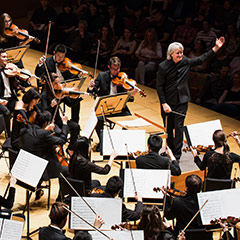 Carl St.Clair leading the USC Thornton Symphony
The school launched a new bachelor's degree in Music Production and explored exciting new composition trends in the Jazz Studies program that have caught the jazz world's attention (Video

).
Maestro Carl St.Clair took the USC Thornton Symphony on the road to Santa Barbara for special multimedia performances with Keyboard Studies professor Daniel Pollack (Video

). And the Polish Music Center celebrated its 30th anniversary with a series of fall concerts.
Thornton emerged as a powerhouse for new music composition and performance, with the flourishing of ensembles such as Hocket and Sakura. Some 23 Thornton students, faculty, and alumni were involved in The Industry's groundbreaking fall production of the site-specific opera Hopscotch, including composers Veronika Krausas, Andrew Norman and alumnus Andrew McIntosh (GCRT '12, early music).
The USC Thornton Opera program continued its proud tradition of cutting-edge productions, presenting Mozart's La clemenza di Tito; a concert reading of a new opera, Frau Schindler, by alumnus Thomas Morse, with a libretto in collaboration with Ken Cazan; and Strauss's delightful Ariadne auf Naxos.
Inspired by the innovations that he observed during a week-long visit to USC Thornton, pioneering music educator Tony Woodcock published a two-part story on the school and its programs for the Huffington Post. The Hollywood Reporter, meanwhile, ranked Thornton number three on its list of the "Top 25 Music Schools of 2015."
FACULTY
Morten Lauridsen
Distinguished Professor of Composition Morten Lauridsen has been the focus of a semester-long video portrait, exploring in depth the ideas and inspirations behind his beloved choral works (Video

). Composer Andrew Norman premiered new works with both the Los Angeles and New York Philharmonic orchestras and received a highly-coveted Guggenheim Fellowship.
Composer Ted Hearne's oratorio, The Source, was released as an album and will be produced by two major opera companies next season. Vocal Arts & Opera faculty member Lynn Helding inaugurated the first meeting of the Pan-American Vocology Association; vice dean Lucinda Carver received a USC Mentoring Award; Musicologist Joanna Demers released a new book, Drone and Apocalypse, and her colleague, Andrew Cashner, received the Alfred Einstein Award from the American Musicological Society.
The American Harp Society honored JoAnn Turvosky, who has taught on the Strings faculty for over 30 years, with a Lifetime Achievement Award, while the Royal Conservatoire of Scotland has announced plans to award Strings chair Ralph Kirshbaum with an honorary degree this July. Musical America named clarinetist Yehuda Gilad one of its Professionals of the Year, while Jo-Michael Scheibe, chair of the Choral & Sacred Music department, conducted a group of 680 high school choristers from across the state of Utah at the Mormon Tabernacle.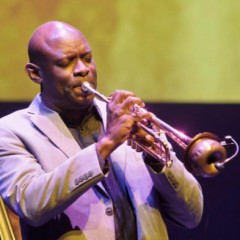 Ron McCurdy
As part of his ongoing Langston Hughes Project, trumpeter and Jazz Studies professor Ron McCurdy was joined by rapper Ice-T in London, to critical acclaim. And Peter Erskine, Director of Drumset Studies, released an album in collaboration with many Thornton jazz musicians while saxophonist Bob Mintzer released his 20th big band recording. Meanwhile, songwriter and vocalist Melissa Manchester has embarked on an international tour in support of her new album.
Professor Bill Biersach, who has taught at Thornton for over 40 years, was celebrated with a special tribute at Carson Center. And Michele Zukovsky, of the Winds & Percussion department, retired as principal clarinetist of the Los Angeles Philharmonic after 54 years with the orchestra.
ALUMNI
Alumnus and electronic musician Alfred Darlington (BA '00), known professionally as Daedelus, has returned to his jazz roots with Kneedelus, a new album with acclaimed ensemble Kneebody (Video

). Ana Barreiro (MM'15), a drummer and Jazz Studies alumna, was inspired to create and record original compositions that help shine a light on sexual violence against women in Africa.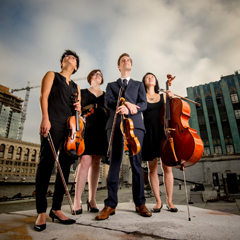 The Argus Quartet
The Argus Quartet, comprised of violinists Jason Issokson (MM '10) and Clara Kim (DMA '15), violist Diana Wade (GCRT '13) as well as cellist Joann Whang, was awarded a two-year fellowship at the Yale School of Music. Alumni Vimbayi Kaziboni ('10, percussion) and John Stulz ('10, viola), have both joined the the world-renowned, Paris-based contemporary music group, Ensemble InterContemporain.
Conductor Olivier Ochanine (MM '07, conducting) received first prize at the 2015 Antal Doráti International Conducting Competition in Budapest and pianist Steven Vanhauwaert (MM '06, GCRT '08, piano) released two albums in collaboration with violinist Guillaume Sutre. Musicologist Peter Loewen (M.M. '90, Ph.D. '00) was the subject of a video spotlight in which he recalled the influence of James Tyler's Early Music Ensemble (Video

).
Composition alumnus Alan Chan (DMA '08) was selected as the recipient of George Duke Commissioning Prize, co-created by the Symphonic Jazz Orchestra and The ASCAP Foundation. Ben Bram ('10, music industry) and Scott Hoying won their second GRAMMY Award for their arrangement of Pentatonix's "Dance of the Sugar Plum Fairy," from the a cappella group's album, That's Christmas to Me. Olivia Mitchell (BS '14, music industry) premiered her short film, Girl Band, at the Tribeca Film Festival in April. And alumna Renée Elise Goldsberry (MM '97, jazz studies) has been nominated for a Tony Award for her performance as Angelica Schuyler Church in the hit Broadway musical, Hamilton.
STUDENTS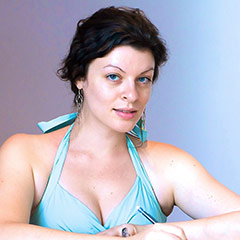 Julia Adolphe
Composition student Julia Adolphe was commissioned by the New York Philharmonic to compose a viola concerto for the orchestra's principal violist, Cynthia Phelps (Video

). Adolphe was also honored with an Emerging Artist Award from Lincoln Center. Another DMA candidate, classical guitarist Mak Grgić, has found great success as an international artist and has begun a duo collaboration with flamenco guitarist and Studio/Jazz Guitar faculty member Adam del Monte (Video

).
Vocal Arts & Opera Graduate Certificate candidate Yelena Dyachek won the top prize at the Metropolitan Opera National Council Auditions and will perform with both San Francisco's Merola Opera Program and the Houston Grand Opera's HGO Studio this summer. DMA candidate Eva Schaumkell opened the Cairo Symphony Orchestra's 2015-16 season as a guest pianist, while closer to home, graduating senior Evan Pensis traveled to Arizona to perform for prison inmates. And Choral & Sacred Music DMA candidate Christopher Gravis has been named the Director of Choral Activities at California State University Los Angeles.
Music Teaching & Learning DMA candidate Tina Huynh is connecting her passion for music education with her roots in the Vietnamese American community through an illustrated book of traditional Vietnamese children's songs (Video

). Meanwhile, Arts Leadership student Angela Flores is using music education as a platform for cultural engagement in her local community of El Sereno (Video

).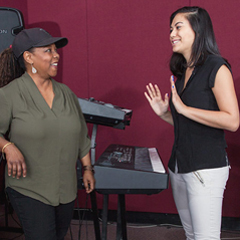 Patrice Rushen & Karina DePiano
Jazz Studies students Paul Cornish and Henry Solomon were named as winners of the 2016 Yamaha Young Performing Artists Program. DMA candidate Scott Jeppesen (MM '08) celebrated the release of his second album, which features performances by several faculty and alumni.
With help from her mentor, Popular Music chair Patrice Rushen, senior Karina DePiano is proving her mettle as a musical director while touring as a keyboardist for international artists, such as Rita Ora and Troye Sivan. And her fellow Popular Music graduates presented their Senior Showcase concert at the legendary Troubadour nightclub in West Hollywood in March, to a hugely enthusiastic crowd.
Never miss a story
Subscribe to USC Thornton's e-newsletter
Subscribe